This article is part of A\J's web series Night School.


This article is part of A\J's web series Night School. In celebration of back-to-school time and our Night issue, the A\J web team brought you a series of quick lessons, posted between September 16 to October 11, 2013, covering everything from activism tactics and canning tips to how factory farms breed disease.

An important part of any learning (or teaching) experience is knowing where you're coming from. So to frame our "

Night School

" series, we offered up a history of A\J and the environmental movement that we've been chronicling for over 40 years.

1971 was a happening year in Canada. Joni Mitchell's Blue album was on high rotation and the nation was parsing the words "fuddle duddle." Greenpeace, WWF-Canada and Pollution Probe were all taking off, as were the brand new JUNO awards and Banff Festival of the Arts. In Ottawa, Canada's first gay-rights demonstration hit Parliament Hill, and Jack Davis was appointed Canada's first Minister of the Environment.
And, at Trent University in Peterborough, Ontario, a first-year professor and a dedicated student concocted a magazine-journal hybrid to turn scholarly research into ideas for tangible community action.
Fast-forward 42 years, and Alternatives Journal is now A\J, housed at the University of Waterloo and internationally recognized as a forum for debate and analysis of environmental issues.
A\J has undergone a massive transformation over the past year, so our A\J History classes started there and moved backward in time. We explored some of our most important stories, and some favourite memories from long-time "Alternuts," including founder Dr. Robert Paehlke.
In 2011, the A\J team began work on a big redesign of both the magazine and the website. While certainly not the first new look over the years, it was what publisher Marcia Ruby called "by far the most ambitious and most exciting redesign of Alternatives in [her] 25 years with the magazine."
Working with K9 Design Co on the magazine and Mad Hatter Tech on the website, the aim was to add relevance, depth and a little more sparkle to the brand – and to better position A\J to serve the rapidly growing need for trustworthy environmental knowledge across Canada.
In November 2012, Alternatives was reborn as A\J, unveiling a new look and a brand new website in the same week. The magazine now has 16 additional pages, and the website has new features and way more content, not to mention more visitors.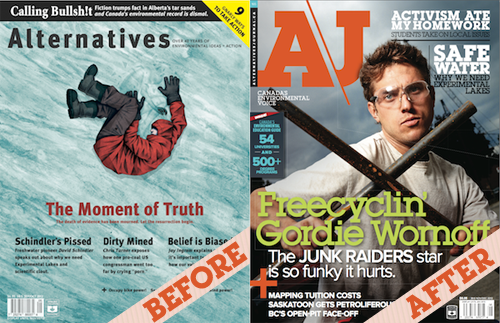 (Check out the full history of A\J covers on our Back Issues page.)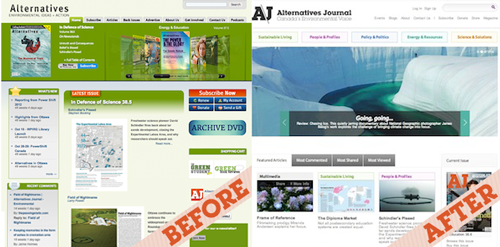 We've also expanded in other ways. A year ago, A\J had just four full-time staff. As of last week, we've more than doubled that number. We've finally got our own app on Apple Newsstand, and we're adding 25,000 environmental studies students to our subscriber list this Fall, increasing our circulation six-fold. And with exciting events and academic initiatives on the way, we'll only continue to grow (we hope!)
What did you think of the redesign? And where should A\J go in the future? You can tell us in our current Reader Survey.
Laura is a past A\J managing editor. She has an MA in Communication Studies from Wilfrid Laurier University, is an organizing aficionado, lackadaisical gardener, and former musical theatre producer. @inhabitings