When the opportunity came up for A\J to join the Otesha Project (Swahili for planting the seeds of a dream) on their Pedal to Plate Tour, I was encouraged by my editors to tune up my bike and hit the road, given my noted enthusiasm for cycling. I had reported on their upcoming tours for this year's Food and Drink issue.

When the opportunity came up for A\J to join the Otesha Project (Swahili for planting the seeds of a dream) on their Pedal to Plate Tour, I was encouraged by my editors to tune up my bike and hit the road, given my noted enthusiasm for cycling. I had reported on their upcoming tours for this year's Food and Drink issue. I had also interviewed Otesha staff for our Bike Month blog series, Gear Up with A\J. I was excited by this amazing opportunity, but also a little nervous because I had never done a long distance bike ride before.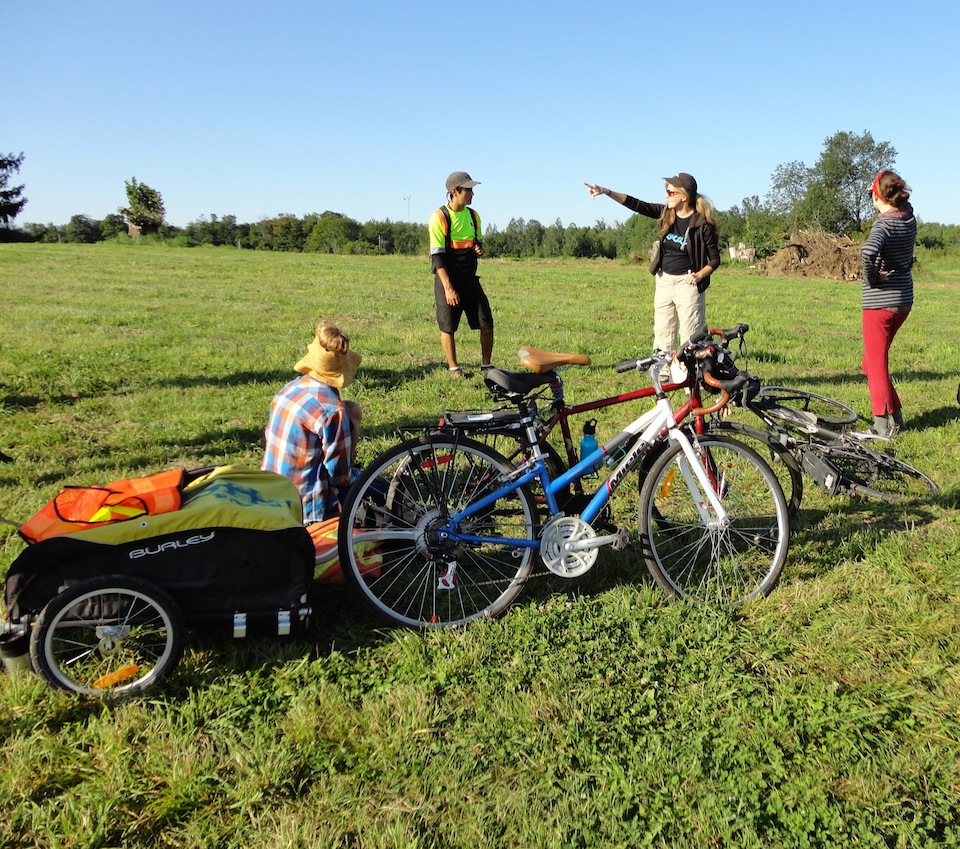 The Otesha Project has been organizing bicycle tours to engage and empower Canadian communities to take action on environmental and social justice issues for over 10 years. They've trained 500 sustainability advocates and touched 150,000 citizens with their performances, workshops and keynotes. While most tours have focused on youth education, the Pedal to Plate Tour focused on learning rather than outreach. The team of nine, aged 22 to 46, explored the GTA foodscape, taking in 300km of beautiful scenery while looking for ways to promote positive change by eating well.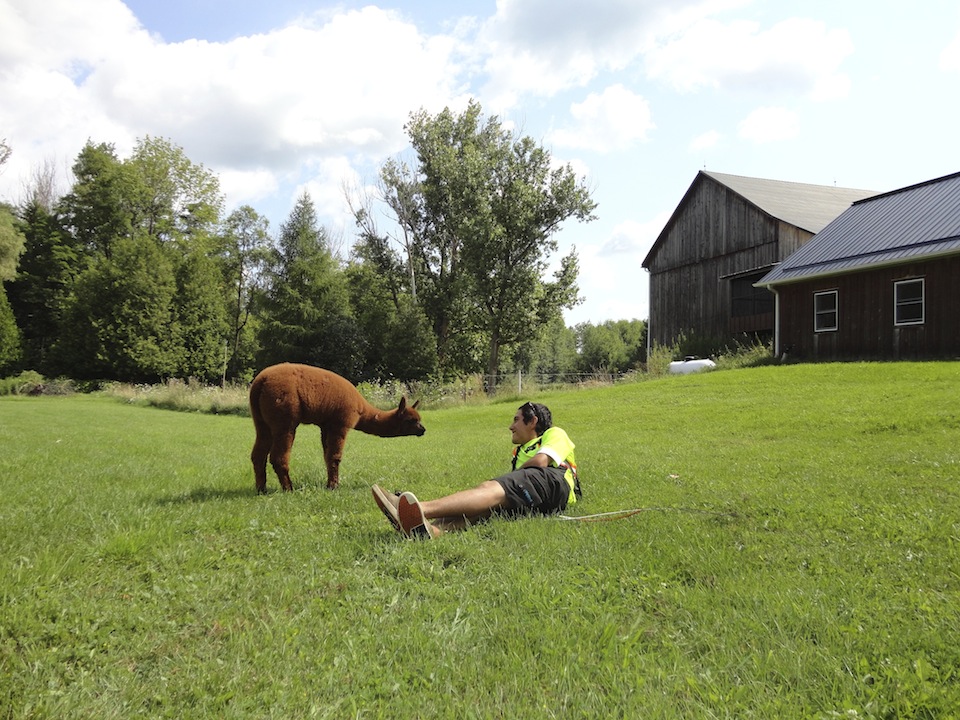 Several friendly faces greeted us along our journey, including passersby, food vendors and other cyclists – not to mention alpacas! Our hosts welcomed the extra sets of hands before the onset of harvest season. Prior to mapping the tour, the coordinators contacted sustainability-oriented farms and arranged work shares in exchange for a place to stay. During their stay, the tour members shared meals with their hosts, and bonded through a hard day's work, gaining insight on the trials and tribulations of running small-scale farms.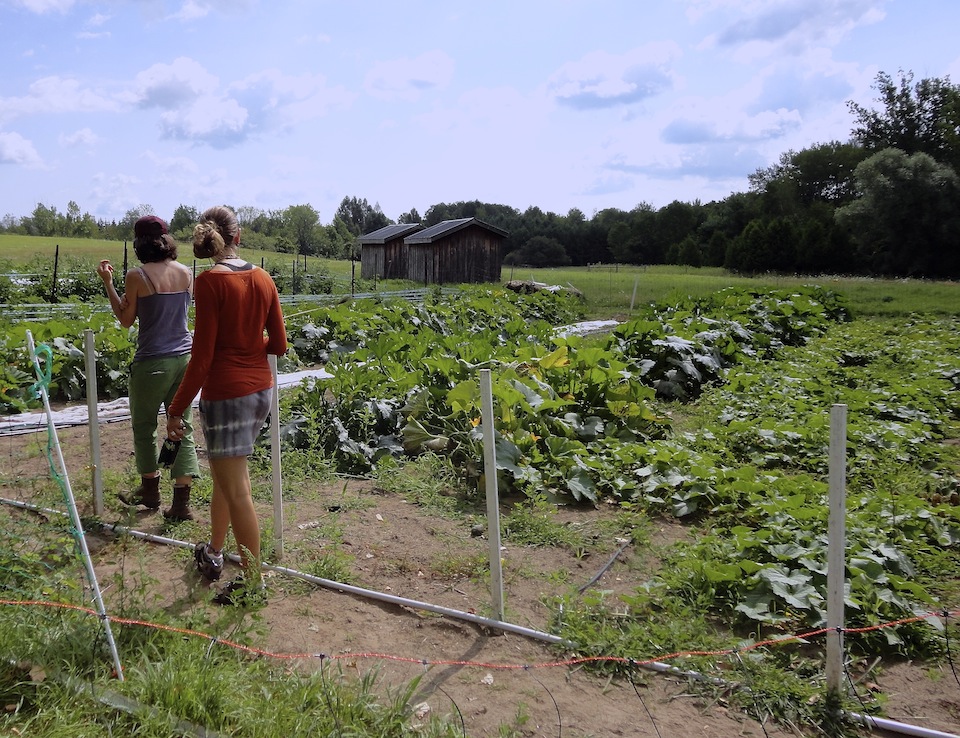 On our way to a host farm, we stopped at Peace Ranch in Caledon. The 25-acre farm doubles as a mental health agency by providing housing and rehabilitation programs for individuals with acute mental illness. Their Green Spaces program offers therapeutic activities for people in recovery, including horseback riding, horticulture and nutritional cooking. Here we weeded and pulled onions. Peace Ranch also graciously donated fresh veggies for that evening's dinner.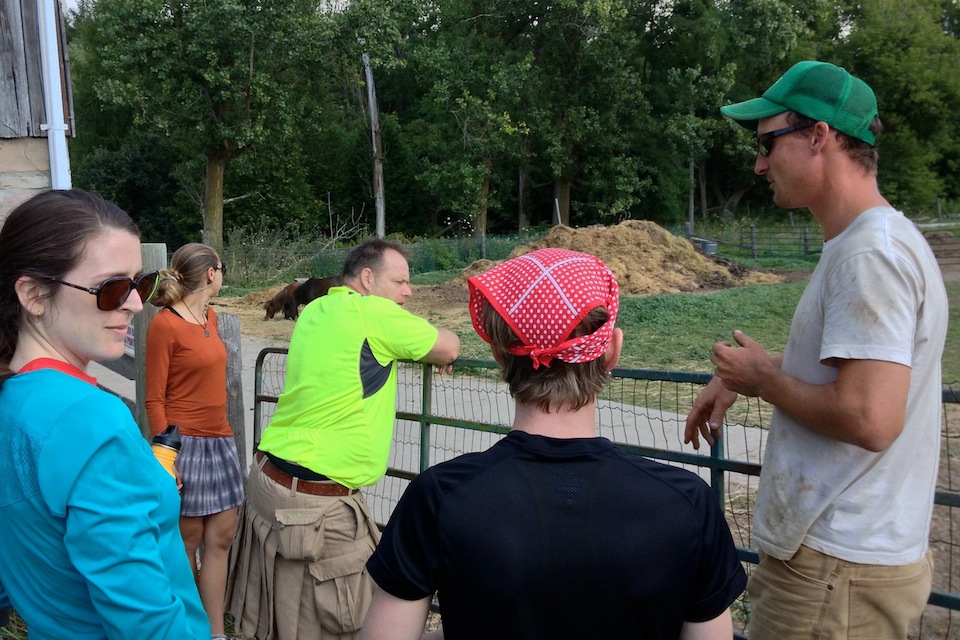 The group was very intentional about the way they lived in their temporary mobile community. Upon first meeting, they decided they would allocate their food budget primarily to vegan foods. Frank Iacobucci, the tour's food coordinator, who's mainly responsible for planning and cooking the group's meals, chooses to wear a utility kilt while cycling. According to Frank, utili-kilts have tonnes of pockets, which are useful for carrying essentials like a water bottle, multi-tool, snacks and wallet.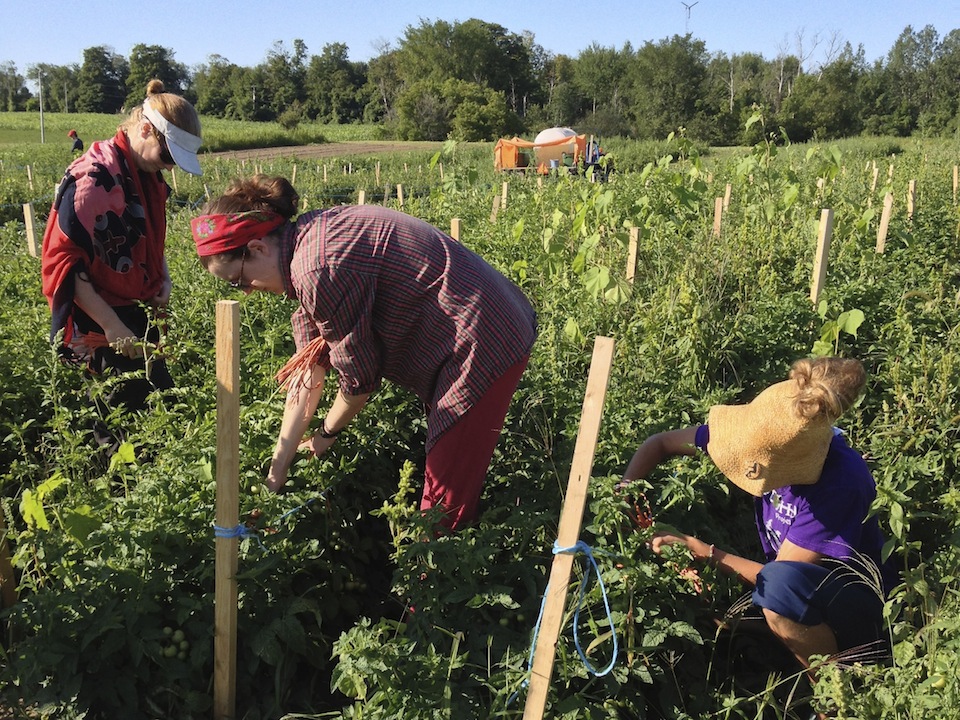 We were also hosted by Palgrave United Church, which founded an Environment Committee in 2007 and became Bullfrog powered one year later. And they run Caledon's first community kitchen. As part of our stay, we worked at Albion Hills Community Farm, a 100-acre non-profit educational farm, helping tame the cherry tomato jungle by trellising the plants, as well as harvesting garlic. Every year, over 3,600 students in the GTA visit the farm to learn about local farming and sustainable agriculture practices.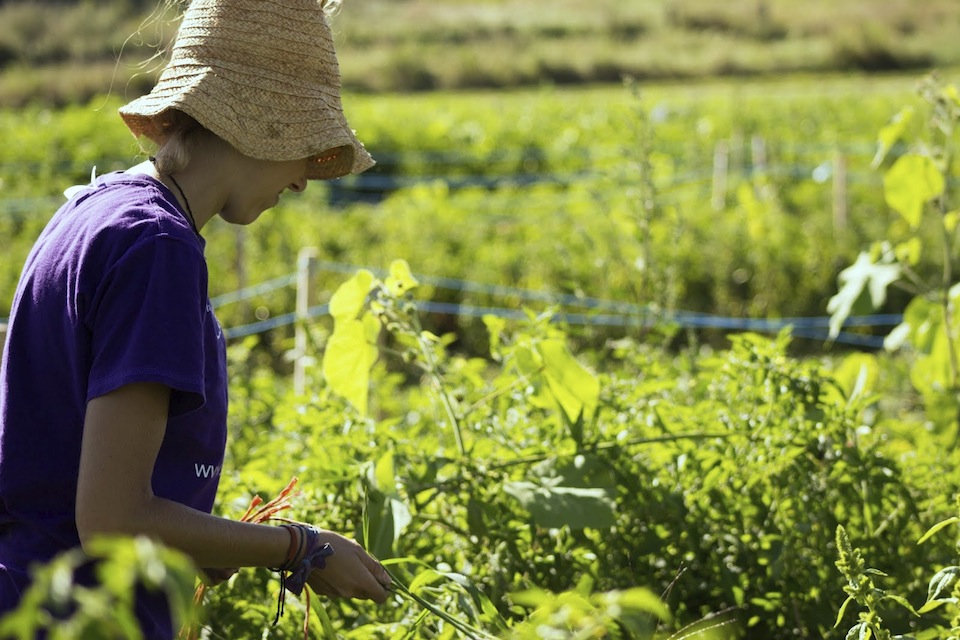 Kayla Siefried first rode with Otesha in 2009 and was deeply moved by the experience of being completely supported by the fellow riders. She now works as Otesha's Programs Coordinator.
Kayla's top five tips for planning a great bicycle tour:
1. Look deeply at maps. Try to find out if the route is paved or unpaved, if it has shoulders or not, and what the speed limit is (stick to 70km/h or less). Also check out topographic maps to see how steep the different roads are. Seek out bicycle trails when you can. Talk to local bike clubs or shops and look at different blogs.
2. Think about what gear you will need. Are you planning on staying in B&Bs or camping? Depending on what you choose, this will determine what kind of gear you need to bring along.
3. Choose routes that are interesting and beautiful. Being on a bike, you are really IN your environment. It's lovely to be on a route where you are going to enjoy the scenery, and that will have interesting and beautiful breakpoints and lunch spots along the way. And good spots to stop for ice cream too!
4. Learn how to change a flat. Inevitably, you will get a flat! Find your local bike co-op and practice taking your tire off and your tube out. This way when it happens on the road, you'll feel confident in patching your tube.
5. Consider cycling with a purpose. Maybe you are interested in checking out rural art galleries, or visiting local farms, or riding the entirety of a trail, or you're interested in riding with a group. You can plan it! Or you can join it!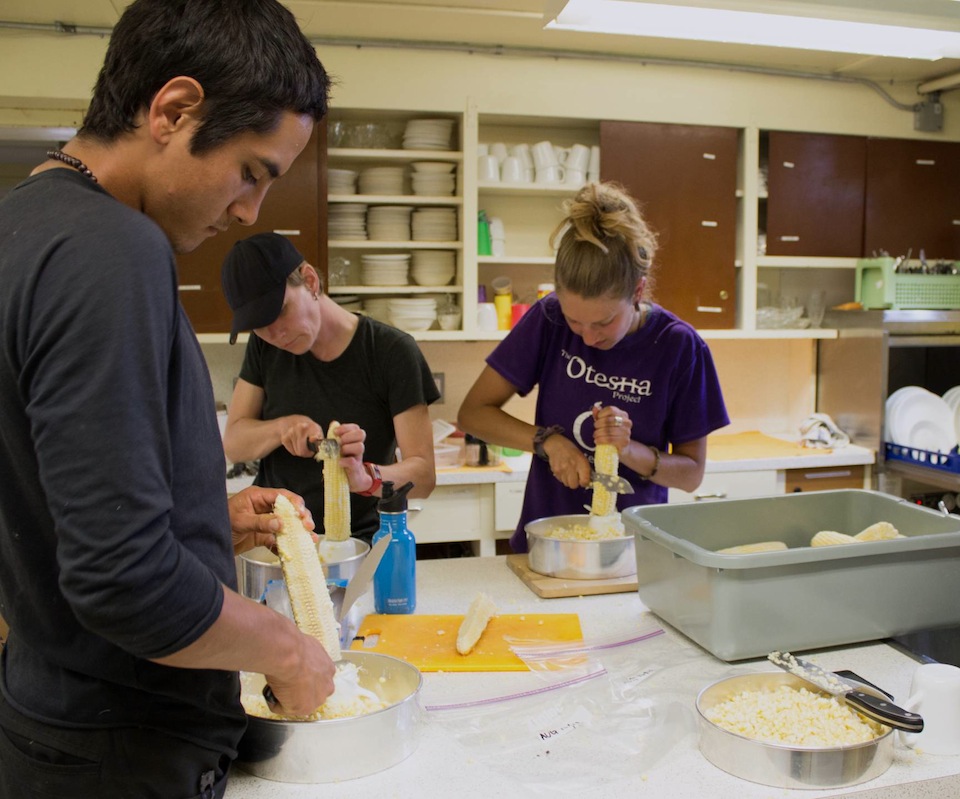 The team also seized opportunities to share information with their host communities. Given that the group helped husk corn and prepare niblets for Palgrave United Church's annual turkey feast, they delivered a workshop titled "Maze of Maize" after a parish potluck, which illustrated how corn finds its way into our daily lives and explored its impacts on biodiversity, local economies, agriculture and our health.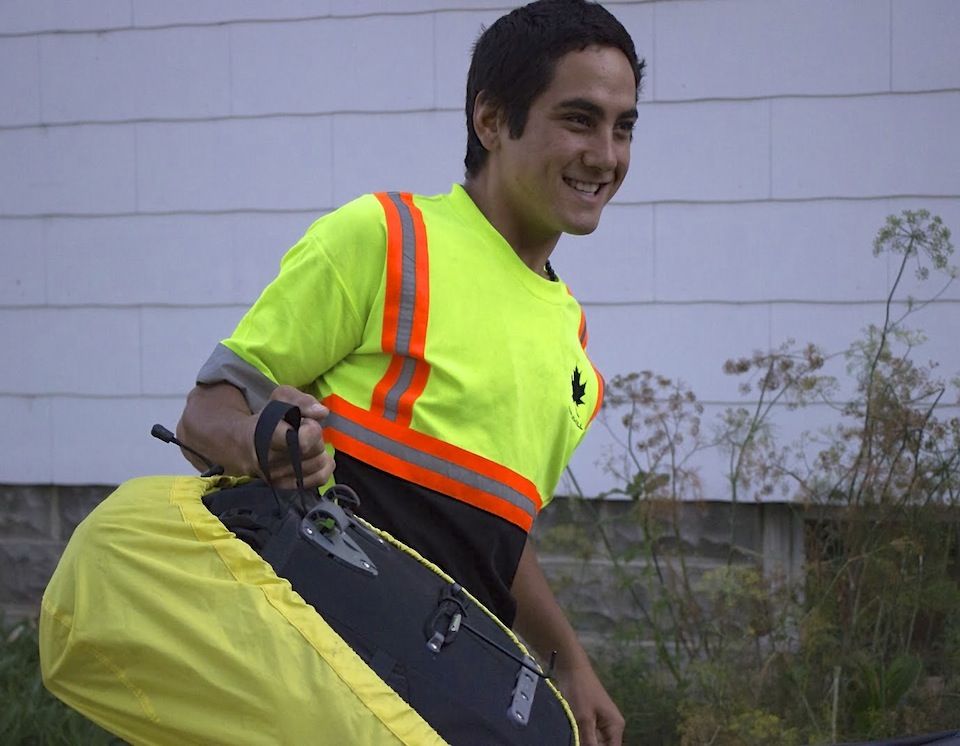 Daniel Wenzel, apprentice Arborist at Maple Hill Tree Service in Mississauga got ready for the 45km ride by throwing on his reflective shirt, checking his tire pressure and hooking up his trailer (equipped with a bike repair kit, camping basics, food and a skateboard) and was eager to hit the road.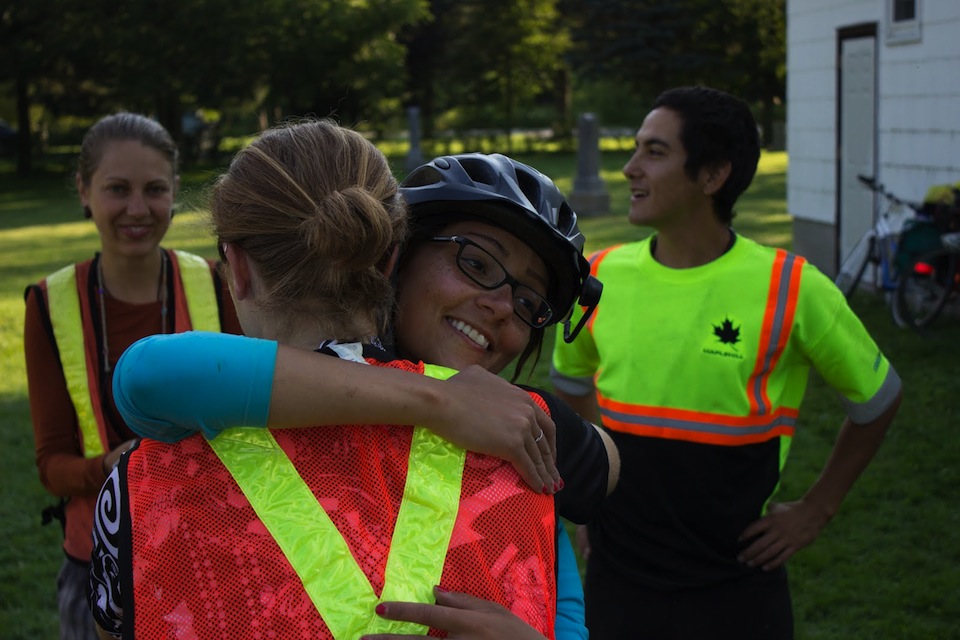 Biking and farming makes for a very physical day, which can be emotionally draining (so can environmental outreach). Otesha prioritizes keeping the group's spirits high. Before setting off on one of the longer rides, everyone hugged it out to start the trek on a good foot. Research has shown that hugging for at least 20 seconds causes the release of oxytocin (the bonding hormone), which is known to reduce stress and promote the sense of wellbeing. Otesha also boosts morale by reading daily virtues aloud (I chose simplicity) and performing daily acts of gratitude. On the day we left, Danny (back right) shared a wonderful poem about A\J's stay with the group. The group also made Cody and me a beautifully upcycled card.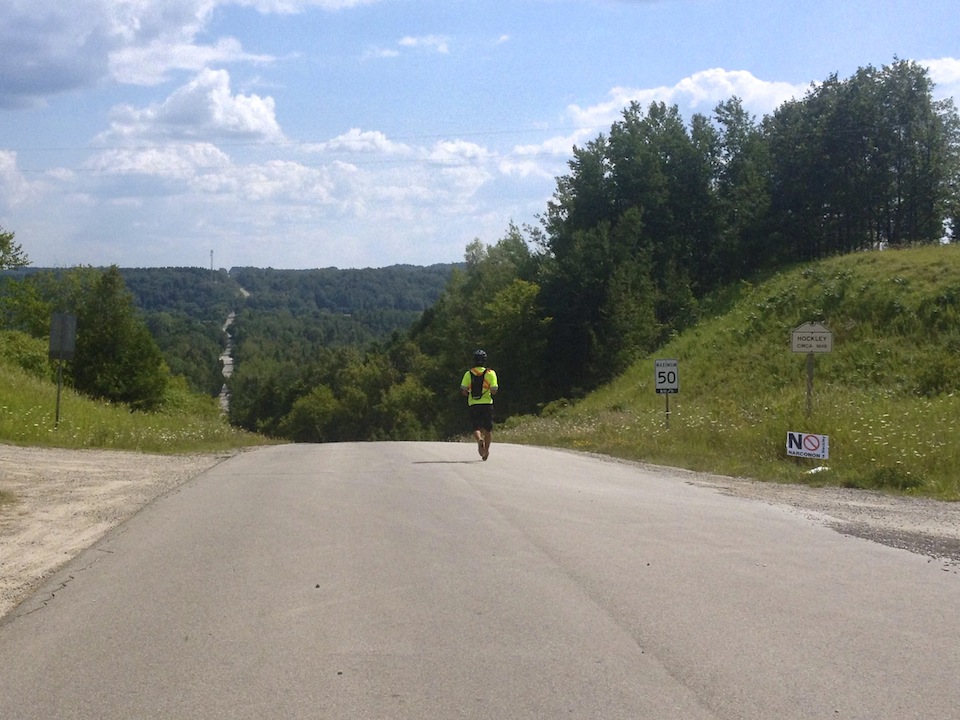 Sharing this immersive learning experience with a group of big-hearted bike-loving foodies made it especially meaningful. It was touching to see team members run over to help push another's trailer uphill, as the rest cheered on. It was equally moving to see the team support each other's ideas and ambitions for a better world. This left me feeling emotionally and physically empowered. As we drove home, I began daydreaming of my next bike tour and vowed to finally join a CSA.
Thanks Otesha for welcoming us with open arms.
Julie is an urban planning graduate student at the University of Waterloo, focusing on sustainable transportation.