THEMUSEUM's feature exhibition, Surface Tension, is the Canadian premiere of a travelling international exhibition that brings together artists, engineers, designers and scientists. Running from September 20th, 2013 to January 5th, 2014, the exhibition explores the many qualities of water, challenges to this pervasive resource and potential solutions.

THEMUSEUM's feature exhibition, Surface Tension, is the Canadian premiere of a travelling international exhibition that brings together artists, engineers, designers and scientists. Running from September 20th, 2013 to January 5th, 2014, the exhibition explores the many qualities of water, challenges to this pervasive resource and potential solutions. The phrase "surface tension" literally refers to the tendency of the collection of molecules at a liquid's surface to contract and resist an external force; this same tendency prevents a water strider from sinking as it glides effortlessly across the water's surface. The installations involved in Surface Tension, represent the physical qualities of water while simultaneously alluding to various external pressures – from environmental degradation to population growth – that are impacting our global supplies.
As you ascend to the top floor of THEMUSEUM, statements about water appear on the stairs along your climb. Upon entering the glass-walled exhibition space you're immediately confronted by Petroc Sesti's Event Horizon, an installation that plays with our familiarity – the popular experience of using water, two pop bottles and tape to create a "tornado in a bottle." A large bell jar filled with a clear liquid sits on top of a simple white plinth; inside it a vortex perpetually twists and contorts along an invisible axis. Event Horizon, like other installations within Surface Tension, challenges our learned associations and expectations; in this case the centripetal force of gravity never quite brings the vortex to a halt.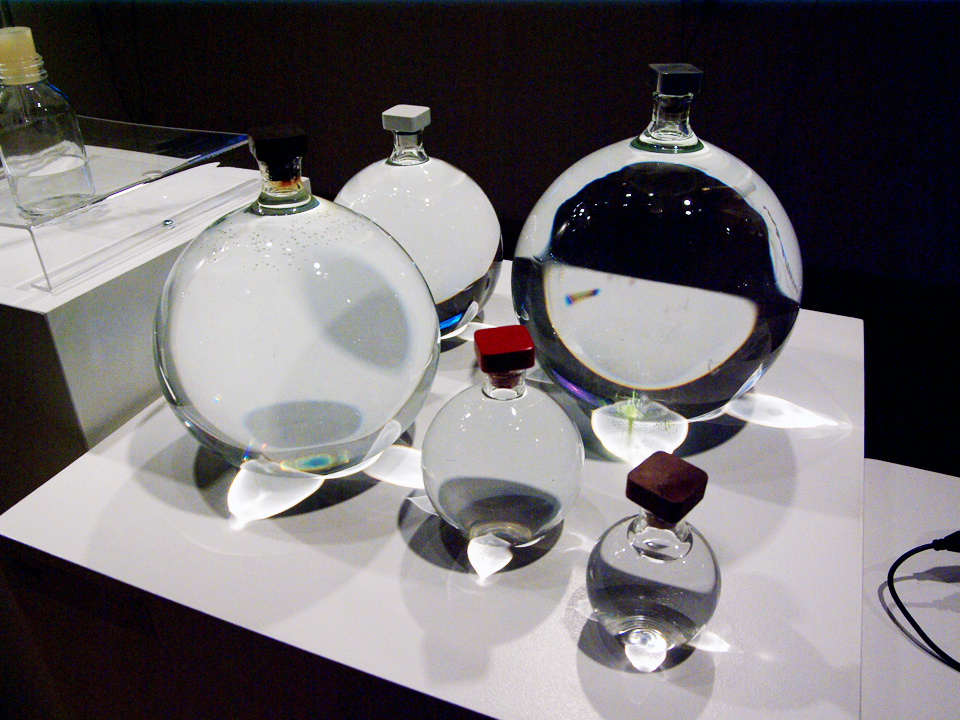 Matt Costello,
Hidden.
Photo by Amy Calder.
Water is essential to almost every biological process in the body; what's more often overlooked is how integral it is to the production of the materials, goods and services we rely on in contemporary society. Matt Costello addresses this theme. Hidden represents the virtual amount of water that goes into making common materials like aluminum, polymer and ceramic. Costello'sseries of spherical glass bottles each contain as much water as is required to produce its 8cm3 cap – a simple gesture that allows the viewer to compare and contrast material choices.
As the impacts of climate change steadily continue, water scarcity will become a reality for a broader cross section of the world as well. A contentious form of mitigation enters into the discussion within Surface Tension as you move further into the gallery space and encounter a device called the EFTEQ Intelligent Water Meter, an active form of resource management that requires prepayment by the user in order to access water and can be programmed to release set amounts. Installed by water providers throughout South Africa since the 1990s, the controversial Prepaid Water Meter makes water a commodity and conflicts with the notion of the human right to access and maintain "common ownership" over water. In South Africa, the Anti Privatization Forum (APF) mobilized to resist installation of the water meters, and conflicts over their usage continue.
Several of the installations in Surface Tension also seek to encourage a shift in consumer behaviour in both direct and indirect ways. An udder-like silicone carafe called Pouch made by Olivia Decaris physically restricts the amount of liquid distributed with each pull. Artist Timm Kekeritz takes a more indirect approach; his large-scale infographic titled Virtual Water: Water Project represents the total volume of freshwater used to produce a range of products including beef, cane sugar, paper and potatoes. In addition, Kekeritz and collaborator Frank Rausch's Virtual Water iOS app shows how much water our everyday food and beverages are consuming, taking Kekeritz's attempt to impact consumer decision-making one step further. Smarter Water – a collaboration between Francesco Calabrese, Jer Hayes, Tom Leahy and Emanuele Ragnoli – takes a technological approach by using visualization to present a systems perspective of water usage. By using data from the water system network in Dublin, Smarter Water shows water usage throughout city infrastructure at different times and under varied demand. Water consumption is a particularly salient issue for many cities as projections state that the majority of the global population will live in urban centres by 2030.
The final piece you encounter is Bit.Fall by German artist Julius Popp. A computerized system controls a series of nozzles along the ceiling that spill streams of water in the shape of words. The words are chosen based on a statistical algorithm that filters terms from the New York Times' current news stream. Through its reliance on gravity, Popp's piece stands as a metaphor for the ephemeral nature of culture and values, as well as the contemporary transference of information, and offers a melodic space for contemplation.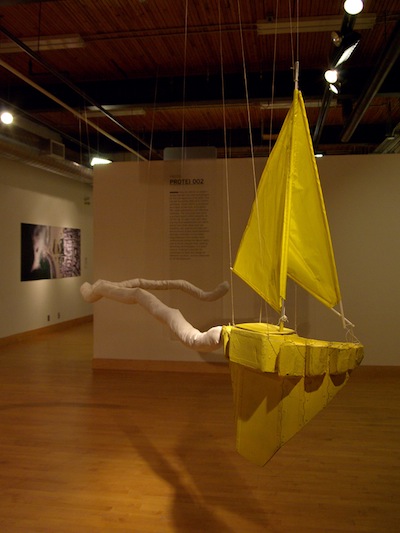 Protei,
Protei_002
. Photo by Amy Calder.
Surface Tension is the product of Science Gallery, a multi-disciplinary space that opened at Trinity College Dublin in 2008 that, much like THEMUSEUM, seeks to be a place where science and art collide. With the support of Google, Science Gallery launched the Global Science Gallery Network, an initiative to establish a network of eight science gallery locations in partnership with leading universities in urban centres by 2020. The exhibition is also part of a wider project of engagement called Carbon 14: Climate is Culture, created by the Cape Farewell Foundation – a North American charity that encourages a cultural response to climate change. THEMUSEUM is also presenting a range of related discursive programming including a series of guided interactive activities called Water Labs, film screenings and Water Dialogues that continue the discussion of significant issues facing water in a local and global context.
The launch of Carbon 14 itself is timely; 2013 was declared the United Nations International Year of Water Cooperation. Events throughout the year have highlighted the history of water cooperation initiatives and connected water to the UN's Millennium Development Goals by identifying issues surrounding education, diplomacy, transboundary water management, financing and legal frameworks.
Surface Tension, Curated by Ralph Borland, Michael John Gorman, Bruce Misstear and Jane Withers, and created by Science Gallery at Trinity College Dublin. THEMUSEUM, Kitchener, Ontario, September 20, 2013 to January 5, 2014.
Reviewer Information
Amy is a graduate student at the University of Waterloo pursuing a Master of Arts in Planning, with a focus on the adaptive reuse of historic buildings. She has an Honours Bachelor of Arts in Studio Arts from the University of Guelph and is interested in built and natural heritage conservation, photography, all forms of culture, and identifies as a maker.