It would be difficult to recount all the broken promises which led us here. Two independent forestry reviews, adopted in spirit then ignored in reality; a public push for the purchase of corporate woodlands so they might be protected by government, only to have them opened for logging on new and grander scales; a citizen-led lawsuit on behalf of species-at-risk which was swiftly won, but without timely gains for the species in question. The crusade to preserve the forests of Nova Scotia has raged on for decades now, all of it breaking ineffectually against the old guard of government, its Department of Natural Resources and Renewables determined to twist reality into whichever shape allows the harvest to continue, whether that means cutting the province's last remaining mature trees, or chipping its youngest stands for biomass.
Step beyond the manicured fiction of highway treelines and you'll find a province honeycombed by logging roads, neatly and conveniently subdivided into moonscapes of regenerating clearcuts. And these logging roads lead everywhere, blazing deep into the province's natural heritage, leaving no buffer at all between the industries of humanity and the places where wildlife supposedly live.
There are exceptions, of course, places which have reclaimed some wildness with considerable time and scarring, but almost without exception these are federally protected national parks, provincially protected wilderness areas, or privately protected land trusts, their borders shaved so closely by rampant logging they stand out in satellite imagery.
A 2008 report, published by GPIAtlantic and drawing from the province's own inventory data, discovered that in 1958, forests with an average age of 80 years or older accounted for a full 25.1 per cent of all woodlands in Nova Scotia. By 2003, that number had dropped to 1.5 per cent, with forests younger than 40 swelling to dominate the landscape, occupying the aftermath of so many clearcuts. Nova Scotia has gotten younger, patchier, emptier, and while the Department of Natural Resources and Renewables has shown little interest in updating these figures, for the benefit of citizens or policymakers, we can be certain they have not improved.
Global Forest Watch puts the reduction of provincial tree cover in Nova Scotia since 2000 at 15 per cent, or, 682,000 hectares, but these numbers are of limited value to the human intellect. Nova Scotia has plenty of trees. What it lacks is wilderness, mature, diverse, and thus unfragmented.
Speak to any conservation professional in Nova Scotia, to any biologist not in government employ, and you will hear anger and exhaustion as the wild places they represent continue to be disassembled. Loggers are taking anything not nailed down, they say, pressing now into the last of the province's unguarded wilderness, pouncing on the scraps with disheartening zeal while espousing sustainability. There has been talk of change, proclamations of progress, but anyone in the field knows this to be nonsense. And these frustrations have reached their natural conclusion – civil disobedience.
Loggers are taking anything not nailed down, they say, pressing now into the last of the province's unguarded wilderness, pouncing on the scraps with disheartening zeal while espousing sustainability.
Logging blockades are relatively new to Nova Scotia. The first to catch my attention dates back to 2019, when several dozen citizens in Shelburne county threatened to fill a logging road with a fleet of parked cars if the harvesters in question – WestFor Management Inc – tried bringing in their equipment. The forest they pledged to protect was not old growth, was not the habitat of some critically endangered species, just a forest with value to the community, one they insisted remain standing. WestFor has yet to test their resolve.
Other blockades soon followed, the largest and perhaps most consequential involving several dozen Nova Scotians who set up camp on two logging roads in Digby county in late 2020, fed up with the unrepentant logging of mature woods between the Tobeatic and Silver River wilderness areas. Their blockade was so implacable that the loggers in question, WestFor Management Inc, required a court injunction to remove them. Arrests and criminal charges were the result. In case you're imagining a bunch of scrappy millennials, with beanies and hemp sweaters, you should know most of these protestors were middle-aged or older, several of them retired.
The most recent blockade is perhaps the most poetic. In the 1920s, as populations of mainland moose began their precipitous decline, Nova Scotian hunters and trappers consistently faced winter with too little meat in their freezers. Whenever this happened, they made for a hunting camp west of Highway 10 in the Annapolis Valley, between McEwen and Cranberry lakes, right by Beal's Brook. No matter how bad their luck over the preceding year, this campsite always fed them just ahead of winter. Hence its name – Camp Last Hope.
In the 1990s, this site and the surrounding 24 hectares were slatted for cutting by the Bowater Mersey Paper Company, but local hunter and trapper Randy Neily convinced them to spare the site for its value to wildlife. Decades later, in November of 2021, after so much wilderness had been removed from the surrounding region, logging flags again appeared on these 24 hectares, put there by WestFor. This time, when Randy contacted the provincial government and logging company, he was greeted with equal parts silence and shrugs. It was too late, he was told. Cutting would begin soon. A few days later, on December 2nd, Camp Last Hope was occupied once more, this time by protestors.
"There's so much already gone that even this little, 80 year old, mostly pine and oak forest is incredibly precious," said Nina Newington, a garden designer and novelist who helped organize the camp. "It's just about the last bit of tall, somewhat intact forest in this whole patch."
And therein lies an unsettling truth – in Nova Scotia, there's nothing pristine left to fight for, only the finest fragments. Over 50 people now come and go from Camp Last Hope, about 30 of whom consistently spend the night. Some are local, some from across Nova Scotia, some from previous blockades (this is Nina's third), and some entirely new to civil disobedience. The camp is kept fed by locals who plow the road and drive in food. So far, WestFor hasn't attempted to cross their camp or the road it blocks.
"In spite of all the clearcutting," said Nina, "this is still better than a lot of areas."
These 24 hectares are slated for a 30 per cent cut, what some people might call "sustainability." Never mind that a recognized wildlife corridor, in which the presence of several species-at-risk has been well demonstrated, should transcend the whims of forestry. Camp Last Hope is about something a little more nuanced – landscape level management.
The province makes a point of considering proposed harvests on a plot-by-plot basis, without regard for the region as a whole, and, from this postage-stamp perspective, heavy harvest prescriptions rule the day, the result of armchair biology reliant on GIS data and blissful ignorance. Without each cut in context, entire landscapes are picked apart piecemeal, hiding the impotence of a "gentle" 24 hectare cut from the hundreds of surrounding hectares already in ruins. And, as is common practice in Nova Scotian forestry, even the mild 30 per cent cuts are often followed up with additional cuts in proceeding years.
The protestors of Camp Last Hope, having already endured the worst of January, intend to stay until the harvest is called off by the Department of Natural Resources and Renewables, and this area is placed under consideration for formal protection by the Department of Environment. It could be a long wait, and they're prepared.
 "It will, at some point, get warmer," quipped Nina.
Speak to these people – the protestors, the conservationists, the academics – and you discover that none of them are thinking small.
Speak to these people – the protestors, the conservationists, the academics – and you discover that none of them are thinking small. On each and every mind are the dual crises of climate change and mass extinction, global calamities which are the result of countless smaller, pettier, underappreciated indiscretions, such as the felling of 682,000 hectares in Nova Scotia, and then 24 more. Antiquated attitudes and policies toward the management of Nova Scotian forests has left them depleted of wildlife and perpetually immature, unable to support native biodiversity beyond a few crows and black flies. If there is not a shift in culture or leadership in Nova Scotia, and dare I say Canada, we should expect more blockades. Camp Last Hope is less of a protest, and more of an eventuality.
"There's nowhere left that hasn't been affected, and certainly nowhere I can think of in Nova Scotia, where there are as many animals as there used to be," Nina told me from her prospector tent in the bitter cold of January. "We're going to stand up, to take risks, to do difficult stuff, because we have to make change, and you can join us."
---
Join us in enjoying Zack Metcalfe's column, Eastern Perspectives.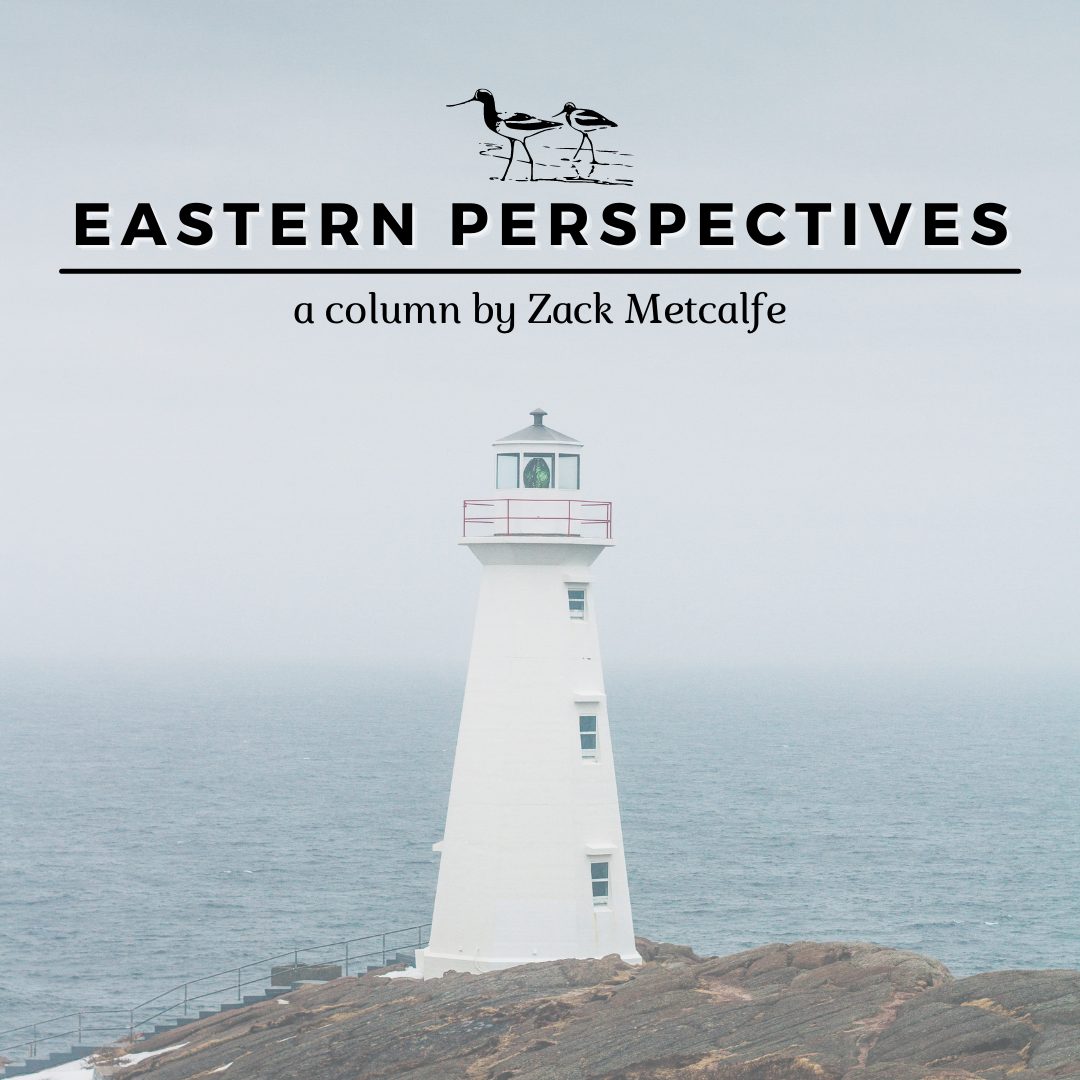 Zack Metcalfe is a freelance journalist, columnist and author based in the Maritimes.