"After finishing up my work for the day, I decided to go for a walk around the block. It was around 6 PM, so the sun was no longer in the sky, but the light of day remained and blanketed the world in a golden hue. I stepped outside, took a deep breath of fresh air, and the first thing I heard was the call of a mourning dove. It instantly calmed me. I heard its familiar call and it had a very real, very immediate effect on me. For a moment, the only thing occupying my brain was the sound of another living being."
Above is an excerpt from an article called "A Being in Nature" that I wrote for A\J about a year ago when I was working as a full-time co-op student. I so clearly remember the day I wrote it. It was a busy work day, online and remote, and I was feeling overwhelmed with stress, screen-fatigue, winter blues, and eco-anxiety. When I ventured outside and heard the call of the mourning dove in my backyard, all the negatives of the day melted away, and it was just me and the bird. 
Birds have a special relationship with us. Graeme Gibson knew that and taught many of us about this bond through his life's work of writing about birds and dedicating his time to bird conservation. Margaret Atwood, partner to Graeme, has, of course, been very active in both circles of Canadian literature and bird conservation as well. Together, they are the perfect, poetic pair of bird-loving writers and conservationists. 
As Grant Munroe wrote for The Walrus, "Other famous literary couples have shared pastimes—Vladimir Nabokov collected butterflies to the delight of his wife, Vera; Sylvia Plath took up beekeeping with Ted Hughes—but few have been as well-paired for the activism that often attends birdwatching: Atwood's interest, which seems cooler and slightly ironic, tempers Gibson's gregarious fanaticism. Rather than rail against cat owners, as some do, they have adopted a balanced collaborative angle: driven yet compassionate, cut with humour, grounded in science, effected through appeals to emotion and intellect." 
Atwood and Gibson achieved huge bird conservation wins in their life together. The pair played an important role in founding the Pelee Island Bird Observatory in 2003, and consistently worked to support and bring attention to the organization whenever possible. In 2005, Gibson released his now most famous novel, The Bedside Book of Birds: An Avian Miscellany, all about bird life and behaviour, history and mythology, photographs, art, and stories. Graeme and Margaret were also co-presidents of BirdLife International's Rare Bird Club.
As you may have already guessed, Graeme's impact was far-reaching as he was known as a champion of birds across several environmental organizations. It seems as though wherever there were bird conservation campaigns happening in Ontario, the names Gibson and Atwood were involved. Nature Canada is one such organization that has put forward several bird conservation campaigns, including the Save Bird Lives campaign, which Graeme and Margaret were driving forces behind and that helped to inspire Atwood's graphic novel series Angel Catbird. 
Another Nature Canada bird campaign that has gained a lot of support and traction is the Bird Friendly City Certification Program. This program gives municipalities the opportunity to reduce bird threats in their cities, restore and enhance bird habitats, and provide public outreach and education through citizen engagement. In 2021, Nature Canada certified the following 4 Canadian cities in Ontario: London, ON; Toronto, ON; Vancouver, BC; and Calgary, AB. The vision of this program is that certified "bird-friendly" areas will grow and the Canada's cities and towns will provide the necessary habitats for birds to not only find refuge during migration periods but also thrive.
"In the last 50 years, we've lost three billion birds in North America — 25% of the population — gone. Beloved species that live in or pass through our towns and cities, our fields and forests, have been pushed to the brink. At Nature Canada, we're organising the effort to bring them back with organised, science-backed action." – Ted Cheskey, Naturalist Director of Nature Canada

To learn more about this program and the work Nature Canada is doing to protect bird species in urban and suburban spaces, explore here.
Graeme and Margaret were supportive and involved in the work Nature Canada has done over the past several decades, and now, in 2022, Nature Canada's highest honour – the Douglas H. Pimlott Award – is being awarded to both Margaret Atwood and Graeme Gibson.
Douglas H. Pimlott, sometimes known as the founder of the Canadian environmental movement, was a key environmental leader in conservation, wildlife biology, and ecology work. He paved the way for Canadian environmental protection and made huge contributions to environmentalism in his lifetime. His award suitably honours individuals who have made similarly outstanding achievements and contributions to conservation in Canada. 
On March 2, 2022, at Nature Canada's Pimlott Award Celebration Margaret Atwood and the late Graeme Gibson will be honoured and recognized as champions for birds and nature. The event will feature Graeme and Margaret's literary and bird conservation achievements, and their legacy that will live on to inspire the next generations to follow in their footsteps. There will be featured guests and speakers, and registration is free of charge, although there are limited spots. Will you choose to be a part of this story? A story of hope – for the world that future generations are inheriting, for the natural world, for the birds.
Graeme had a compassionate soul, showing kindness to the people he worked with and the birds he worked for. He will be missed and remembered by many. Now, it's our job to take his wisdom, inspiration, and passion for birds, nature conservation, and literature and move forward into 2022 and beyond. It's our job to listen for our mourning dove call and let it move us.
***
"By stepping outside, not only are you getting a good dose of fresh oxygen, serotonin, vitamin D, and maybe a pretty sunset out of it – you're reconnecting with the earth. The ground you're walking on. The plants and animals that you coexist with. The little delights that live and thrive and breathe and walk and live all around you. And if we keep connecting with these things, I hope we will feel a little bit more grounded in our own backyards, realizing that we're part of nature and we can take care of it in the footsteps of people who have done so for many generations. We can get to know the names of the species around us, the bird calls, the texture of the grass outside, the smell of the soil in our gardens. These details are important – they are vital to upholding the connection we have to the Earth. And we will be able to fight for this planet and remedy our eco-anxiety if we keep tending to the relationship we have with nature."
---
Stay tuned for next week's FOR THE LOVE OF NATURE article on Gibson and Atwood's love – for birds, for nature, and for each other.
For a more comprehensive list of Graeme's achievements and Margaret's tribute to him, follow the links below: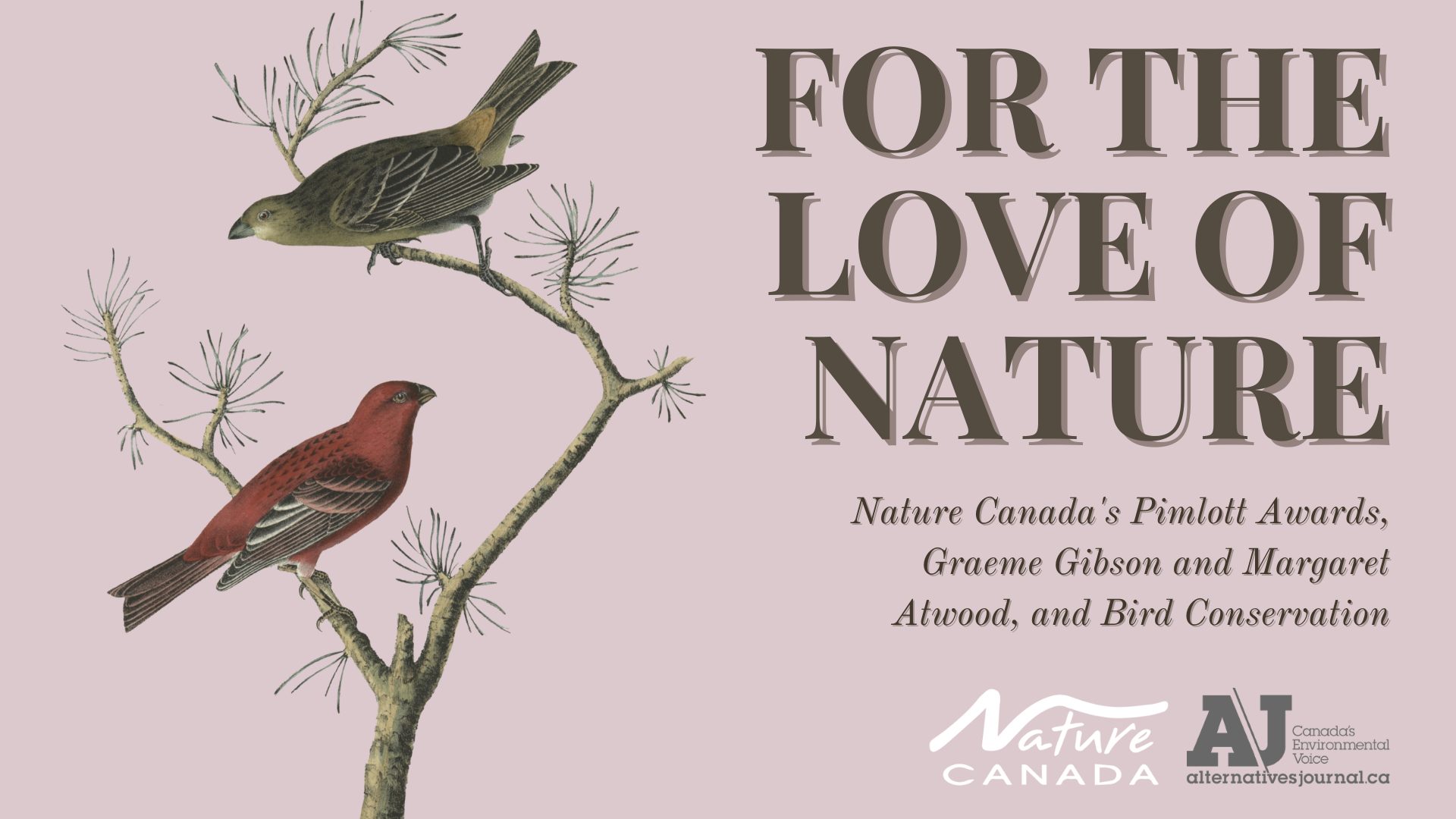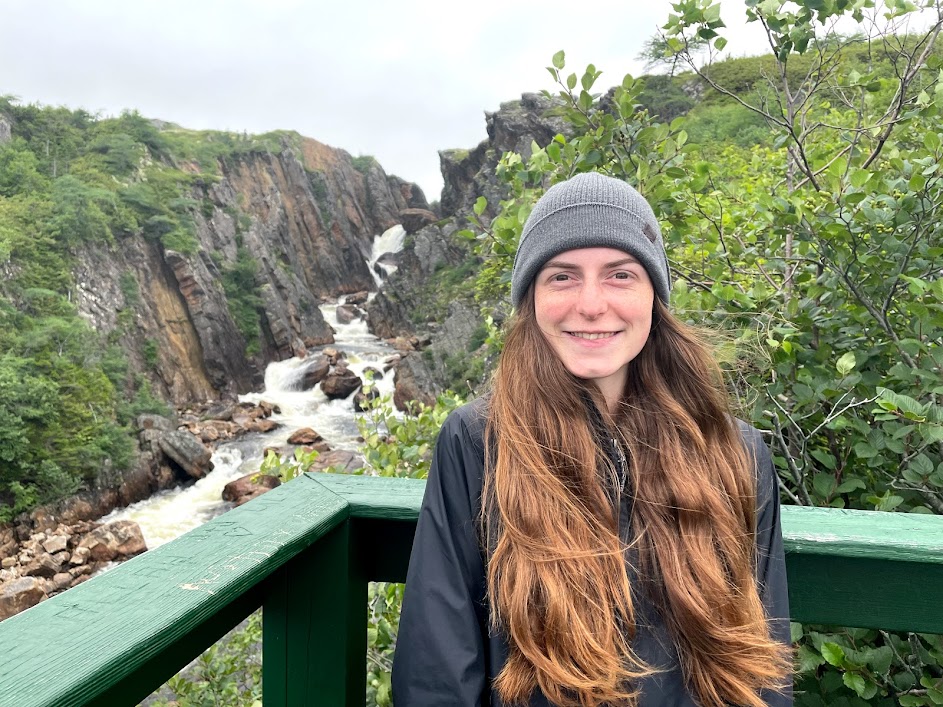 Siobhan Mullally (she/her) has an Honours B.E.S. from the School of Environment, Resources and Sustainability (SERS) at the University of Waterloo with a minor in English Language and Literature and two diplomas in Environmental Assessment and Ecosystem Restoration and Rehabilitation. For her senior thesis, she travelled to Labrador to study climate change impacts on tundra ecosystems in the Canadian Subarctic.
As a budding ecologist, researcher, and writer, she is interested in exploring the intersections between ecology and communication to inspire climate change and help others develop a deeper appreciation for nature. In her free time, she enjoys spending time in nature and getting lost in her favourite novels.