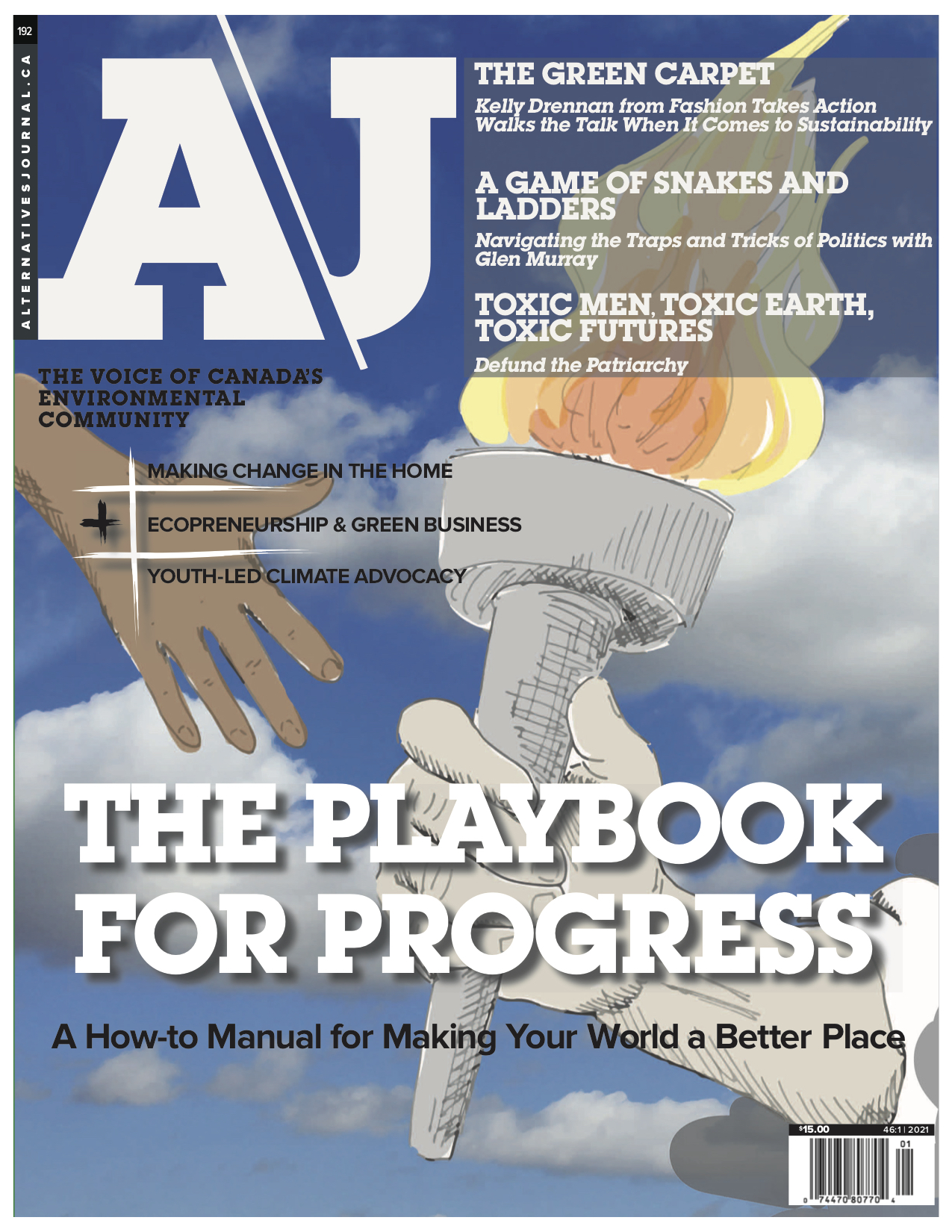 Dear Reader,
Our team at Alternatives Journal is proud to announce the release of our first issue of 2021 (46.1), The Playbook for Progress: A How-to Manual for Making Your World a Better Place.
By looking into different silos of green work (government, academia, corporate, eNGO, etc), Playbook for Progress explores just HOW each and every one of us can make environmental change in the world at different levels and in all spaces.
This issue includes the voices of long-time environmental leaders as they share their best advice, do's and don't's, cautionary tales, words of wisdom, and inspiration as they pass the torch to the incoming generation of change-makers. Playbook for Progress also aims to address and tackle the big, systemic issues that impede progress, like toxic masculinity, discrimination, and corruption in our government and economic systems.
So, if we want to make change, where do we start? Where should we look for the best opportunities? How can we sustain ourselves while making change? How do we stay motivated? What does progress look like?
We hope this issue helps answer those questions for you, but above all, we hope it inspires you to continue working hard to make the world a better place for all. Led by guest editor and change-maker Natasha Arsenijevich, this issue is rooted in the hearts and stories of compassionate people doing their best, and we thank you for joining us on this journey.
We encourage you to read the digital magazine below and/or download the PDF to view the print magazine design.
Thank you,
The A\J Team
Table of Contents
Letter from the Editor – Natasha Arsenijevich
Publisher's Note – David McConnachie
Creators – A\J Team
Playing Chicken – Natasha Arsenijevich
Babies on Board – Elizabeth Greenfield
Higher Stakes – Siobhan Mullally
Building Rainbow Bridges – Kait Tyschenko
Toxic Men, Toxic Earth, Toxic Futures – Sophia Sanniti
Canada Scores for the Environment – David McConnachie
Called to Duty – Emma Tamlin
A Game of Snakes and Ladders – Natasha Arsenijevich & Siobhan Mullally
Captain Community – Greta Vaivadaite
Sharing the Spotlight – Siobhan Mullally
Hungry for Change – Paul Taylor
The Enterprising Ecopreneur – Greta Vaivadaite
Musing of a Cautious Optimist – Andrew Bowerbank
The Dean's Gambit – Siobhan Mullally
The Green Carpet – Greta Vaivadaite
Ready Player One – David McConnachie
Are You Paying Attention? – Katie Kish
Virtual Inspiration – Siobhan Mullally
Researching Canada's Ecological Footprint and Biocapacity – Katie Kish & Eric Miller
Quantum Leap Needed – Stephan Vachon
The Beating and Bleeding Heart of Boreal Trees – Ishani Dasgupta
The Nexus of Technology & the Environment – Jane Pangilinan
On Bees and Communities – Aalia Khan
A Diary of the Underappreciation of Water – Shanella Ramkissoon
PLAYBOOK FOR PROGRESS PDF – Download to keep and share with friends!
Be sure to also check out our PLAYLIST FOR PROGRESS on Spotify, including songs that inspire change and reflect this issue's message.