A\J, or Alternatives Journal, is Canada's national environmental magazine, independently publishing intelligent & informed environmental journalism since 1971. A\J is published by Alternatives Media Inc, a registered Canadian charity that is dedicated to publishing hundreds of stories, inspiring thousands of meaningful actions and engaging with millions of Canadians, each and every day.
Our mandate
To promote an understanding of "environment" in the broadest sense of the word, including social and political dimensions, and stimulate dialogue about environmental issues – as well as to provide critical and informed analysis and provide publishing opportunities for Canadians, especially youth.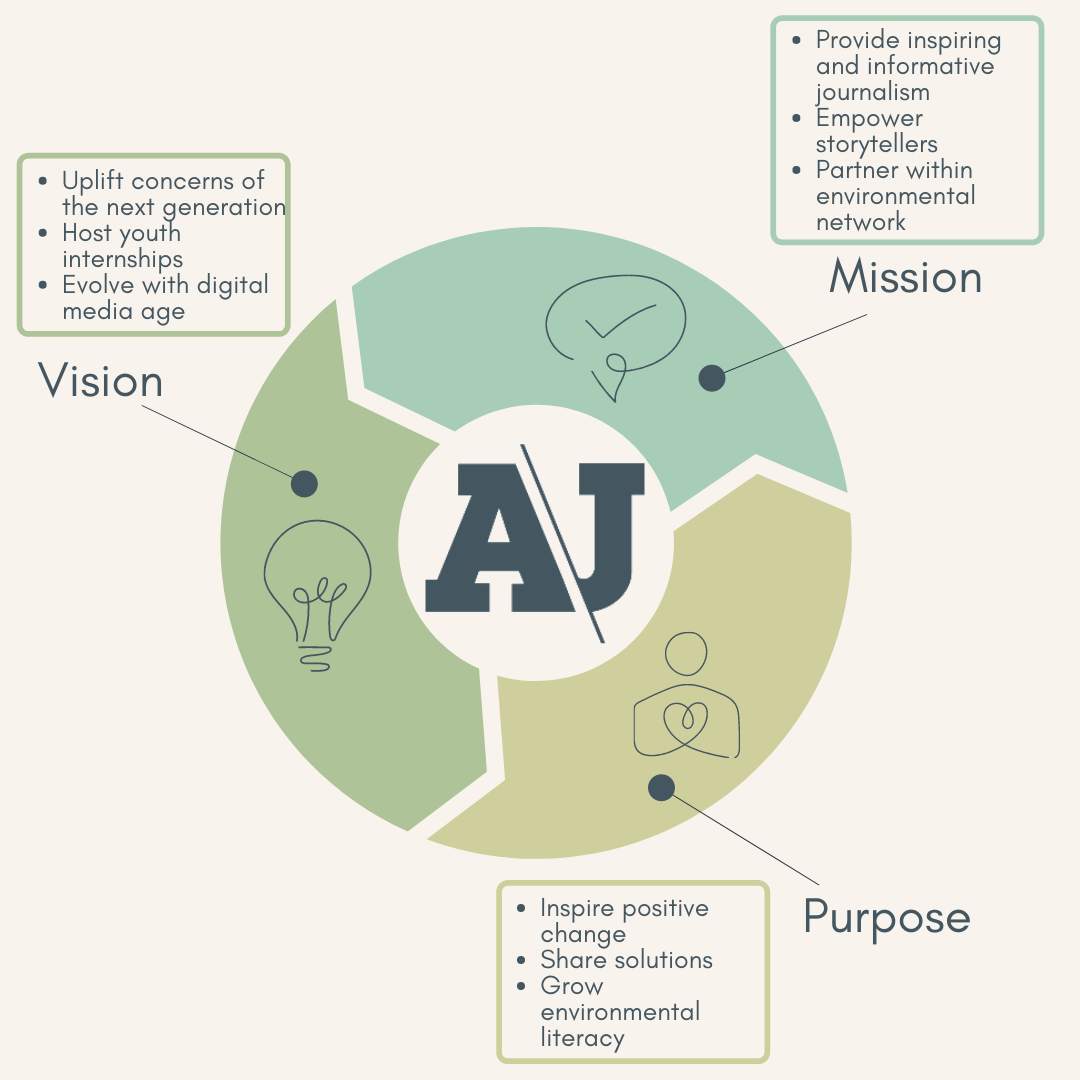 Mission
A\J has always had the mission of providing inspiring and informative journalism to our readers. Through our digital platforms, i.e., our website, digital magazines, and social media, we aim to empower storytellers in the environmental space and share relevant messages. Our A\J team, volunteers, and other contributors provide the content to share with readers, but our partnerships with other organizations also play a key role in amplifying our stories in the environmental network. We aim to establish and foster partnerships with other organizations that share our values where we communicate their messages and they uplift our stories. These connections are at the core of A\J's mission to inspire and inform Canadians about environmental topics and solutions.
Vision
In 2021, A\J turned 50. It was a time of celebration and a time of reflection as we looked back on the evolution of environmental storytelling since the 1970s. A\J is a living, breathing example of the evolution of storytelling in Canadian journalism. In 2022 and beyond, we will continue to stay open-minded and change along with the times to provide the type of stories and messages that are needed. Our new website and digital first strategy will allow us to reach new audiences in this social media age. We hope to continue evolving our online presence to suit both old and new readers, especially those of the next generation whose concerns should be prioritized and uplifted. Our vision is to continue to host youth internships and co-op placements for students, empower their visions, build their skills, and give them a platform to speak and be published. We believe that the most important voices are those of the next generation and we will always be here to amplify their stories.
Purpose
A\J exists because a group of students at a university in 1971 saw a need for environmental communication and this need is still as relevant today as it was 51 years ago. Growing Canada's environmental literacy has always been at the heart of this organization. A\J is here to inspire and inform positive change for a better future. The solutions to the climate crisis are already out there and we are driven to share them to continue sparking hope, ideas, and action. 
Connect with Us!
We would love to further discuss a partnership together. Email us at any of the following:

david@alternativesjournal.ca
alexander.goddard@alternativesjournal.ca
siobhan.mullally@alternativesjournal.ca

Donate

Cheques and online donations are always greatly appreciated and our team will make sure we return the favour in the form of telling your stories, covering your events, and promoting your mission.

Buy Ads

We can advertise your news, events, and programs on our website and in our digital magazines. Contact us for more details
We thank you for taking the time to read through our vision and hope that we can collaborate to continue empowering environmental story tellers, ensuring that the voices of the future generations continue to be amplified.