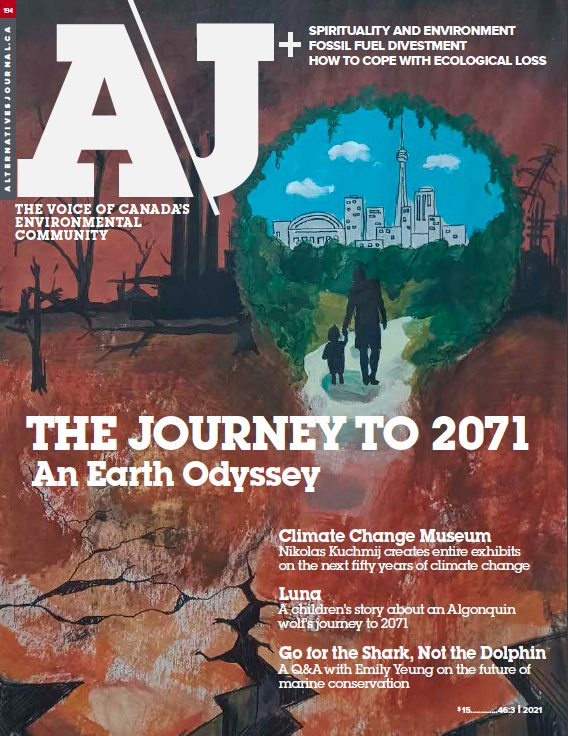 Dear Reader,
We are excited to present to you our third issue from 2021, "The Journey to 2071: An Earth Odyssey".
In this issue, we aim to mentally enter the year 2071, with the assumption that we made it to that point, and tell stories from our journeys to getting there. The stories will look from a backwards point of view on how we managed to dodge environmental cataclysm and rebuild society and nature anew. A combination of cli-fi (climate fiction), utopian and dystopian creative visions, climate science, and intergenerational stories are required to make this issue, the future of 2071, come to life.
Our goal is to challenge readers to think about the climate crisis in a different way and start thinking about what they're going to do in their individual lives and communities to strive for that possible future; we want people to envision the journey. We're not looking for false hope or optimism, but rather, diverse stories that are grounded in the views of people.
Below is our Table of Contents where you can read all about the A\J Team's process of creating this issue, interviews with amazing new environmental leaders, book and film reviews, as well as our on-theme content, separated in 3 sections: Before the Storm, During the Storm, and After the Storm.
We hope you enjoy this digital issue and we thank you for all of your continued interest and support. Please note that we have included the full PDF of the issue at the bottom of this page, which you are welcome to download and share.
Kindly,
The A\J Team
Letters from the Editors – Ishani Dasgupta, Alex Goddard, & Siobhan Mullally
Publisher's Note – Ishani Dasgupta – coming soon
Creators Page – A\J Team – coming soon
Designer's Corner – Jelena Polimac – coming soon
Go for the Shark, Not the Dolphin – Ishani Dasgupta – coming soon
Funding the Future – Samanvitha Annedi – coming soon
The Perils of Efficiency – Seth Bunev – coming soon
Before the Storm – 2020s – 2030s
Luna Part 1 – 2026 – David McConnachie – coming soon
The Road to Fossil Fuel Divestment – Truzaar Dordi – coming soon
Rebels with a Cause – Yasmeen Aslam – coming soon
The Soul of Nature and Me – Ishani Dasgupta – coming soon
"Screaming Ghosts of 1552" – Charlotte Joyce – coming soon
During the Storm – 2030s – 2050s
Luna Part 2 – 2035 – David McConnachie – coming soon
The Climate Change History Museum – Nikolas Kuchmij – coming soon
After Alexandria – Sabrina Chefari – coming soon
After the Storm – 2060s – 2071
Luna Part 3 – 2063 – David McConnachie – coming soon
Breaking News: 2071 is Here! – Guenevere Neufeld – coming soon
A Eulogy for Nature – Siobhan Mullally – coming soon
Lend Me Your Hindsight – Seth Bunev – coming soon
The Stories that Shape Our World – Jeevan Jones – coming soon
Invisible Glasses and the Rebalancing of Planetary Energy – Valerie Behiery – coming soon
Reviews
Small Steps to Greater Understanding – Darwin Sodhi – coming soon
Climate Change 101 – Courtney Kraik – coming soon
Facing Giants – Diljot Badesha – coming soon
Children's Essential Guide to Forests – Sama Saquib – coming soon
A Prediction of Future Events – Yasmeen Aslam – coming soon
LINK TO PDF – coming soon