For A\J's 50th anniversary, get four issues for $50.00!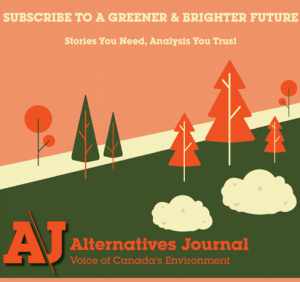 Our readers help empower environmentalists across Canada as they tell stories that inspire meaningful actions and promote solutions to ecological problems.
Stories You Need, Analysis You Trust
Support innovative and informed journalism, visit:
50th Anniversary Subscription Offer
One year of A\J's 50th anniversary issues – PLAYBOOK FOR PROGRESS, THE FUTURE OF US, 2071, and AJ @ 50 – delivered this calendar year for only $50.00!
SUBSCRIBE TO A GREENER & BRIGHTER FUTURE. SUBSCRIBE TO A\J TODAY!