Our New Eyes for Accountability: Satellite Technology Monitoring Environmental Crimes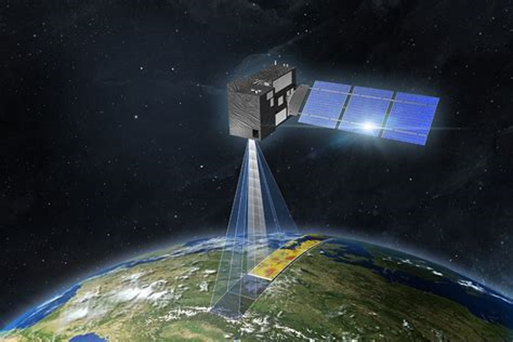 Source: BBC
An article published this week suggests that satellite technology is now aiding in reporting environmental violations. New monitoring projects are currently being developed in order to track and hold accountable parties that purposely violate environmental regulations.
Among descriptions of satellites monitoring fishing vessels and deforestation in the Amazon rainforest, the newest project in motion is known as the "Flaring Monitor" project. This project focuses on relating heat sensor readings from NASA satellites to better capture the unique signatures of natural gas emissions, specifically carbon dioxide (CO2) in the United States. In doing so, the project hopes to assign ownership for large and unregulated amounts of CO2 released into the atmosphere, to the offending parties in real-time.
This project has already performed exceptionally and their most recent reporting has primarily been tracking emissions from U.S. oil and gas basins. These areas have large amounts of heat radiated and potential natural gas flares, all of which are recorded regularly through geospatial mapping. The results of which can be utilized in the future to penalize oil and gas companies for irresponsible emission releases. Moreover, this technology can also be used to track wildfires through heat tracking.
It is important to note that satellite technology is still being developed, however, the current global economy is gearing towards incentivizing this advancement. This is especially the case for nations that are currently at an economic loss from harmful activities, such as air pollution, overfishing, deforestation, etc. Soon enough, Earth-monitoring satellites will be our new eyes on the watch for environmental transgressions.
Michigan Line 5 protesters want it to "Line die" on May 12, 2021.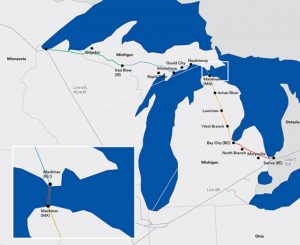 Source: Enbridge
As a Michigander myself I used to spend my Summers driving to the Mackinac (Mak-en-naw) Bridge and looking at how the two Great lakes collided into one giant body of water. As to when I decided to learn more about the environmental health of my great state, I did not know there was a GIANT metal crude oil pipeline that was under the Mighty Mackinac Bridge itself. 
The pipeline has been in use longer than expected from the 1953 easement but is continuing to run at the age of approximately 70 years old. Line 5 runs from Michigan City from Superior to Sarnia, Ontario. The goal of the pipeline is to carry 50% of petroleum east to Western Canada. 
The group that owns this pipeline is a Canadian-based company called Enbridge located in Calgary. Line 5 has been a topic of discussion with Michigan's current governor and demands that the company pipeline should be shut down by May 12, 2021.  Governor Whitmer says "the devastating economic, environmental and health impacts of a catastrophic oil spill in the Great lakes" can't be risked. She referred to the pipeline as "a ticking time bomb" due to the recent Enbridge Kalamazoo River oil spill in July 2010.  Enbridge took Michigan to the U.S. federal court to find a resolution. At the current moment, the company has no intention of shutting down the pipeline unless ordered to do so by a court or regulator which they have stated is "highly unlikely". Prime Minister Justin Trudeau has seen the effect of how petroleum can be crucial to Canada's economy and wants to fight harder to keep the pipeline alive. 
At any moment an Oil Spill like BP: could destroy 20% of the world's freshwater systems and it would be done by a pipeline that is not even made in the United States. The Great Lakes provides 350 000 jobs in Michigan according to Whitmer.  Environmental and Indigenous groups have been raising their voices on the actions Enbridge has been doing. 
"Water is essential and clean water is essential to life, and why would we risk the largest sources of fresh water in the world? Why would we potentially risk that in the name of profit?" says Bean Deleary, an activist who lives on Canada's Walpole Island First Nation, on the Ontario-Michigan border.
Keeping line 5 in production would have Canada faced with an important decision on whether or not to invest further into fossil fuels.  Canada has a large investment into choosing to find greener alternatives but relies on the set foundation of fossil fuels upon them.  It is now time to choose the health of the environment over profit. 
Let's Get to Net Zero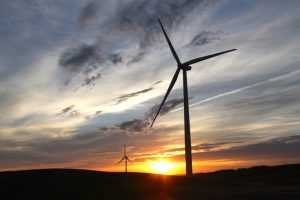 Source: David Suzuki Foundation
At the onset of the coronavirus pandemic, greenhouse gas emissions sharply decreased globally; attributed to the global lockdowns that restricted travel and reduced industrial activity. In the second half, however, as worldwide economic activity recovered in late 2020, the emissions rose again. The Global Carbon Project reported an overall 7% decrease in global carbon dioxide emissions during this period. Despite this drop in emissions, as of May 2021, the  CO2  levels in the atmosphere have hit a record high of 420 parts per million, an increase from the previous years' 416.45 parts per million. 
Carbon dioxide stays in the atmosphere because it is the most important gas for regulating the Earth's temperature. The excess carbon in the atmosphere affects the global amounts of carbon in the ocean and inland. Climate change events that we are already witnessing, such as an increase in the global average temperature, more frequent and severe weather events, and changes in ocean chemistry.
According to associate professor Stephen Hill, from Trent University, the reduction in GHG emissions that we have seen during the pandemic is not likely to have a significant long-term impact. For us to have any significant long-term impacts, the United Nations Environment Programme estimates that the world would need to cut carbon emissions by 7.6% per year for the next decade. Unfortunately, climate-policy researcher Glen Peters, from the Center for International Climate Research in Oslo, predicts that global emissions are likely to bounce back to the pre-pandemic levels. Likewise, David Waskow, head of the international climate programme at the World Resources Institute, said "Historical experience would lead us to expect that we will return to our previous trajectory…"
All hope, however, is not lost. We have an opportunity to make green choices and create a domino effect for environmental action. The aim is to get to net-zero, get to net-zero so that we can balance the amount of carbon dioxide being released into the atmosphere from sources with the amount our carbon sinks and technologies are removing. We all have a part to play in drastically reducing our dependence on fossil fuels, curbing deforestation, and raising our voices to let our leaders know that climate action is a priority. You can bike more, drive less, install solar panels in your home, spread awareness, and continue to have conversations about climate. It starts with you.
Transit Expansion in Ontario, Politicians Celebrate…But Can We 10 Years From Now?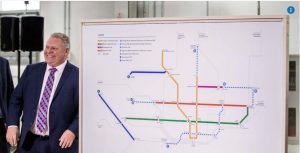 Source Toronto Star
The Canadian Federal announced $12 Billion in funding for five rapid transit lines in Hamilton and Toronto. The new federal funding is aimed at "reducing congestion, getting cars off the road, creating good jobs, connecting historically disadvantaged neighbourhoods and tackling climate change"
The five lines approved for funding are: the Scarborough Subway Extension, the Ontario Line Subway, the Yonge North Subway Extension, the Eglinton Crosstown West Light Rail Transit (LRT) Extension, and the New Hamilton Rapid Transit Line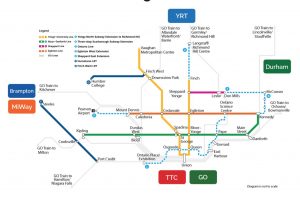 Diagram of the 4 new proposed lines in Toronto 
Source Ontario Government 
Around $10.7 billion will go towards the development of the 4 transit lines in Toronto. This investment will go towards the Progressive Conservatives' $28.5 Billion transit plan in 2019, which included all lines except for the New Hamilton Rapid Transit Line. 
The Province of Ontario decided in 2019 to begin construction on the 4 Toronto lines without federal funding, so the news was met with heavy praise from Provincial and municipal officials.  Despite the new funding, the province still has to pay $17 Billion for the 5 projects. 
There are 3 questions that arise from the news that are yet to be answered. 
1) How long will the 5 projects take? 
It is estimated that the projects will be completed by the end of the 2020s. More questions arise, such as, does this plan do enough to address climate change in the interim? Will there be any further delays to the projects? Transit projects are notorious for delays. Time will tell. 
2) After project completion will Toronto still be a metropolitan city that can justify the large federal investment?
The federal and Provincial government is banking on Toronto and surrounding areas to grow. Transportation Minister Caroline Mulroney stated at a news conference that the new lines are needed "to serve 11 million people expected to live in the Toronto region by 2051". It is unclear if this projection was done before the Covid-19 pandemic. 
Early data from the Covid-19 pandemic shows that Toronto has lost a population of around 55,000 people. This is the first time that Toronto has had a net loss population in decades. This should be a worrying sign for officials that need high ridership to justify and recuperate the investment once it is complete. 
3) What kind of project will happen in Hamilton? 
Currently, it is unclear whether the Hamilton plan will be a light-rail transit (LRT) or bus rapid transit system. The mayor of Hamilton currently expects an LRT, but until further notice nothing is concrete. 
The Rate of Global Land-Use Has Quadrupled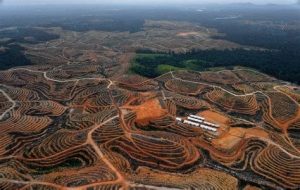 Source: International Business Times
A recent study had shown that by 2019 the rate of global land-use had quadrupled from prior estimates. Land-use change has many stakes in the environment and contributes directly or indirectly to climate change and biodiversity loss. The study has suggested that 32% of all global land area has been altered or affected by land-use development, which indicates that the current Anthropocene has over-achieved its estimated land change targets.
The study has also established diversity in land-use developments in both the northern hemisphere and southern hemisphere. In the northern part of the globe, processes such as the abandoning of recoupable cropland and afforestation (planting trees or vegetation in areas without forest cover), has a large impact on land-use rates. Whereas, in the southern hemisphere, processes such as deforestation and agriculture are more commonly observed.
Moreover, the study criticized the growth of food production and large-scale agriculture, is the key driver for land-use change. Interestingly, both periods of time in which land-use change either accelerated (1960-2005) or decelerated (2006-2019), could be linked to agricultural activities and the rate of food production. Specifically, activities involved in agriculture such as the clearing of land, fragmentation of ecoregions, and increasing transport facilities for food distribution were the main drivers of global land-use change.
It was ultimately concluded that the current rate of agricultural expansion is not sustainable and that further actions must be taken within the food production industry, to decrease the rate of land-use change globally. 
"Size matters, big eyes create the best food delivery workers"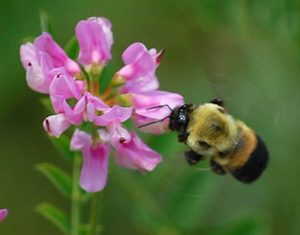 Source: USDA Forest Service
For an uncommon bee lover like I am, springtime is the best moment to begin and plant native flora that can be a helpful place for a bee to rest its head when it's tired or needs some much-needed pollen fairy dust. When I sit on my porch, I normally see several sized bees fly around near dinner time and throw the pollen into their pouches on lavender flowers. I never once thought, when do those tiny furry creatures emerge?
"We might expect all bumblebee foragers to leave the colony to forage as soon as there is enough light to allow them to fly," said Katie Hall, a lead researcher from the University of Exeter. Bumblebees. Bombus terrestris (bumbles bees) will tend to avoid flying in low light due to the predators emerging in the dawn and dusk. The downside is common flowers that produce bee pollen and nectar for food sources also open in dawn and dusk environments. The larger the bee, the more pollen can be carried back to the colony's food supply. Not all bees can travel all the time due to light, temperature, and weather conditions. 
The larger-sized bees that do choose to take the risk for the colony tend to have larger eyes than their counterparts. These bees can have fewer sensitivity thresholds than smaller bees according to Hall. The bees must be skilled in knowing where the best food resources are in locations that can be visited often. The size of the bee does not mean more experience than the smaller bee but has shown to have higher carrying capacity   But those bees who complete more flights are more likely to leave the colony earlier in the morning under low light conditions. Compared to smaller bees, who like to forage in the late afternoon but are more susceptible to predators. Larger bees are more sensitive to food scarcity because of their size. They can also diversify the colony's food with larger pollinator openings. The bees also encounter less competition for pollen and are given a better chance for collection. 
"Climate change temperature and precipitation can affect bumblebee mortality and fecundity directly" according to Peter Soroye of Science Magazine. "Climate change has driven stronger and more widespread bumblebee decline than reported previously". 
It is important to understand the foraging behaviours of honeybees in relation to their ability to socialize and control the growing patterns of floral seasons. Bees are beginning to copulate to have bigger eyes for a better opportunity in the future. When the climate changes around the colony, it is important for the larger bees to take advantage of new foraging opportunities to have proper hive development. Seeing the adaptation of keystone species like the bumblebee can give us hope that not everything can disappear before our eyes.  If the bees can work together and adapt to our change we are imposing on them, why can't we adapt to theirs?
Yanique McFarlane is a Master's in Environment and Sustainability student at Western University. Her background in
Conservation and Biodiversity, Linguistics and Molecular Biology, Immunology and Disease sparked her interests in healthcare and the environment, topics in climate change, conservation (of species, land, water, and energy), advancements in clean technology and sustainable life.
Her professional interests lay in energy, waste, and resource management along with promoting and fostering environmental awareness and understanding. In her spare time, she enjoys reading, watching cartoons, and sharpening her calligraphy skills.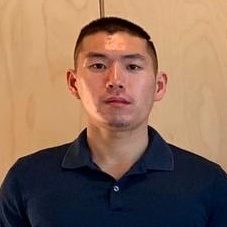 He is a Masters of Environment & Sustainability (MES) Candidate at the University of Western Ontario. He completed his BA in Urban Studies with a Focus in Planning at the University of Toronto. He is particularly interested in sustainable urban planning practices that work in line with market and consumer demands. In his spare time, Anthony enjoys cycling, calisthenics training and practicing martial arts.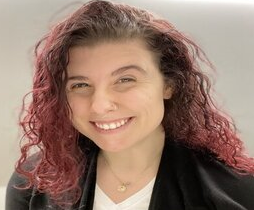 Elizabeth is a Master's in Environment and Sustainability student with a focus on corporate resource use. Their background is in the field of Environmental Studies with a double minor in Biology and Geographic Information Systems from Central Michigan University. Utilizing her skills in such a critical mindset, Elizabeth is determined to explore what the Earth has to offer to the corporate world and sustain life for the future to come. In her free time, she likes to learn about microorganisms, explore Northern Michigan, and find new hobbies to pursue in this time of isolation.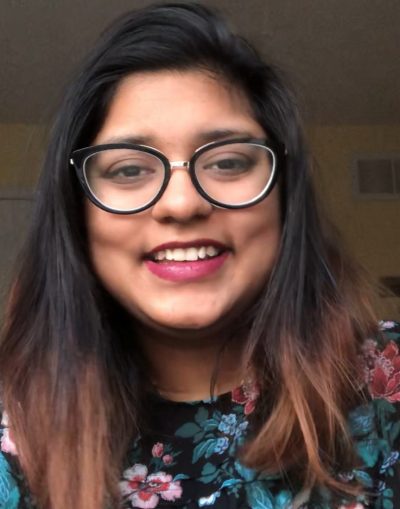 Ishani Dasgupta is majoring in Environment, Resources, and Sustainability (ERS), while also pursuing a minor in English & Literature Studies, at the University of Waterloo. She is a dedicated environmental writer and has worked throughout the course of her career to write about the challenges faced by communities, natural spaces, and activists alike regarding the destruction of the natural environment–she is interested in exploring global inequities created by the current Anthropocene. In her free time, Ishani likes to make music, read, and go on nature walks. Ishani is taking on the role of an editorial intern for Alternatives Journal (A/J).