The Threat of A Massive Oil Spill, As A Sri Lankan Ship Sinks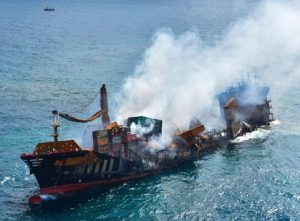 Source: The Independent
A ship currently sinking off the coast of Sri Lanka, containing a couple of hundred tonnes of oil, is expected to cause massive amounts of environmental damage. The vessel, named MV X-Press Pearl, had already been burning for 12 days (due to a nitric acid leak) when it suddenly starting sinking on Wednesday close to Sri Lanka's main shipping port.
There have been efforts to remove the ship and bring it into deeper waters, however, this quickly failed as the vessel became lodged into the seabed. The fear for the environmental consequences from this ship sinking is extreme and, as other media and experts have stated, might possibly be "the country's (Sri Lanka) worst-ever man-made environmental disaster".
This entire situation might have been avoided, had the crew of the ship and the management chose to not set sail when they first became aware of the leak in the vessel, prior to the actual burn event.
The greatest threat this ship poses is not the chemical cargo it was carrying as this was burned away during the fire, but rather a massive oil leak into marine ecosystems. Additionally, the ship's deterioration has already released debris (including tons of deadly plastic pellets) into the ocean, which will likely cause immense damage permanently to surrounding marine life.
Currently, the Sri Lankan government is monitoring the ship for any signs of oil pollution and is supported in the endeavor to remove the spill by India, which has sent three ships of their own for assistance. Although, the government is still not sure about the true environmental damage of such an event, which now could be an international matter. 
Two Species of Pygmy Monkey (Smallest Monkey in the World) Discovered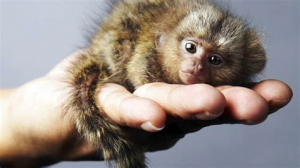 Source: Dino Animals
A recent study found that Pygmy Marmosets, the smallest monkeys in the world, are actually divided into two different species. These primates weigh only 100 grams and are typically difficult to research morphologically. They reside in either northwest South America (Ecuador) or the southern Amazon Basin (Peru), respectively. The study later found that the two populations of monkeys were actually different species that had adapted to their specific location.  
The study had estimated that there might be a variation in species with this monkey, due to the ecosystem properties in each location. In which, it might be advantageous for the monkeys to have different eating methods/physiological components as their available resources were different. Additionally, through further analysis of their skull structure and genetic identifiers, it was concluded that two species of the Pygmy exist with scientific certainty.
This information might be useful to better create species distribution maps for the current IUCN Red List of Threatened Species used for the conservation of sensitive species in South America. These maps are especially important, as they govern sustainable development and the protection of endangered animals in the highly biodiverse Amazon. Moreover, the discovery of two new species also requires ecologists (primatologists in this case) to evaluate both the resilience of said species' and different strategies of conservation for each group. 
Using Oysters to Rebuild the Ocean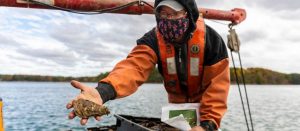 Source: The Nature Conservancy
Oysters, which have been mass-produced during the pandemic and are in desperate need of disposal, are being considered by conservation authorities as a new environmental solution to degraded marine ecosystems! Millions of oysters, collected from restaurants (which could not serve them due to the lockdown), to rebuild reefs in the ocean.
These shelled creatures have many ecological benefits. Firstly, they can be used to filter water in ecosystems, to remove pollutants and other alien chemicals found in the ocean. It is suspected that one oyster can filter about 50 gallons of water a day. Moreover, these oysters can be used to create "a living sea wall", similar to that of a coral reef, and will replenish the currently declining numbers of reef ecosystems.
The program that will be funding the oyster reef building initiative, is named the Supporting Oyster Aquaculture and Restoration (SOAR). This plan includes spending over 2 million dollars on millions of oysters, which will be used to restore more than 20 acres of shellfish reefs. This plan will work with local restaurants, shellfish suppliers, and fishermen to maintain oyster supply, in the case that the current supply leftover from 2020 is completely depleted.
Climate change might be destroying our marine life, but oysters might just be the way to save them! 
The U.S. Suspends Oil Drilling Activities in the Arctic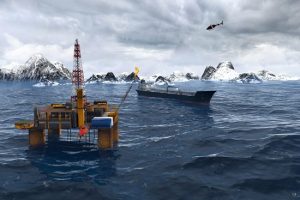 Source: Earth Justice
This week the Biden administration suspended leases on oil drilling in the Arctic, to maintain the Arctic National Wildlife Refuge. This was in direct opposition to lease contracts taken out by the Trump administration in 2017—it was determined that the U.S government would hold at least two lease sales for oil drilling in the Arctic by 2024, regardless of whether it was fueled by Republicans.
However, the Biden administration has remained determined to follow through on their campaign promises to reduce fossil fuel pollution which directly or indirectly links to American activities. This was included in Biden's plan for clean energy and environmental justice. Though, such a plan might not be able to hold off future drilling expeditions in the Arctic, as currently, the administration has only been able to temporarily suspend these activities.
It is crucial to stop these projects from occurring, as fossil fuels are key contributors to the ever-increasing global temperatures and other climate-related disasters. Moreover, there are sensitive species, ecosystems, and biological features in the arctic that would most definitely face eradication if oil expeditions were to continue.
The wildlife in the Arctic are rare and beautiful, the last thing that they need are big drills coming to shatter their home.
Heat Deaths and Climate Change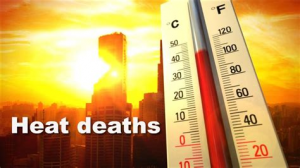 Source: Wilx
A recent study conducted by researchers to begin to ascertain the connection between 'climate change' and warm-season heat-related deaths has found an alarming correlation. Researchers had examined 'heat deaths' in 732 cities across the planet from 1991 to 2018 and calculated that 37 percent of those deaths were caused by higher temperatures from human-caused warming (a.k.a. 'anthropogenic climate change')
The study, the first of its kind in examining this connection, is comprehensive and data-driven. And for the broader community concerned about climate change (which should be all of us….just sayin'), this study begins to give us some empirical evidence to directly demonstrate the urgency of the work that needs to be done to mitigate the worst of the upcoming impacts. It also begins to tangibly connect our actions and inactions to real people and real deaths.
According to the study of the 732 cities (list of cities included in the study), the heat-deaths amount to about 9,700 people a year from those 732 cities alone, but it is certain to be more worldwide, the study's lead author said.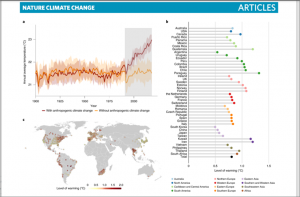 "These are deaths related to heat that actually can be prevented. It is something we directly cause," said Ana Vicedo-Cabrera, an epidemiologist at the Institute of Social and Preventative Medicine at the University of Bern in Switzerland.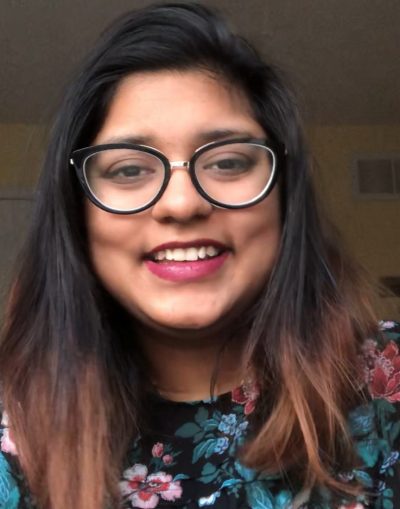 Ishani Dasgupta is majoring in Environment, Resources, and Sustainability (ERS), while also pursuing a minor in English & Literature Studies, at the University of Waterloo. She is a dedicated environmental writer and has worked throughout the course of her career to write about the challenges faced by communities, natural spaces, and activists alike regarding the destruction of the natural environment–she is interested in exploring global inequities created by the current Anthropocene. In her free time, Ishani likes to make music, read, and go on nature walks. Ishani is taking on the role of an editorial intern for Alternatives Journal (A/J).
David McConnachie is A\J's publisher.