Swiss Shock on Climate Change Rejection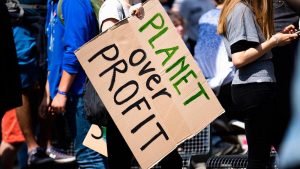 Source: Euronews
In a surprise to many global observers, voters in Switzerland rejected key climate change policies and measures put forward by the government and voted upon by the citizens in a special referendum. The measures and policies were carefully crafted by the Swiss government to balance economic uncertainty with taking active steps to meaningfully help that country meet its Paris Climate Accord promises. 
The vote, held under Switzerland's system of direct democracy, was close (but those only count in horseshoes): 51 percent against, 49 percent in favour. In addition to the main referendum topic, there were two ancillary measures put forward – both of which were much more roundly rejected by voters. A proposal to ban artificial pesticides and another proposal aimed at improving drinking water (by giving subsidies only to farmers who eschew chemicals) were both voted down by 61%.
The primary motivation given by pundits and analysts is that the Swiss people, a citizenry that generally prides themselves on their forward-thinking 'green' policies, were nervous about taking on any macroeconomic risk as the country begins its recovery from the Covid-19 pandemic. Now, any of us can empathize with the idea of being extra cautious in the face of uncertainty but the SwissRe Institute's (one of the world's most influential financial firms) recently entitled report (April 2021) hammers home the short-sightedness of this type of thinking: The economics of climate change: no action not an option.
There are options for revisiting the referendum, and petitioning efforts are already underway. But this episode, taking place in a land of 'sober second thought' and careful planning, reminds us that our successes in capturing public attention only go so far. We need that attention converted into a voting intention. 
Desertification and Drought Day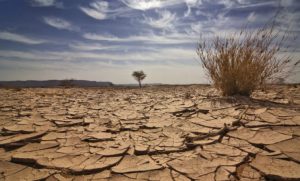 Source: Eco-Partners
On June 17th, the United Nations held a conference for "Desertification and Drought Day". This event focused on the increase of desertification on land globally and its intensity in particular continents, such as Africa—the transformation of drylands in deserts, in which it is permanently degraded and cannot be used for future economic or environmental activities, most commonly seen in dry and arid lands such as in the African continent.
About 40% of land on Earth is now composed of these deserts and this degradation has been on an exponentially high uprise. The attributing factors to the creation of these drylands are deforestation, agriculture, and other development activities in the course of human development.
In Africa alone drought and famine have reached a terrifying peak. A recent article suggested that Ethiopia is experiencing one of its worst hunger crises in 20 years because of the severe drought affecting food production. Other South African countries are experiencing similar food shortages and land loss. However, the problem does not lie in Africa alone, as 23% of land globally is now no longer productive, mostly due to agricultural activities.
Therefore, observing Desertification and Drought Day is important, as it seeks to bring attention to and resolve this issue. The three objectives of the event were:
To promote awareness of desertification

To provide solutions to tackle drought and other effects of land-use

To strengthen the presence of the UN in nations experiencing severe desertification and drought 
Pharmaceutical Contaminants Changing Crayfish Behaviour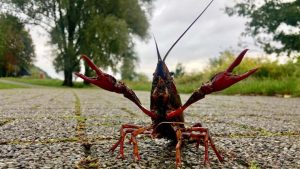 Source: Gizmodo
A recently published journal suggests that antidepressants that contaminate marine ecosystems are affecting the behaviour of crayfish. The study used selective serotonin reuptake inhibitors (SSRIs) to test how environmentally realistic concentrations could affect populations of crayfish and biogeochemical dynamics.
The results of the study showed that crayfish exposed to the antidepressants were less likely to hide in shelters and more likely to emerge and scavenge for food. Additionally, the pharmaceuticals also affected the chemical cue preferences of the crayfish, in which the stream concentration was altered due to the drugs. Furthermore, the behavioural changes of the crayfish were accompanied by alterations in algae biomass and organic matter, such that changed the uptake of required nutrients in crayfish populations.
This study has proven an already known fact that pharmaceuticals have likely caused significant damage to biologically active compounds in ecosystems and perhaps marine organisms themselves. Unfortunately, studies on the environmental impacts of pharmaceuticals are often not conducted, as it is difficult to detect the presence of most drugs in waters. Especially, when considering that elevated chemical levels or altered animal behaviour might be related to other factors, aside from specific pharmaceutical contaminants.
However, it is the hope of this study that as technology evolves, there might be a stronger push to investigate the true impact of the pharmaceutical business on marine life. Who knows how the wild crayfish are faring? 
Scots Rocking the Renewables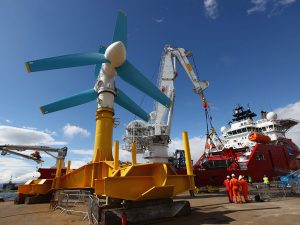 Source: The New Economy
A recent article on Slate.com highlights the remarkable achievements of Scottish engineering firms unfurling technology that will unlock the powerful potential of ocean-based renewable energy. Edinburgh-based Orbital Marine Power (they also have an 'innovation centre' in the Scottish Orkney Islands) launched the O2, the world's most powerful tidal turbine, that will be tested at the organization's own centre situated in the rough North Sea.
"This new turbine has a capacity of 2 megawatts and represents a modular technology that could be applied to a virtually untapped renewable resource. For context, it takes roughly 1,130 pounds of coal to produce 1 megawatt-hour of electricity in the U.S. That means, if these turbines operate at full capacity, they can replace 2,260 pounds of coal for electricity generation per hour." The article stated.
In addition to this innovation from Orbital Marine Power, there's another plaid-proud Scottish company—Mocean Energy—that started their own sea trials (and, yes, again in Orkney) last month of a "new utility-scale wave power device called Blue Horizon." This device differs in that it captures kinetic (movement) energy directly from the waves on the surface, and there seems to be a never-ending supply of those in the oceans that this writer's gazed out upon.
Obviously, new innovations that significantly ramp up the right-now usability and offer a real replacement value for current GHG-intensive alternatives will take some time to test, develop, refine, and scale up. That's okay, though, as there's something special in the Scottish waters (writes this Scottish-heritage scribe). Be it the unique oceanographic research climate in and around the Scottish coasts and islands and/or the proven Scottish genetic habit of rolling up sleeves to create innovative and out-of-the-box solutions (see MacGyver), these kilt-clad innovators offer up hope to the world that can be saluted with a CHEERS and washed down with a nice dram of Glenmorangie!
Belgium in Legal Hot Water After Failing to Meet Climate Targets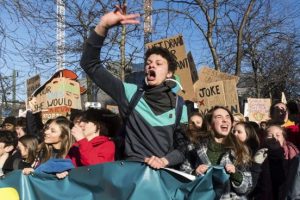 Source: Yahoo News
The Brussels court has decided that Belgium's unsuccessful attempt to meet climate resilience targets is now a violation of human rights. The court decided that Belgian authorities had not taken "necessary measures" in preventing the impacts of climate change. Moreover, they suggested that the Belgian government had infringed on the rights of civilians, based on its own civil laws and the European convention on human rights.
Although the case itself is precedential in the global system, as it connects the rights of people to that of nature, however, is not the only case to consider climate change as a legal issue in European courts. Similar cases on the ignorance of the climate crisis have been fought in courses recently, in many nations across Europe.
This issue has largely to do with Belgium not meeting its emission targets in the last few years. The government suggested that it would raise its emission targets (to 55%) by 2030 and be completely carbon neutral by 2050, however lack of action currently has made these promises unlikely.
After the mandated court decision, the government has decided to activate a monitoring system to meet climate targets. However, compensation and other actions have yet to decided by the Brussels court.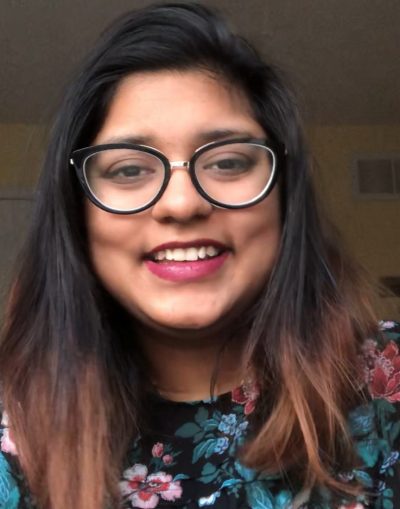 Ishani Dasgupta is majoring in Environment, Resources, and Sustainability (ERS), while also pursuing a minor in English & Literature Studies, at the University of Waterloo. She is a dedicated environmental writer and has worked throughout the course of her career to write about the challenges faced by communities, natural spaces, and activists alike regarding the destruction of the natural environment–she is interested in exploring global inequities created by the current Anthropocene. In her free time, Ishani likes to make music, read, and go on nature walks. Ishani is taking on the role of an editorial intern for Alternatives Journal (A/J).
David McConnachie is A\J's publisher.