The FBI is Investigating Eco-Sabotage and Eco-Terrorism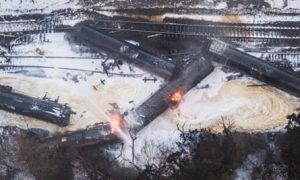 Source: The Guardian
The Federal Bureau of Investigation (FBI) is currently starting its investigation into eco-sabotage in the state of Washington. It has been reported that are over 40 cases of environmental crimes committed largely by people to damage oil and transportation companies—eco sabotage occurs by outside parties on railways and rail lines connected to oil production.
The most serious allegation occurred on December 22, 2020, when a train got derailed and caused a spill of 29 000 gallons of oil, leading to the evacuation of 120 people nearby. This incident was thought to be caused by activists sabotaging railways to show their solidarity with indigenous communities nearby.
Similar incidents occurred around the same time, the most notable one being on November 28, 2020; two women were arrested for placing a shunt (a wire that when placed across a track to stop a train by a series of electrical signals). Both women face up to 20 years in prison for acts of eco-terrorism and violating Title 18 of the US Code. It is thought that these two women were also "acting on behalf" (even though the following Indigenous community did not urge or promote such behaviour) of the Indigenous people in the Wet'suwet'en territory.
This group is located largely in northern British Columbia, where a new pipeline (Coastal Gaslink) is being created. In order to stop this construction, protestors have taken to acts of eco-sabotage, however, have failed to see that more environmental damage has been caused in due process. It is not to suggest that such developments (pipelines) do not deserve fair protest, as it does lead to societal harm by infringing on indigenous rights and environmental harm. Although, violence is likely not the route to take as it radicalizes an issue that can be diplomatically handled. That issue is:
Building a pipeline across the land owned by the most important people in your country. How is that respectful at all?
Snap Election?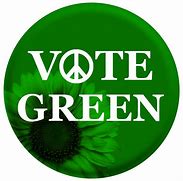 Source: Green Party
Our friends at GreenPac, the environmental non-partisan, nonprofit that works year-round to identify, elect, and support environmental leaders, (and provides parliamentary internship opportunities for young Canadian environmental students – a great program!), has their fingers on the pulse of Parliament Hill and thus we paid attention when we received their most recent dispatch:
It looks like a federal election call may be right around the corner.
In the face of wildfire and heat domes, this is an election where climate and the environment – and their intersection to health, economy, and justice – need to be front and centre. That's where GreenPAC comes in! Elections are all about platforms and promises. But, at GreenPAC, we work to activate and inspire environmental leadership, action, and accountability in politics.
In terms of 'moving the needle' on environmental issues, federal legislative changes hold the potential to provide the national mandates to hit the fast-forward button on many key environmental fronts. Making that legislative change happen comes by electing 'environmental leaders from all political stripes. And that's where GreenPac helps out, by endorsing candidates with strong environmental bona fides and by working with local organizers to host ALL CANDIDATES DEBATES. 
Specifically, GreenPac has launched a campaign in anticipation of the writ's drop called 100 DEBATES ON THE ENVIRONMENT:
The mission is simple: Ensure Canadian politicians across the country know they need an ambitious and actionable climate plan in order to win votes in the 2021 Election. How? By organizing 100 Debates on the Environment. We did it in 2019 and we're doing it again! We already have 45+ organizers coming on board to organize a debate in their ridings. What are you waiting for? Become an organizer now! We'll give you all the tools & support you need to make it a breeze.
Sounds like an interesting idea and something that we at A\J will be following closely in the weeks and months ahead.
Here and Now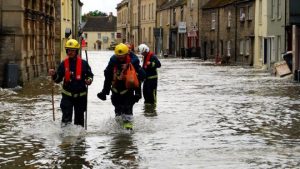 Source: IIED
A new report released this week by the UK's Meteorological Office entitled State of the UK Climate 2020 makes it abundantly clear that the impacts of the climate crisis are already changing the localized climates for our communities. The report, the ninth in a series of exhaustively researched and reviewed, provides unequivocal evidence in its Executive Summary:
The UK's climate is changing. Recent decades have been warmer, wetter, and sunnier than the 20th century.
The year 2020 was the third warmest, fifth wettest, and eighth sunniest on record for the UK. No other year has fallen in the top-10 for all three variables for the UK.

The UK has warmed at a broadly consistent but slightly higher rate than the observed change in global mean temperature.
As the report's lead author, Mike Kendon, a climate information scientist at the UK Met Office, shared with the BBC:
"A lot of people think climate change is in the future – but this proves the climate is already changing here in the UK. "As it continues to warm we are going to see more and more extreme weather such as heatwaves and floods."
So what does that mean in terms of real-world, right-now impacts? Again, from the BBC:
Liz Bentley, head of the Royal Meteorological Society, said that even if governments could achieve the challenging outcome of limiting the global temperature rise to 1.5C – which looks very unlikely – that would still lead to a 10% increase in the amount of water the air can hold.
"In the UK," she said, "we are likely to see temperatures of 40C. As we get 1.5C warming, that'll be something we see on a regular basis.
"People don't realise that even a small temperature rise of 0.1 or 0.2 degrees overall can make a huge difference – especially in the frequency and intensity of extreme events.
"We had roads melting last year, rails start to buckle, electric cabling starts to buckle. It often takes a massive high-impact event to change attitudes to the climate – so let's hope what's been happening recently with extreme weather will raise the will to tackle the problem."
And hopefully, the leaders of our communities pay heed to researchers like Dr. Bentley and summon their own will to enact policies and promote projects that align our actions with the facts as they're unfurling in front of our eyes.
Mangrove Forests Are Disappearing, The Answer Lies in its Invertebrates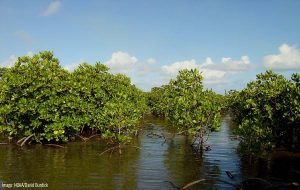 Source: Oceana
A journal article published this week suggests that mangrove forests (forests located by the coast of many tropical countries) might be threatened by the reduced diversity of invertebrates in them. Mangrove ecosystems are important in many countries as they prevent flooding into inland areas and provide many other ecological benefits. Unfortunately, they are also threatened by deforestation and other anthropocentric activities).
It is thought that this deforestation has also impacted the diversity of invertebrates (largely aquatic) in the area and has reduced the appearance of less common species. This is quite terrible news, as the main ecological functioning in mangrove forests relies on mutual relationships with a healthy and diverse group of invertebrates—these small organisms sustain both flora and fauna in this ecosystem.
Researchers found that mangrove ecosystems have "low functional redundancy". This means that it does not have that great of ecological insurance. For example, in ecosystems with high functional redundancy if one species were to disappear another would likely be able to fulfill its function in the ecosystem. In mangrove ecosystems and others with low functional redundancy, if a species were to disappear there would be no replacement and that would likely lead to its ultimate downfall.
It is now crucial to address the functional diversity in mangrove ecosystems, lest we see them gone forever in the next decade.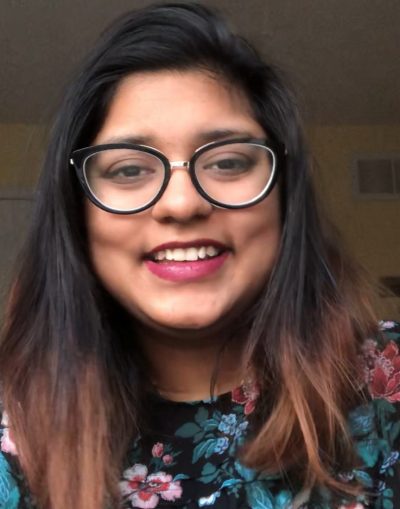 Ishani Dasgupta is majoring in Environment, Resources, and Sustainability (ERS), while also pursuing a minor in English & Literature Studies, at the University of Waterloo. She is a dedicated environmental writer and has worked throughout the course of her career to write about the challenges faced by communities, natural spaces, and activists alike regarding the destruction of the natural environment–she is interested in exploring global inequities created by the current Anthropocene. In her free time, Ishani likes to make music, read, and go on nature walks. Ishani is taking on the role of an editorial intern for Alternatives Journal (A/J).
David McConnachie is A\J's publisher.