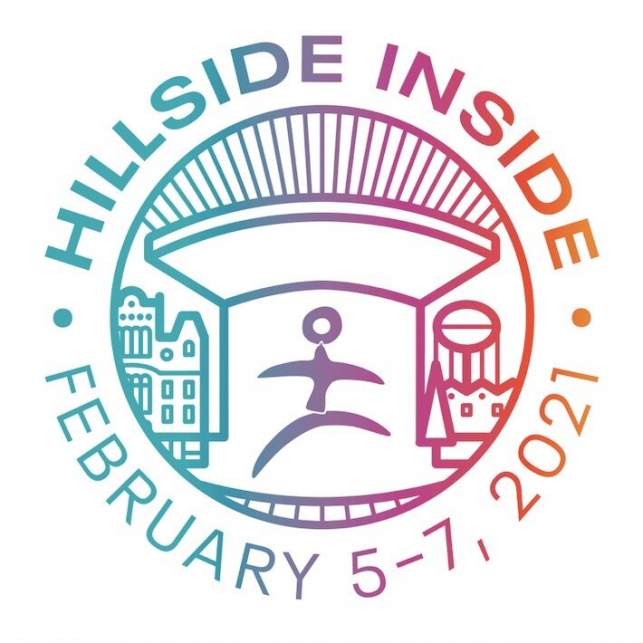 Source: Hillside Inside
As we enter the month of February – the middle of a cold, grey winter, which also happens to be about the one year mark of the pandemic – you may be feeling a little blue or stir crazy (or both). I know I am. One of the things I miss most is getting together with people, being in fellowship, and enjoying a celebration. If you're like me and feel like you could use a spark of joy in your life, I have a wonderful remedy to help keep you going. It's called Hillside Inside.
Hillside Inside is an annual winter music festival that has traditionally taken place at a series of indoor venues across downtown Guelph. This year, they are moving all their events online and providing us with an at-home music festival experience. Mark your calendars because Hillside Inside 2021 is happening THIS WEEKEND, from Friday, February 5th to Sunday, February 7th.
I recently had the pleasure of speaking with Hillside's Executive Director, Marie Zimmerman, about what we could expect for this year's virtual festival.
"Hillside Inside is always a downtown, sort of urban, edgy winter festival. We always have both paid, ticketed events and free events, so that's also true for Hillside Inside this year. The videos will be posted Friday, February 5th at 6 pm and they all come down and disappear on Sunday, February 7th at midnight. There's no opportunity to download them or see them again, so this is the only time that people will have to see these things. People can just come to the website and click on, let's say a picture of you and your singing, and it brings up your bio and a little insert which will be the video," Marie shared.
"My hope for Hillside Inside 2021 is that it will be a comfort for people in a dark and cold period of the pandemic, where normally in February, people are starting to get a little bit antsy about winter"
She went on to say, "The online performances are mostly free, but there is the odd ticketed event. For example, we have a dinner where we're saying that if people spend $15 or more at one of 4 restaurants [of the Neighbourhood Group in Guelph], they get access to Patrick Watson's prerecorded, 40-minute performance, and he's done it especially for Hillside. That's a very cool thing and brings it back to the nurturing that people can find through music and food, but also sustaining partners in the restaurant world who were with us at our festivals normally,"
How easy is that?! A collection of performances from amazingly talented musicians, all available to you at the click of your mouse. And the combination of good food and good music sounds like exactly what will fuel our souls through this winter.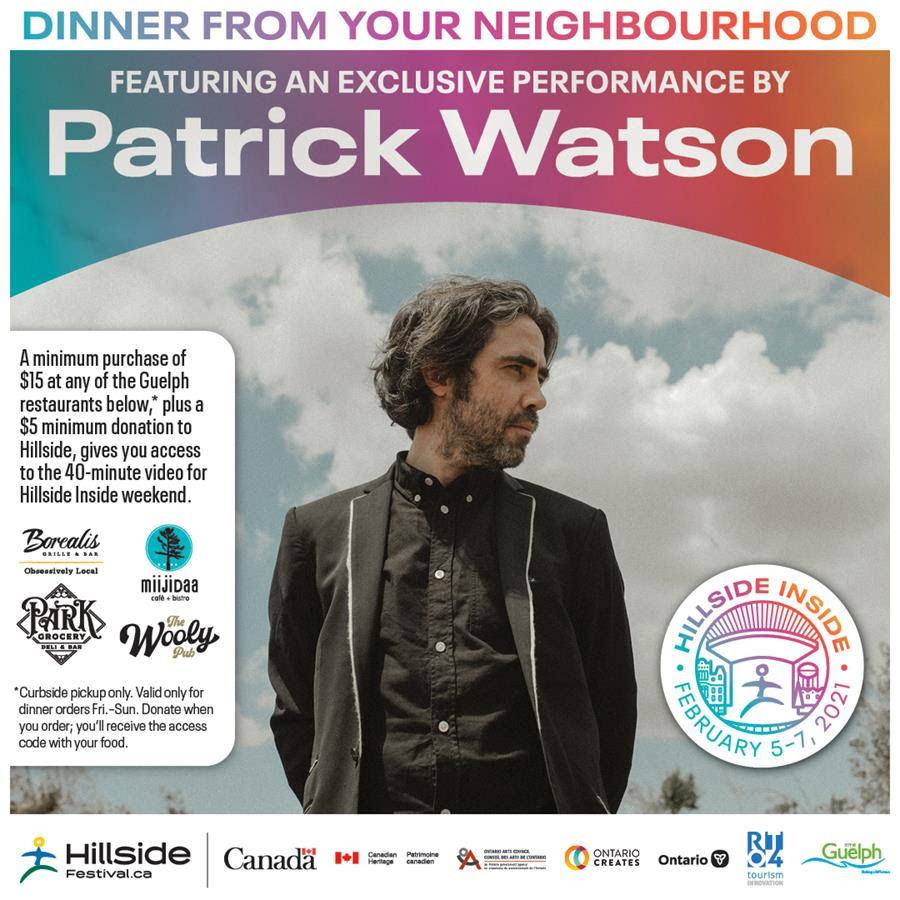 Source: Hillside Inside
Marie continued to lay out the main segments of the festival that we should expect to see:
"We have some major concerts – all of these are online and most will be pre-recorded just before Hillside Inside. We have iskwe and Tom Wilson who are performing together, DJ Shub will be performing from his home studio, Serena Ryder is coming… And we have our steady components of Hillside Inside that include: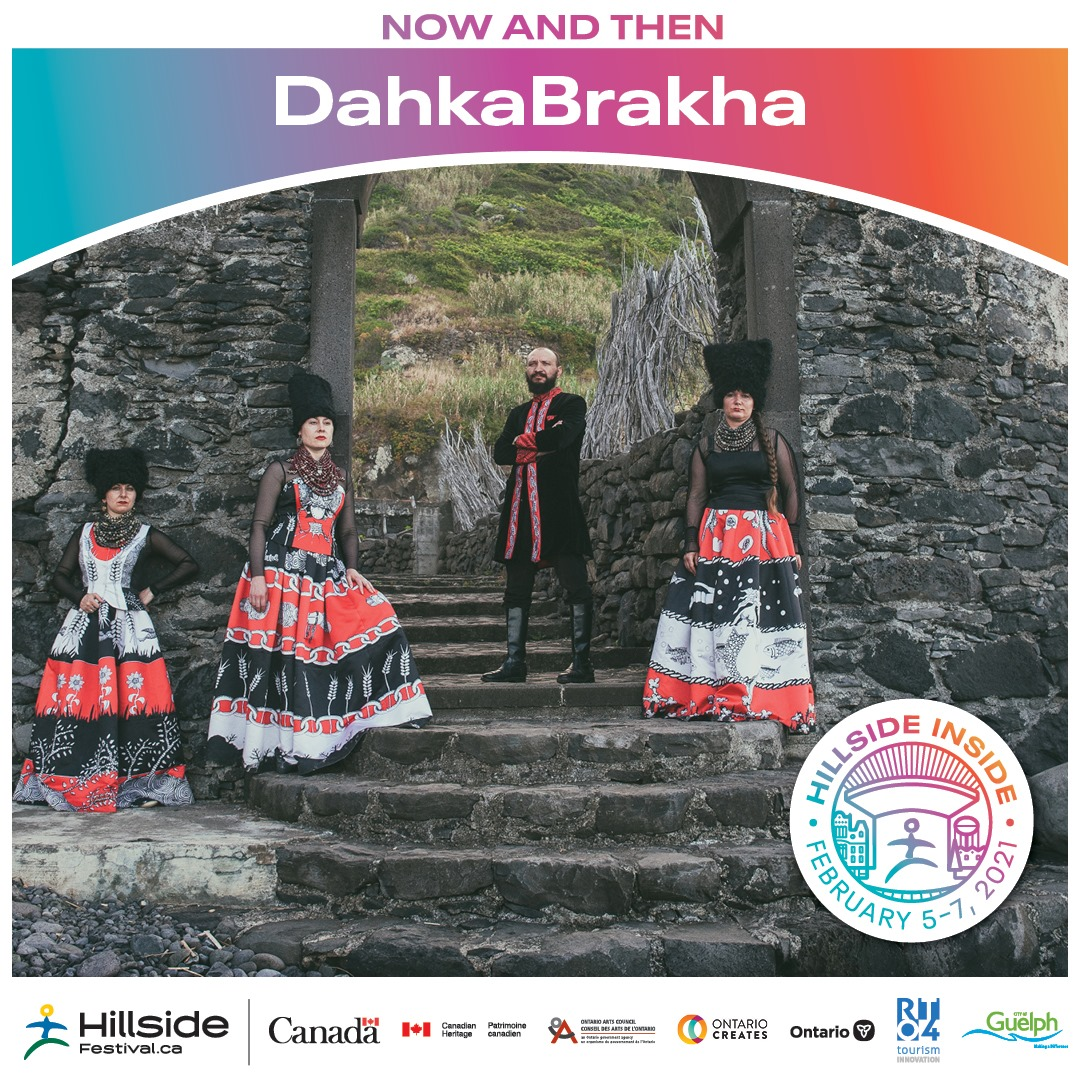 Source: Hillside Inside
We're also exploring February as Black history month and asking the question in a little documentary that we made, 'How should we be celebrating Black history month?' So, we've asked some activists in our community and beyond for their opinion about that and we've produced a little documentary that people can see."
On top of Hillside's musical performances, they have several comedy acts and a variety of awesome workshops. Marie also shared that Hillside is holding true to their mission of sharing and celebrating local art by producing this event in collaboration with several other arts organizations.
"There's been a lot of negativity in the industry, of course, because we were so hard hit, so it was really important to us to hold our friends' hands and say, 'Why don't you come be a part of this? Select an artist that you feel would fit and you're proud of and present it here, so that our audience can be bettered by what you have to offer'," she shared. "We have the Peterborough Folk Festival, the Mariposa Festival, the International Institute for Critical Studies in Improvisation, Silence Guelph, the Guelph Dance Festival… All of these people are showing what they have, again at a particularly dark time."
When asked what her hopes were for Hillside Inside 2021, Marie said the following:
"My hope for Hillside Inside 2021 is that it will be a comfort for people in a dark and cold period of the pandemic, where normally in February, people are starting to get a little bit antsy about winter. Then, by March, people are like, 'Wow. Is my entire country just always winter?' So, I'm hoping that it's a comfort. I'm hoping that it's a source of joy and laughter and celebration for a lot of people who are homebound, who have given up on the possibility of giving hugs from loved ones, who have given up on the possibility of communal singing except over Zoom. I'm hoping that they will, with their imaginations, try to populate a space around these performances on their screens… The line-up is so complicated and there's so many beautiful pieces. I hope people watch everything."
As I was perusing the lineup for the festival, I discovered that one of my favourite bands, Sam Roberts Band, will be performing, so I'm definitely going to be tuning in to that performance. But I'm also super excited to discover new types of music. Even though I don't recognize many of the names on the lineup, I'm excited to have the opportunity to hear new artists, support a local festival, and be a part of this grand celebration of art (not to mention, have some much-needed fun!) Take a look at the lineup to see if you recognize any names, and if not, join me in my excitement for new musical discoveries!
The final question I asked Marie was what her favourite part of Hillside Inside 2021 might be, and she had this to say:
"What I'm looking forward to is getting a meal from one of those four restaurants that belong to the Neighbourhood Group and watching Patrick Watson with my partner. That's going to be a fun thing. Dancing to DJ Shub is going to be awesome. And pretending to be Serena Ryder in my kitchen, singing with my wooden spoon microphone. And just watching the [songwriting] students and the young performers with such pride knowing that they're all so crazy with this will and compulsion to create art and that this is what's going to sustain us. This is what's going to give us hope."
So, add this festival into your weekend plans and share the experience with your friends and loved ones! Get ready to celebrate wonderful music and art and moments of joy together. As Marie so wonderfully put, this is what will give us hope.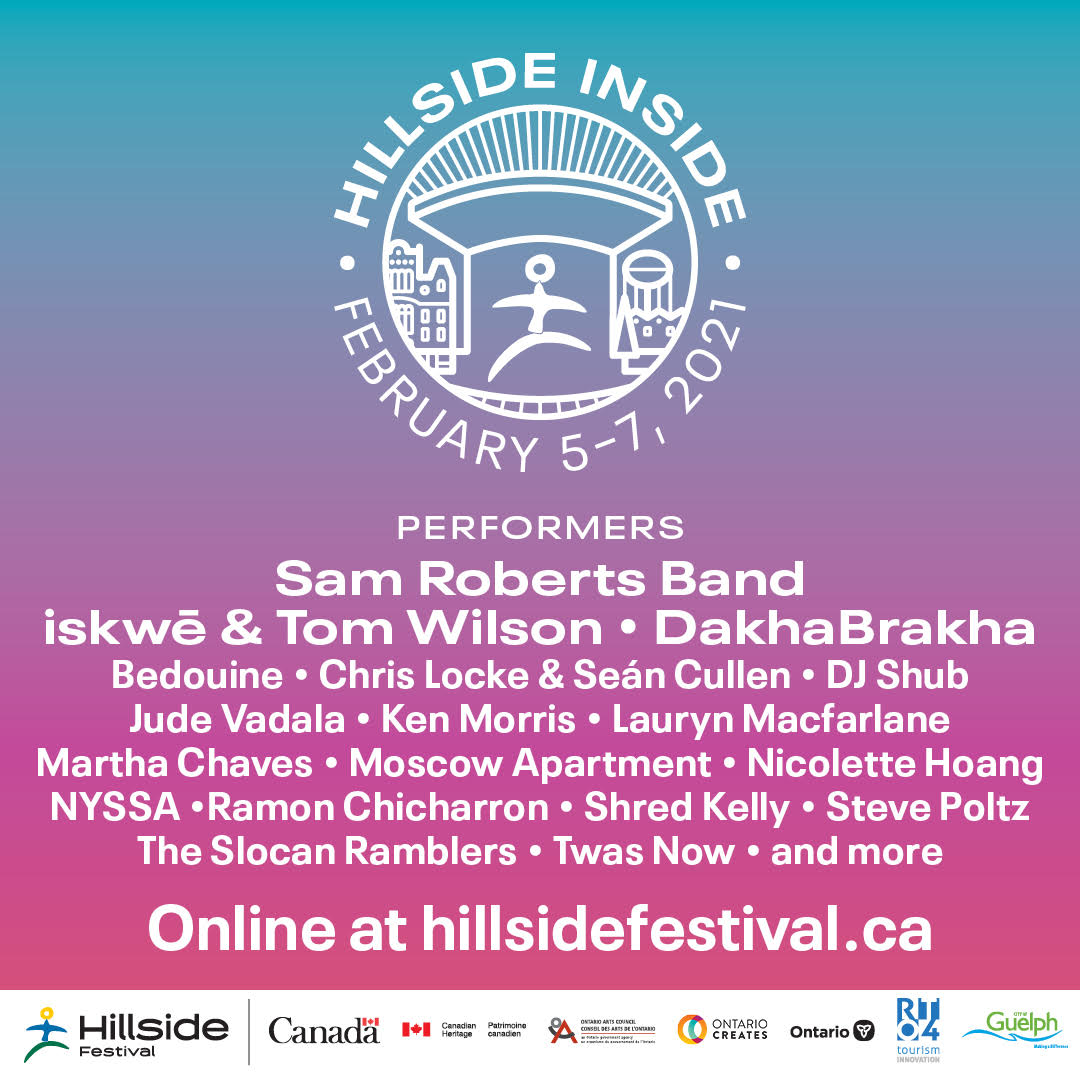 Source: Hillside Inside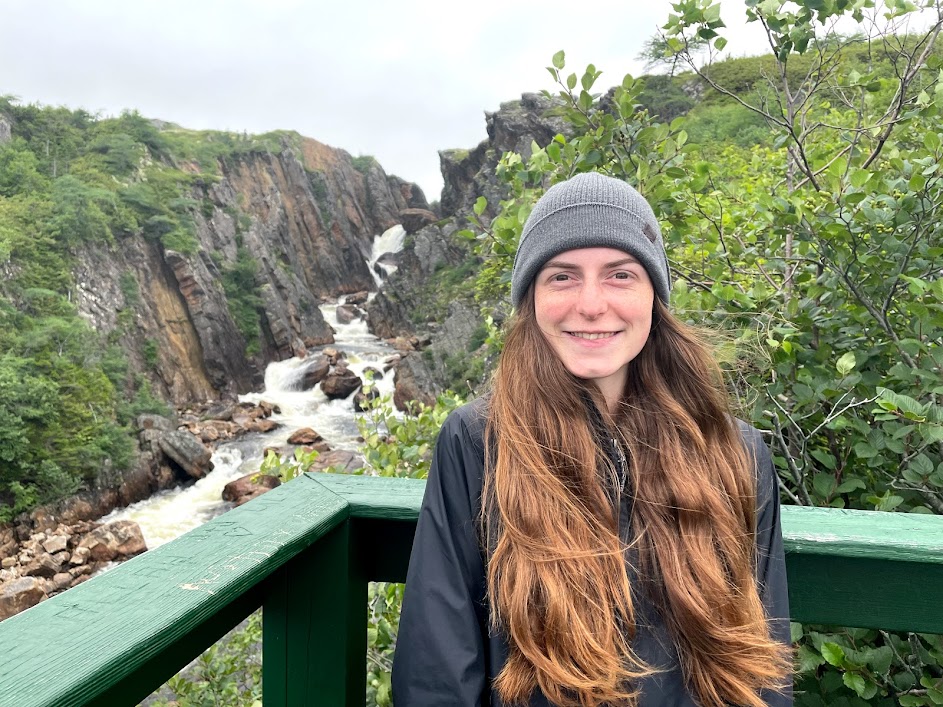 Siobhan Mullally (she/her) has an Honours B.E.S. from the School of Environment, Resources and Sustainability (SERS) at the University of Waterloo with a minor in English Language and Literature and two diplomas in Environmental Assessment and Ecosystem Restoration and Rehabilitation. For her senior thesis, she travelled to Labrador to study climate change impacts on tundra ecosystems in the Canadian Subarctic.
As a budding ecologist, researcher, and writer, she is interested in exploring the intersections between ecology and communication to inspire climate change and help others develop a deeper appreciation for nature. In her free time, she enjoys spending time in nature and getting lost in her favourite novels.