If the new 2021 federal budget report has got you thinking "WTF?", our WTF column this week has got you covered. This week, we are summarizing and explaining a few sections from the Budget, which was released on April 19, 2021. We are focusing on Chapter 5: A Healthy Environment for a Healthy Economy. In the face of the climate crisis, Canada needs sustainable, long-term recovery plans and climate action plans in place. We aim to dive a little deeper into the national budget and see just how promising it is for Canadians and the environment.
"Building on recent investments, Budget 2021 proposes to provide $17.6 billion towards a green recovery to create jobs, build a clean economy, and fight and protect against climate change."
5.1: Growing Our Net-Zero Economy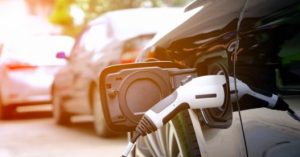 Source: Canadian Coalition for Green Health Care
The Canadian economy needs to start making bolder investments towards becoming net-zero and work towards our commitment to achieving net-zero by 2050. Here's what Budget 2021 proposes to do to support this target and grow the net-zero economy.
The Net Zero Accelerator is a part of Canada's climate plan that aims to transform and completely decarbonize high-emitting industry activity, for example, in the auto and aerospace sectors. The Budget is allocating $5 billion over 7 years to the Net Zero Accelerator, which, in combination with the funds from 2020, adds up to $8 billion total.
In terms of supporting pre-existing clean tech projects, the Budget will help draw in private investment to commercially upscale these projects. This support will help grow and improve clean tech projects on the market. To create jobs in the growth of clean tech, the Budget proposes to reduce income tax rates by 50% for corporate and small businesses that manufacture zero-emission tech. A few examples of manufacturing zero-mission tech are:
Renewable energy systems i.e. wind turbines, solar panels, hydroelectric, and geothermal

Zero-emission transportation e.g. electric cars, buses, and other vehicles

Production of biofuels from waste materials
With an expected surge of vehicle electrification and solar panels in the next decade, the Budget proposes to enhance Canada's supply of critical minerals needed to manufacture low-carbon tech. The Budget will allocate $9.6 million to the Critical Battery Minerals Centre of Excellence at Natural Resources Canada (NRCan). There will also be $36.8 million to NRCan for research and development to advance the processing and refining of battery minerals.
Now, let's talk zero-emission vehicles (ZEVs). Although Canada already has been investing in implementing charging and refueling stations, the measurement and pricing of the energy is not always clear to drivers. The Budget will provide over $56.1 million over 5 years to Measurement Canada to provide more transparency for ZEV drivers by making a consistent set of codes and standards for ZEV charging and refueling stations.
To reduce emissions coming from transportation and landfills – that together account for almost 30% of Canada's GHG emissions – the Budget will provide $104.6 million over 5 years to Environment and Climate Change Canada to strengthen GHG emission regulations for vehicles, methane regulations for large landfills, and support activities that reduce waste at these sites.
Forest-based innovations have also been key in moving towards a low-carbon economy as wood is used in biofuels, bioplastics, building materials, and other essential products. The Budget is allocating $54.8 million over 2 years to NRCan to support the growth of the "forest-based bio-economy". 
5.2: Investing in Our Clean Industry Future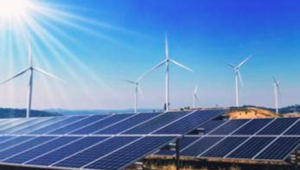 Source: Government of Canada
The Canadian government has suggested that they will invest millions of dollars on clean industry, technology, and energy sectors. This comes with an eight-step process which includes:
Promoting Carbon Capture, Utilization, and Storage (CCUS) in Canadian Industries
This promotes the adoption of CCUS tools in high carbon-emitting sectors within the country. Captured or stored carbon will then be used to create new products and will doubly decrease negative emissions into the atmosphere.
The government has been quick to provide examples of these systems already in place, such as CarbonCure in Nova Scotia. This company utilizes carbon to build strong concrete, which is then used for the growth of the province's infrastructure.
Providing Incentives for CCUS
Budget 2021 wishes to include an investment tax credit for industries that adopt CCUS systems. In doing so, they hope to achieve a decrease of 15 megatonnes of CO2 per annum.
Advancing CCUS Technologies
The plan hopes to provide $1.5 million over the next seven years to support research and the development of new CCUS technologies.
Investing on Cleaner Fuels
The federal government plans to provide $67.2 million over the next seven years on the Clean Fuel Standard. This plan would focus on developing economic opportunities to Canadian biofuel producers, farmers, and foresters, such that low-carbon fuels can be created and utilized in the supply chain.
Producing and Utilizing Clean Fuels
$1.5 billion will be provided over the next five years to establish a Clean Fuels Fund to support the production and distribution of low-carbon or zero-emission fuels across Canada. An additional $67.4 million will be provided to ensure low-carbon fuels are used in the commercial sector and for conventional reasons.
Establishing a Low-Carbon Fuel Procurement Program
The federal government wishes to purchase low-carbon fuels for domestic air and marine fleets. Budget 2021 will provide $227.9 million over eight years (beginning in 2023) to the Low-Carbon Fuel Procurement program such that clean fuels are adopted in the aviation sector.
Funding the Centre for Innovation and Clean Energy in British Columbia
The government will provide $35 million to help establish a clean energy centre in British Columbia. This facility will seek to advance the commercialization of clean technologies (such as CCUS) across the country.
Developing Clean Energy in Northern Indigenous Groups
To halt the exacerbated effects of global warming on Indigenous communities in Northern Canada, the government plans to invest $40.4 million over the next three years to support the transition to clean energy in these areas.
5.3: Advancing Canada's Climate Plan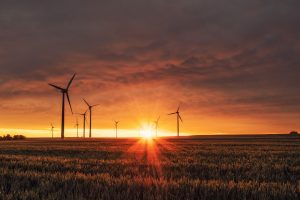 Source: Unsplash 
Building upon the Pan-Canadian framework on Clean Growth and Climate Change, the plan has allocated $15 billion into investments that will drive Canada to exceed the 2030 greenhouse gas reduction target. With the government also announcing that roughly $15 billion will be used for public transit electrification and subway extensions.
Canada introduced the Canadian Net-Zero Emissions Accountability Act to legislate the goal of net-zero by 2050. With this, Budget 2021 aims to provide $94.4 million over the next five years to support clean technology policy and growth. With the price on carbon since 2019, approximately 90% will be going back to Climate Action Incentives to reduce pollution and ensure environmental protection. The other 10% will be returned back to communities – such as small businesses, schools, and indigenous communities. Additional support will be allocated such as:
Farmers are estimated to get back $100 million in the first year with an expanded program on Agricultural Clean Technology that will prioritize $50 million for more efficient grain dryers. Further details to be announced later in 2021 by the Minister of Finance.

Canada will put a $185 million Agricultural Climate Solution program that covers improving nitrogen management, increasing adoption of cover cropping, and normalizing rotational grazing. $60 million for the Nature Smart Climate Solutions Fund. With an additional $10 million to power farms with clean energy and move off diesel.

Canada's crown corporations will show climate change action and leadership by disclosing climate-related financial risks starting in 2022. Corporations with less than $1 billion in assets are to provide climate reports beginning in 2024.
5.4: Building Green Homes and Communities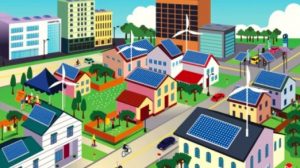 Source: T&D World
The energy used to heat and cool buildings accounts for 13% of Canada's emissions. Transforming our buildings to be more energy efficient through retrofitting (upgrading already existing infrastructure) will both lower emissions and costs. The Federal Budget is allocating funds for communities to invest in these building retrofits and the process will also provide local employment opportunities.
"Climate action starts at home" 
A large part of section 5.1 of the budget is about making home energy retrofits accessible and affordable for homeowners, which will save them money in the long run by cutting down energy bills. Examples of these energy retrofits are the following:
Replacing low-efficiency or oil furnaces with higher efficiency systems, like air source or geothermal heat pumps.

Improving wall and basement insulation to keep homes warm in winter and cool in summer.

Installing a high-efficiency water heater or on-site renewable energy systems like solar panels.

Or just simple upgrades, like replacing drafty windows and doors.
The 2021 budget aims to give Canadian homeowners the opportunity to upgrade their home energy infrastructure by giving $778.7 million to the Canada Mortgage and Housing Corporation (CMHC) over the next 5 years, and then continuing these funds in future years totalling $4.4 billion. Through CMHC, Canadians can receive interest-free loans to complete retrofitting projects in their own homes up to $40,000. This program will be available by summer 2021 to any Canadian homeowners who want to undertake EnerGuide-authorized retrofits. The budget also claims that there will be a stream of funding going to low-income homeowners and rental properties to support those residents as well.
The government estimates that over 200,000 households will take advantage of this program to make their homes more energy efficient and to protect their homes from potential climate risks.
5.5: Adapting to Climate Change for a More Resilient Future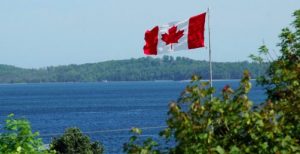 Source: Pixabay
Climate-related disasters like flooding, wildlife's, sea-level rise, coastal erosion etc. are becoming more frequent and severe, impacting public safety, human health, the economy and our communities. Budget 2021 proposes a number of measures that will better understand and prepare Canada for climate-related disasters, and ways to mitigate their impact. These measures would help make our communities safer and more resilient to a changing climate. 
 A. Strengthening Climate Resiliency (the overarching goal for the rest of the considerations)
Issue: Climate-related disasters can result in billions of dollars in disruptions, damages, and recovery costs. 
 Solutions: To ensure Canada's resilience in the face of climate change Budget 2021 proposes to:
Provide $1.4 billion over 12 years, starting in 2021-22, to Infrastructure Canada to top up the

Disaster Mitigation and Adaptation Fund.

 

Of this, $670 million would be dedicated to new, small-scale projects between $1 million and $20 million in eligible costs. In addition, 10% of the total funding would be dedicated to Indigenous recipients to benefit each distinctions-based group.
The idea is that this funding will help support small, rural, remote, northern and Indigenous communities adapt to the impacts of climate change. 
And to invest $11.7 million over five years, starting in 2021-22, through Infrastructure Canada to renew the Standards to Support Resilience in Infrastructure Program, so that the Standards Council of Canada can continue updating standards and guidance in priority areas in the North such as flood mapping and building in the North. 
This is meant to help communities plan and build infrastructure that is more resilient to climate change i.e., roads, buildings etc. 
B. Keeping Canadians Safer from Floods
Issue: Communities across Canada now face once-in-a century floods every few years due to climate change. Floods are Canada's most costly natural disaster, causing over $1 billion in direct damage annually. 
Solution: Budget 2021 proposes to provide $63.8 million over three years, starting in 2021-22, to Natural Resources Canada, Environment and Climate Change Canada, and Public Safety Canada to work with provinces and territories to complete flood maps for higher-risk areas. 
C. Improving Wildfire Resilience and Preparedness
Issue: Climate change is causing wildfires to become more frequent and more severe across Canada, threatening our health, economies, and wildlife.
Solutions: To help improve our resilience to wildfires and make our communities safer Budget 2021 is proposing two things: 
To provide $100.6 million over five years, starting in 2021-22, with $4.7 million in remaining amortization, to the

Parks Canada Agency

to enhance wildfire preparedness in Canada's National Parks. 

To provide $28.7 million over five years, starting in 2021-22, with $0.6 million in remaining amortization, to Natural Resources Canada to support increased mapping of areas in Northern Canada at risk of wildfires. This funding would also enhance the capacity of the

Canadian Interagency Forest Fire Centre

, which is jointly funded in partnership with provinces and territories. 
D. Supporting Provincial and Territorial Disaster Response and Recovery
Issue: As climate change causes increased natural disasters, public finances at the provincial and territorial level are steadily more strained.
Solution: To ensure provinces and territories have the capacity to keep people safe climate change threats,from the threats climate change poses Budget 2021 proposes to provide $1.9 billion over five years, on a cash basis, starting in 2021-22, to Public Safety Canada to support provincial and territorial disaster response and recovery efforts.
E. Addressing Climate Change in Yukon
Issue: Climate change threatens the safety and resilience of northern infrastructure, ecosystems, and traditional ways of life.
Solution: To help Yukon adapt to climate change impacts, Budget 2021 is proposing to provide $25 million, in 2021-22, to the Government of Yukon to support its climate change priorities, in collaboration with Crown-Indigenous Relations and Northern Affairs Canada and Environment and Climate Change Canada. 
F. Preserving the HMS Erebus and Terror
Issue: If you don't know what that title means, I'll explain. The shipwrecks of HMS Erebus and HMS Terror, from the Franklin Expedition of 1845, were discovered near Gjoa Haven, Nunavut, in 2014 and 2016, respectively. Inuit co-manage the wrecks with Parks Canada. They are some of the best-preserved wooden wrecks in the world. They contain clues that can help us unravel one of the world's greatest maritime mysteries. However, (the real issue) reduced ice cover and increased sea swells caused by climate change are accelerating the deterioration of the HMS Erebus.
Solution: To conserve and protect these historical features Budget 2021 proposes to provide $15 million over three years (, starting in 2021-22), to accelerate archeological and conservation work of these artifacts.  of international importance.
5.6: Protecting Nature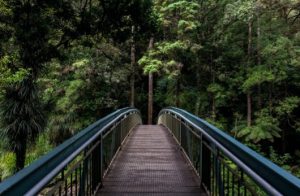 Source: Unsplash
The action to protect nature is critical, in Budget 2021, it will ensure that Canada reaches its goal of conserving 25% of lands and oceans by 2025. Canada is committed to ensuring the protection of nature and all that it entails, with a focus of also providing better access to natural spaces for all. Budget 2021 proposes $2.3 billion over the next five years to Environment and Climate Change Canada, and the department of Fisheries and Oceans, starting in 2021-22.
With this funding allocated, it will all build on natural spaces to reduce the dependence on infrastructures with the goal to combat climate change. These support the six strategies below.
City of Toronto's Ravine Strategy:

Plans to support the protection of over 300 kilometers of urban ravines. Focusing on the neighborhoods that have limited access to private or public greenspace.

City of Vancouver's Rain City Strategy

: Focuses on natural solutions with aims on preventing urban flooding and improvement of water quality, with the use of absorbent landscaping, tree trenches, and green roofs.

City of Winnipeg's Parks Strategy:

Main focus is on connecting people with nature, and proving accessibility for persons with disabilities to natural spaces.

City of Saskatoon's Green Strategy:

Building on urban forests, focusing on ecosystem health and resilience to natural disasters. Providing more accessibility for persons with disabilities to natural spaces.

City of Halifax's Green Network Plan:

Promotes the sustainable use of green space & land use for outdoor recreation.

City of Montreal's Vision 2030 Strategic Plan:

Nature in cities through prioritizing biodiversity, green spaces, and management of natural riversides and sustaining aquatic heritage. Also, providing access to everyone to parks and tree planting.
For the conservation of Canada's oceans, Budget 2021 proposes to allocate $976.8 million over five years to help Canada reach its 25 % by 2025 target that aims to protect the health of our oceans, commercial fishing stocks, and improve coastal community livelihood.
"Ghost Gear Fund" – plans to allocate a $10 million increase by 2021-22.

Preservation of Wild Pacific Salmon – proposes providing $647.1 million over five years.

Double the British Columbia Salmon Restoration and Innovation fund with an additional $100 million.
There are also commitments to better understand the environment by building on data of climate change and the impacts it has. $25.6 million will also be allocated to these efforts. There will also be allocation of the budget to the support of the Polar Continental Shelf, with a proposed amount of $25.4 million over the next three years. Also, with $476.7 allocated to Canada's chemical management regime.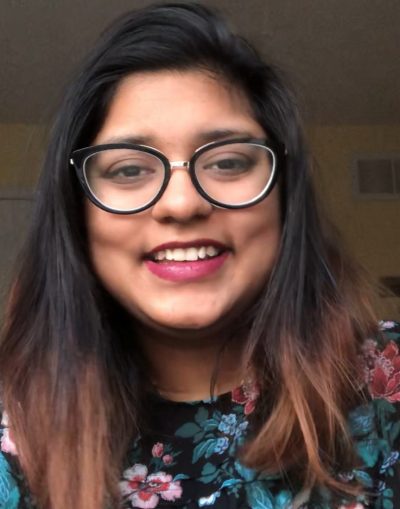 Ishani Dasgupta is majoring in Environment, Resources, and Sustainability (ERS), while also pursuing a minor in English & Literature Studies, at the University of Waterloo. She is a dedicated environmental writer and has worked throughout the course of her career to write about the challenges faced by communities, natural spaces, and activists alike regarding the destruction of the natural environment–she is interested in exploring global inequities created by the current Anthropocene. In her free time, Ishani likes to make music, read, and go on nature walks. Ishani is taking on the role of an editorial intern for Alternatives Journal (A/J).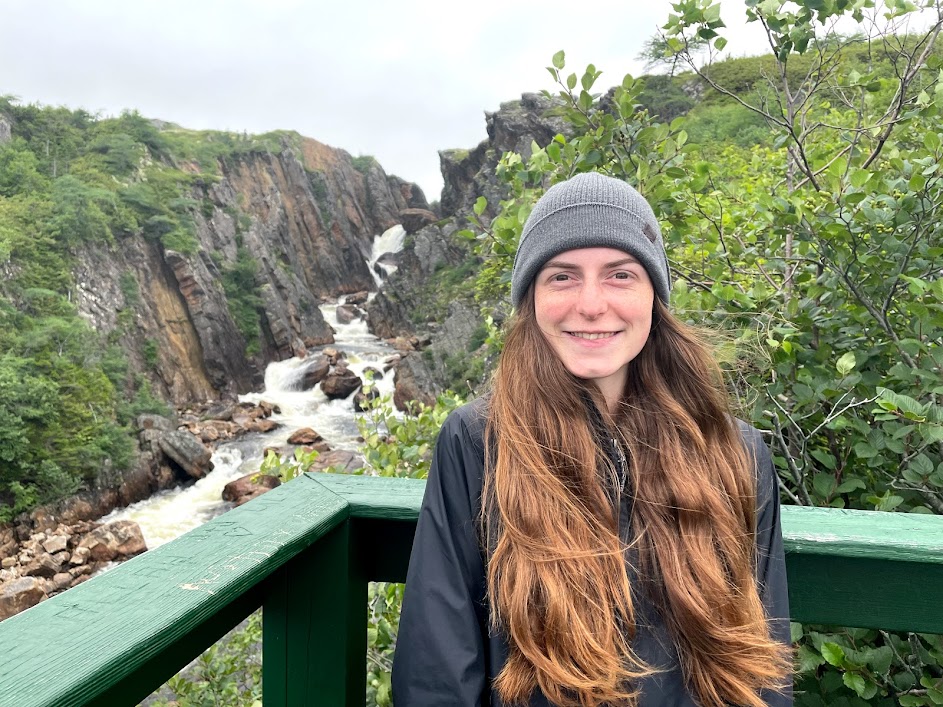 Siobhan Mullally (she/her) has an Honours B.E.S. from the School of Environment, Resources and Sustainability (SERS) at the University of Waterloo with a minor in English Language and Literature and two diplomas in Environmental Assessment and Ecosystem Restoration and Rehabilitation. For her senior thesis, she travelled to Labrador to study climate change impacts on tundra ecosystems in the Canadian Subarctic. As a budding ecologist, researcher, and writer, she is interested in exploring the intersections between ecology and communication to inspire climate change and help others develop a deeper appreciation for nature. In her free time, she enjoys spending time in nature and getting lost in her favourite novels.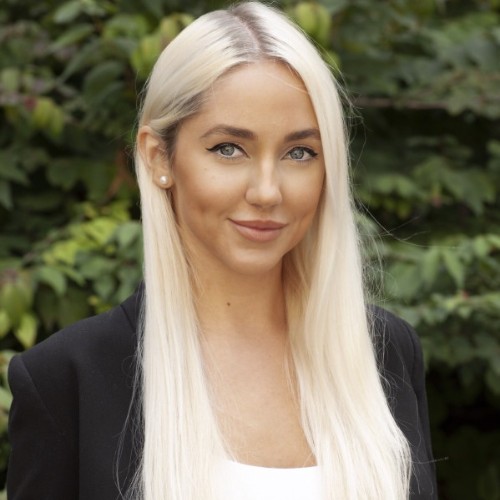 Greta Vaivadaite is a Journalist, Online Editorial and Social Media Coordinator at Alternatives Media. Greta has completed her undergraduate studies at York University in Environmental Management, and completed her Masters of Environment and Sustainability at Western University in 2020. Her professional interests lay in advocating for environmental education, sustainable fashion, and a greener travel industry.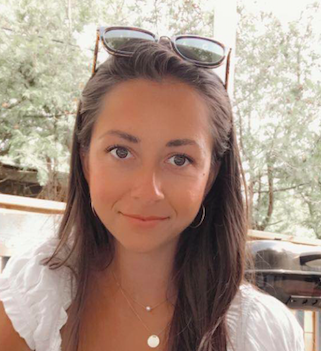 Teo Guzu is a Master's in Environment and Sustainability student with a focus on policy and research. Her background is in the field of Sociology and Global Development Studies where she developed an interest in how climate change disproportionately affects different communities. Her interests lie in plastics and waste management, conservation, and clean technology. In her free time, she enjoys spending time with her family/friends and her dog Charlie, reading, writing, and watching docu-series on various topics.