The Playlist for the Planet is another example of how the music community believes we need to do more to protect the environment. I hope the songs … inspire you to make changes that will bring about a healthier world. -David Suzuki
The Playlist for the Planet is another example of how the music community believes we need to do more to protect the environment. I hope the songs … inspire you to make changes that will bring about a healthier world. -David Suzuki
"LIKE A GREAT many good ideas that I get the credit for, this one came from my wife," admits David Suzuki with characteristic good humour. The idea was to seek out an anthem for the environment, a powerful song or group of songs that would inspire people to action. "There's something about music that cuts through everything and goes straight for your heart," Suzuki explains.
The search for an environmental anthem became a national quest run by the David Suzuki Foundation. Musicians across the country submitted songs with environmental themes to a special website on CBC Radio 3. Then, through a combination of public voting and jury selection, one song was chosen from each province, and one from the North, to become part of the Playlist for the Planet. In addition to the 11 provincial and territorial winners, an array of well-known songwriters and bands was invited to donate songs – from those familiarly associated with the movement (Bruce Cockburn and Gordon Lightfoot), to less obvious contributors, such as hip-hop artist K-OS, country-music sensation Jessie Farrell, Inuit throat singer Tanya Tagaq, and household names such as Joel Plaskett, Broken Social Scene, DOA and Rush.
"There has been a perception of the environmental movement as a fringe group, you know, the tree-hugging image, and that the music about it was similar," says Panos Grames, co-ordinator of the Playlist for the Planet project at the David Suzuki Foundation. "One of the things we wanted to show was that music with environmental themes is actually much more broadly based; you find it in all genres, from all ages and in such diverse styles. We wanted the Playlist to crash the stereotypes a bit."
Grames, who worked as a professional musician for over a decade, notes that music has been a common thread in many social-action movements. According to Grames, musicians are usually among the first to step up and support causes such as AIDS awareness and famine relief. He also notes that the ecological crisis is not a problem with nature, but with how humans relate to nature. The arts, he says, provide a means to strengthen this relationship. "We can touch on issues differently, more easily, in an artistic context. Music can speak to environmental issues in an emotional and spiritual way more than [the David Suzuki Foundation] can as a science- based organization."
Jack Lavoie, whose song "Heal" was chosen to represent the province of Quebec, agrees. "Music is the best vehicle for reaching the hearts of people. We can reach people rationally with information, but it's slow progress. This gets catapulted with music as an emotional vehicle," he says. Lavoie began writing "Heal" several years before the competition, but was unsatisfied with its poor-old-miserable-me tone and message. So he did some research on the David Suzuki Foundation website and found that its message was one of empowerment and personal involvement, "not the doom and gloom I'd been in." Lavoie went back to "Heal," altered the pitch, tone and lyrics, and in the fall of 2009, offered the song to the David Suzuki Foundation as a theme. "They wrote back and said they'd get it into the right hands, and then the competition came about six months later." Lavoie is pleased that his "theme song" is now part of a bigger project with such a broad range of artists and styles. "If we're lucky, this is step one in building social change," he says.
I went to the city when all the trees were gone and I lay there on her asphalt lawn She cried out a thousand days of hurricanes and floods Her face ran with tears, and the streets ran with blood Fur coats and sushi boats and diesel in the air – Danny Michel,"Feather Fur & Fin"
Keith MacPherson of the Manitoba musical duo Keith and Renée shares a similar vision. "Music is a great opportunity to inspire people to take responsibility for the planet. [It] is a powerful medium that speaks to people on a soul level." Like Lavoie, Keith and Renée wrote their song "The One" long before the Playlist competition while volunteering with the humanitarian organization Free The Children in Kenya. Over their two-month stay, Keith and Renée devoted themselves to both helping with clean-water projects and offering music whenever they could, much to the delight of the local people.
Shortly after their stint in Kenya, the duo was invited to perform in Dubai. "So there we were, suddenly among some of the world's richest people, and what we found was that the music spoke just as readily to them as it had to the people in Kenya, and that these boundaries we put between ourselves don't really exist," MacPherson says. "The power of our Playlist song 'The One' is its message that we are all connected and we all have a responsibility to contribute."
Saskatchewan singer-songwriter Glenn Sutter agrees: "Music…allows us to make connections without a need for words, histories, backgrounds. With music, there is an immediate connection. Deep friendships can happen through music, because we are resonating at a deeper level."
Sutter is an ecologist by training and is deeply interested in the relationship between music and the environment, particularly the human dimension of environmental issues of sustainability. "Music flows naturally into that for me," he says. Sutter felt the urge to write his winning song "Weight of the World" on the final day of a songwriters' retreat at Emma Lake, Saskatchewan. "I was putting my guitar away for the last time before heading back to the city, when I starting thinking about Neil Young's 'Rockin' in the Free World,' and how powerful that song is. The first words and melody for 'Weight of the World' came quickly, and it's now a song I often play when concerns about the world start to mount and I need to feel reinvigorated. I guess it helps to sing 'I'm going to do my bit' once and a while!"
I dare you to speak and stand up for the planet Nothing's right, nothing's wrong Everybody get along We can be the leaders of change – Keith and Renée,"The One"
Growing up, Sutter was immersed in both music and nature, forever hearing music in birds. "Even now," he says, "whenever I'm moving in a natural area, my mind goes to music." Sutter's "Weight of the World" speaks of empowerment. "We're bound to feel frustrated when we're on an unsustainable path," he admits, describing the song as having had an angry edge when he composed it. Ultimately, however, it is an energizing song, much like the songwriter himself, who can be found riding his bike to work even when it's 40 below. "I don't do it for anyone else," Sutter laughs humbly. "I do it for me."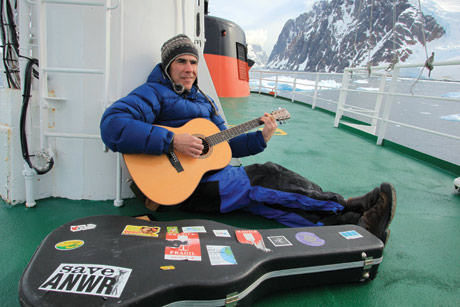 Remy Rodden \ Photo by Lee Narraway
Like many of his fellow Playlist for the Planet
artists,
Remy
Rodden
feels that the daily contact he has w
ith the relatively pristine natural environment of the far North influences much of his music. The environmental educator and songwriter, whose song "Think About The Planet" was chosen as the Northern winner, found it hard to choose which song to submit, as so many of his songs have environmental themes.
Rodden is manager of environmental education and youth programs for the Yukon Government, leading educational trips for students into the wilderness and assisting teachers in incorporating more environmental education into their classrooms. Of all the education techniques he has used over the years, Rodden has found music to be the most profound. "Music reaches people at the soul level, in the present, and being in touch with the environment means being in the present." On a recent trip to Antarctica with Students on Ice, an award-winning organization that offers educational expeditions to the Polar regions, Rodden worked alongside other environmental educators to help students foster a relationship with the extreme environment. As fellow environmental educator and Polar historian David Fletcher put it, "There are only two ways to understand Antarctica: silence and music."
Think about the planet when you go to bed, And dream sweet dreams that clean streams in your head, Clean hearts, clean streets, clean minds, leave all that ugly pollution behind, And when you wake up in the morning, make the dream come true. -Remy Rodden,"Think About the Planet"
According to Ontario's Playlist winner, Danny Michel, "there's a relationship between music and the environment because there's a relationship between everything." Michel wrote his song "Feather, Fur & Fin" about a place in rural Ontario (which he'd prefer to keep anonymous) where, as a child, he experienced the changes brought on by urban sprawl. "I wrote it for Mother Nature," Michel explains, adding that he is happy the song has found a home on the Playlist for the Planet. "At the end of the day, it's a song about little animals, so you never know what kind of ridicule you're setting yourself up for, but so far the reaction has been really positive. There wasn't a place for this song 20 years ago, even 10 years ago. The fact that this CD is being made at all is amazing."
Launched on March 24 this year, Suzuki's 75th birthday, Playlist for the Planet is available in an electronic format (available on iTunes) and as a compact disc. The David Suzuki Foundation ensured that the compact disc followed the most rigorous environmental standards, using 100 per cent biodegradable shrink wrap, 100 per cent recycled paper and vegetable-based inks. Still, the project's co-ordinator Grames admits that it is difficult to undertake an endeavour of this sort without having to make some compromises. "It'd be like putting on an environmental play and deciding not to use lights," he laughs.
People will be encouraged to purchase the electronic version (which has 10 additional songs) over the compact disc, but Grames notes that in the final analysis, digital may not always be greener. Ideally, he would love to see a song sheet and a music education component, so that people could learn to play the songs themselves. "On the practical side, this project may not change fuel emission standards," concludes Grames. "But it's always valuable to take different approaches. Call it a 'cultural experiment.' "
So, has the Playlist for the Planet project produced the environmental anthem that Suzuki and his wife Tara were hoping to find? Quebec's Playlist voice, Lavoie, is not sure about an anthem necessarily, but hopes the project starts a movement, perhaps with a North American or world version. Saskatchewan's Sutter confesses that he was hoping the competition would produce an anthem. "I mean, we even have one at the start of every hockey game." But Sutter also feels that there could be different kinds of anthems for different opportunities. "Maybe there is an event coming up that they want music for, and maybe they'll look to the Playlist." Keith MacPherson of Manitoba feels that the collection carries such positive energy from an array of artists that just listening to it will inspire people to become more aware and involved.
"The way certain songs can rally emotions and actions is nothing short of extraordinary," maintains David Suzuki. "I believe that an environmental anthem can help bring the overwhelming public support for the environment to its rightful place." According to Grames, every Playlist artist donated their work to the project without asking for something in return. Anthem or not, this is the sort of generosity of spirit that is required of each and every one of us for human impacts on the planet to be reversed, and for our relationship with nature to be healed.
Music may just be a key conduit to this healing: "[Music] is a non-threatening way to communicate. It is not something we … need a particular skill to understand," says Alberta's Playlist artist, Berna-Dean Holland. "I have to say that it has not been a rare thing when I have played my music in the badlands of Alberta under the light of the moon and a coyote has returned my call. Nor has it been out of the ordinary when a songbird has shown up to sing along with me while I sat strumming my guitar and singing on the deck in my backyard. So, you see, this universality of musical communication is not limited to humans. In fact, it demonstrates clearly that we are surely part of the ecological stream. It is the one way we can communicate with everybody on planet Earth."
Keith and Renée not only performed in Africa, they wrote and performed songs with the locals. Watch the duo, and a special guest-star, get the crowd singing along to "Jambo" and other tunes at keithandrenee.com.
Alison Wearing is an award-winning writer and performer. Her voice can also be found threading harmonies through Jarmo's music. For more information visit www.alisonwearing.com.