Marcia Ruby interviewed Tom Wilson in May 2019, about his art, his music and his journey to discovering his identity.
Marcia Ruby interviewed Tom Wilson in May 2019, about his art, his music and his journey to discovering his identity.
I saw Tom Wilson's show for the first time at Hillside Inside in Guelph, Ontario, last January. Hillside is a thirty-five-year-old music festival that ups the ante every summer with its sustainability initiatives and community-building ethos. Hillside Inside is more recent and was born of the desire for winter community building and love of sharing live music. Wilson and his bands Junkhouse and Lee Harvey Osmond have played Hillside Festival. Alternatives Journal (A\J) and Hillside are long-time friends. A\J covers the favourite July weekend each year, when bands, volunteers and folk gather on Guelph Island for music, workshops and Indigenous engagement. Every Hillside begins with an Indigenous welcome – and a standing invitation to join the Indigenous circle in the heart of the Guelph Island grounds throughout the festival.
It was fortuitous and fun when last March (2019), A\J, Hillside and the Greenbelt Foundation created two evening events of music, art and celebration of the Southwestern Ontario lands that feed us and nurture our souls with natural beauty. The waters, forests, escarpment and karst topography also provide invaluable ecosystem services to keep our environment healthy, but that's a story for another time. This is the web of connections and events through which I find myself sitting in a Hamilton café to talk to Tom Wilson about his recent journey – to himself – to his true identity.
It was important to me to meet Wilson in the place he grew up – Hamilton Ontario. Yes, I love the idea of being in a city that boasts more waterfalls than any in North America. More so, I wanted to be on a common ground, as I knew his stories were about to transport my imagination to his birthplace on the Kahnawà:ke [pronounce the "Ks" as "Gs"] Reserve in Quebec.
It was also important to me to interview Tom Wilson because he's now part of Louis Riel's prophecy, which touches me to the core every time I think of it. Riel was the leader of the Métis resistance to the British army who was hanged in 1885 for high treason. Before he died, he proclaimed, "My people will sleep for 100 years, and when they awake, it will be the artists who give them back their spirit." I seek out these artists.
Wilson's most recent creations – Beautiful Scars: Steeltown Secrets, Mohawk Skywalkers and the Road Home (the book) and Mohawk (the music album) combined to become an incredibly dramatic performance at this year's Hillside Inside. The performance opened the door to reveal Wilson's unconventional timeline of discovery:
September 2012: Wilson, at the age of 53, discovers that he is adopted and his parents, Bonnie and George Wilson, are really his great aunt and uncle. Wilson spends two years of research trying to find details of his birth.
June 29, 2014: On Tom's birthday, his Mohawk "cousin" Janie reveals that she's his mom.
April 7, 2015: Wilson's band Lee Harvey Osmond releases Beautiful Scars album.
May 29, 2015: Wilson debuts "Beautiful Scars," a song inspired by the work of Miriam Toews in Dave Bidini's Torn from the Pages project. The song ends up on a Blackie and the Rodeo Kings (a super band that Wilson is part of) album.
November 21, 2017: Beautiful Scars book released.
January 25, 2019: Lee Harvey Osmond releases Mohawk album.
Meanwhile, Wilson is also a prolific painter. His work has been in celebrated gallery exhibits and you can see it on billboards. Wilson's painting is among esteemed Indigenous works from Maxine Noel, Roy Henry Vickers, Christi Belcourt, Norval Morrisseau, to name a few of the many who are part of the Eagles Rising campaign through Artists Against Racism.
It's Wilson's painting endeavours that I'm most excited to explore in this interview.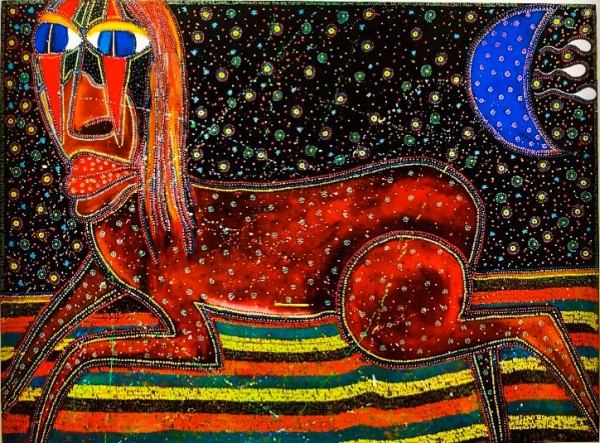 Shapeshifter by Tom Wilson.
* * *
Alternatives Journal: What's your full name?
Tom Wilson: My given name was Thomas George Lazare. But that was changed because it sounded too Indian. 1959 was an era where it was okay to be Indian, but you shouldn't really tell anyone that you are Indian. So, Bonnie Wilson, who was the most loving person that I'll ever meet – and the most generous – always disguised Janie, my mother's identity, and she disguised my identity till the day she died.
When she introduced Janie she would never introduce her as "this is my niece from Kahnawà:ke," the name of the reserve. So she changed my name because Thomas George was way too Indian for her.
A\J: What name did she give you?
TW: Thomas Cunningham Wilson. George Wilson's father's name was Thomas and his mother's maiden name was Kelly.
A\J: Describe your connection to Kahnawà:ke.
TW: The umbilical cord from Kahnawà:ke to all Mohawks is something that a lot of us are not aware of. But it does pull us home. Do I feel that pull that right now? I don't feel the pull to go back and live there. But I used to dream myself there. I was connected to the place through the adults – the voices around my kitchen table, talking about characters on the reserve, relatives on the reserve – my relatives on the reserve. So there was always this heroic romance that went along with the people of the Mohawks from there.
I don't know if I naturally would have felt that way as a kid, if they were talking about people on the West Side or East Side of Hamilton. But I definitely felt it for everything that went on in the reserve. So that connection; what connects all Mohawks – I'm learning about still. I don't know if it's a spiritual connection, or just that we recognize, in this plane of existence, and we will probably recognize each other on the next plane of existence. But it's something that I'm being told about only recently. When I have doubts about myself, sure enough, some Mohawk shows up and says, "I've read your book. I wasn't going to read your book, I don't know who you are, but I read it and it moved me. And your words are the words of a Mohawk. They aren't the words of a white man. And the way you speak is the way of the Mohawk.
So there's this blood memory that goes on. There's blood memory that happened in my art. I've been painting really simple images since 1997. Even with a lack of identity, I was still expressing myself as an Indigenous artist, or as a Mohawk. And sure enough, now that I know that I'm a Mohawk, that sense of identity that I was lacking is now coming completely into focus in the work that I do.
A\J: Describe your connection to where you grew up.
TW: Hamilton is like growing up in a comic book, for me, because there were Mafioso guys living on one side of the street; TV wrestlers growing up on the other side of the street. We used to joke that you needed a passport to get on our street because there are so many nationalities there, with the European – Portuguese, Italian, Irish. It's a working class neighborhood. I don't think that I could really ask for a much more vibrant neighbourhood to grow up in. Besides the ghosts around my kitchen table or the heroes that were talked about around my kitchen table, the Hamilton Tiger Cats were a big deal to me, the mayor of Hamilton, Vic Copps, all these names all these people were very influential in a way that I never really had to look past the borders of Hamilton to be inspired or be influenced. I still feel the same way. I've been writing music about this city for 45 years, so it's a constant inspiration.
A\J: Right on. Some of my favorite singer songwriters are people who make you fall in love with their place because they're in love with that place. Some of my favourite Texas singer songwriters do this amazingly.
TW: Well it's pretty hard to get away from Texas. I mean the West Texas songwriters – Townes van Zandt, Joe Ely – those those guys – Buddy Holly – you go to West Texas and there it is – nothing there. Nothing but some oil refineries –
A\J: And sunsets.
TW: Yeah that's it, nothing but the sunset – that's good.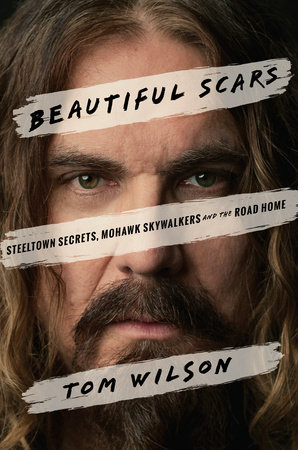 Wilson's book "Beautiful Scars" tells the story of his search for truth.
A\J: Are you thinking of Kahnawà:ke when you are singing "This whole town is in love with magic"?
TW: We're in love with things that we can't touch. As an artist growing up in Hamilton – I don't know what an artist feels like growing up in Kahnawà:ke – but as the underdog, we're not walking out on the Queen Street West and seeing 30 other people doing exactly what we do. Really, we're insulated in a way that we end up being in love with the things that we can't actually touch, things that are coming to us – the magic that's delivered to us. I haven't thought too much about that, I thought it was a great line. And I knew that as I kept singing it. There are some songs that you write, and some things that you write in general, and some things that you say, that you know are going to take on a greater meaning later on. And that's happened a lot. It takes sometimes 20 years of singing a song before the definition of it starts to become clear to you.
I like that song and I forgot about it. I've performed that with symphonies. It's an album that was never released commercially that I just bring to shows. It's called Symphonic Scars. It has readings and songs performed from the book. The other thing that I've been doing is putting my art on my album covers, which my manager has wanted me to do for years. It happens when it's time. So that's the cover of the symphonic record. You can actually see in there all the writing – the detail of the writing from the book. I think I'll just keep painting and making my own covers for a while.
A\J: Did you paint or draw when you were a kid?
TW: We all did. It's the whole thing. I never say that I'm an artist. I always say I'm working on becoming an artist. We all paint and write, or make up stories, act things out, sing freely – and then we go to school. And all that's kind of taken away from us to organize us in a suitable fashion. So those ways of expressing ourselves are robbed from us.
I'm not blaming schools, my wife's a teacher. It's not like I'm anti education. I'm just saying the institution itself, like most institutions, just try to get you in line. So we spend most of our lives trying to get back to being that three-year-old artist that we all were. Same way, we go searching through this world trying to feel the same love that we had for parents who we were three years old. So yeah, I drew things – I did all that. I was an artist when I was a child.
A\J: Did your compulsion to paint and your painting make more sense when you discovered your true roots?
TW: To me, that's about identity. I was working my entire life trying to create things with no identity – with no true identity – with always suspecting that I wasn't where I was from and I was who I was – and I didn't really know my background. Like a lot of adopted people that don't have that information, you instinctively know that you're not in the place that you're supposed to be.
You work regardless of that lack of identity. But in the last seven years, everything is down to such a fine point for me – with a goal. Not only the goal in the creation, but the goal in what my work can hopefully do in a broader sense: to heal this country and heal my community – and spread some of my understanding of the world.
In the last seven years, everything is down to such a fine point for me – with a goal. The goal in what my work can hopefully do in a broader sense: to heal this country and heal my community – and spread some of my understanding of the world.
A\J: That's always helpful. I get to listen to your Mohawk songs over and over again.
TW: I don't listen to those songs. I get to sing them. But it's funny – we were talking about how songs kind of wait for them to bring their true meaning to you after singing them for 20 years. Songs like "Mohawk" or even "40 Light Years" for me – these songs are defined already. They come from a place – they are born out of knowing my identity.
A\J: When you started painting, were there particular artists that inspired you, or did you simply let shapes spring from your imagination?
TW: I just drew what came naturally to me. I wanted things to be simple. I am the first person to say I am not an author but seem to write books now. I'm not a musician but I like to write songs. And I'm not a visual artist but I like to paint. So maybe I'm keeping things too simple for my own good. But it is the truth.
The one thing I want to be as a communicator and all those things enable me to be able to communicate. So I painted simple ideas that could be understood by a child. I could hang one of my paintings up, walk away and you'd know what was on the canvas. The devil's in the details, right? It's all the writing.
It's the fact that people showed up to Open Doors where I have my studio – a place called the Cotton Factory – it's fantastic. It's like walking on to the set of Peaky Blinders every day. It's like an old industry – old cotton factory. And people came in and said, "Oh I've seen your artwork online, but I didn't know I was so involved. I didn't know there was so much to it. I didn't know all the detail in it." And that's kind of it right there.
A\J: Are your subjects always people and words?
TW: Yes, although I started painting shape shifters, which I'm pretty pleased with. I'm sticking with the stories off my reserve. There's a legend of a hoofed woman in Kahnawà:ke. My mother knew about shape shifters – about a man who turned himself into dogs. There's a little bit of caution about the dogs in Kahnawà:ke as far as I can gather. I remember my wife and I were at my cousin's wedding three or four summers ago. I was going to walk back to my sister's house and another cousin said, "Oh no no, we'll drive you. It's night time." Then, driving through the reserve, the dogs were running along side the car, barking, kind of acting up. And I thought about all those shape shifters that my mother used to talk about.
I need to learn a little bit more about that. So I'm painting what I know about it; what I remember hearing. There are a lot of stories off of that reserve that I have to dig into and start enjoying.
A\J: Why did you start painting guitars?
TW: Because you know, when you got a hammer in your hand, everything looks like a nail, right?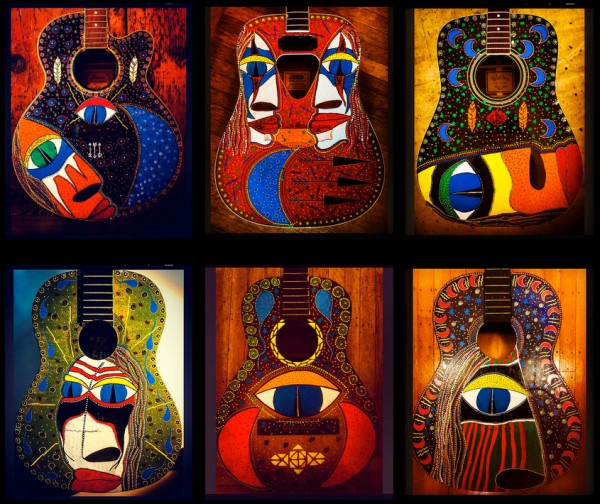 Tom Wilson's beautiful painted guitars.
A\J: You told radio host Alison Brock that, compared to writing, painting was more of a meditation. Do you still feel that way?
TW: Oh yeah. I don't have time and I don't have the attention span to be able to meditate. The painting is something that shuts out everything. I can be completely focused on that.
A\J: In a 2015 episode of q – CBC, you debuted the song "Beautiful Scars" – after you had released the album of the same name.
TW: I was inspired by Miriam Toews' book All My Puny Sorrows. And then I was presented in a show that was honouring the work of Miriam Toews through dance, music and a little bit of theatre. I was asked to write a song for her – and I did. A lot of myself went into that because I related to the depth of pain in that book. I kind of related too, through from my own mother. So I wrote a second verse that I didn't include in that CBC q radio show. I have that verse. In the q performance I stuck to the first and third verse, which were more related to her. I thought, on the way there, oh geez, I hope this doesn't have a negative effect with her – I hope it doesn't make her cry. And then I thought, no, it won't make her cry. It did make her cry. It was devastating moment.
A\J: Is that song going to go on your next album?
TW: That song went on a Blackie and the Rodeo Kings album. And it was recorded with a guy named Dallas Green, who has a group called City in Color. So the song actually did see the light of day on an album called Kings and Kings. And it's also on the symphonic record.
A\J: When he won the Polaris last fall, Jeremy Dutcher invited Canadians to bear witness to the Indigenous renaissance that is happening now. Then, on the brink of spring this year, when he won the Juno, Dutcher said reconciliation will take time, stories, shared experiences – and music. Meanwhile, you have hinted that we need to treat with respect our sometimes challenging, crazy life experiences. If we recognize the beauty inside people, then they won't come back and haunt us. These are survival skills. And this can be the place that inspires our art. Do you see this dynamic influencing reconciliation in our country?
TW: Yes, completely. I think that we make the big mistake of wanting somebody to take care of us. So we look to churches. We look to governments. We look to corporations to pacify us and make us feel okay; make us feel that somebody is taking care of us. Art doesn't do that. Art challenges. Art is with us to challenge us – gently or abrasively.
But it's the voice of the artist – funny you said that Louis Riel thing because man I believe that wholeheartedly. Art is going to fill the gap between the Indigenous world and the colonial world. It's not harsh words. It's not accusations. It's not finger pointing. It's not name calling. It's a gentler way of communicating with each other. Art, with the challenges that it gives us, is a gentler voice than any of those controlling factors.
Artists want to create something to help the world. Politicians, churches, corporations want to control the world. So do we go to controlling powers to heal us, or do we go towards new creations to heal us. For me the answer is really simple. You can nail Justin Trudeau to as many crosses as you want – it doesn't matter. It could be anybody failing – it's a position to fail. But as an artist, you're completely freewheeling to succeed and to really help people.
That's really what I'm trying to do now. I found with identity, my intent is now defined. I don't expect things to happen in my lifetime. I don't expect the pain to be healed while the people who are feeling the pain are still alive. But if we start to understand one another better, which is what my art is trying to do – help us understand one another. Wouldn't that be better? Not necessarily even open up points of discussion. Just try to teach us to be a little gentler with one another.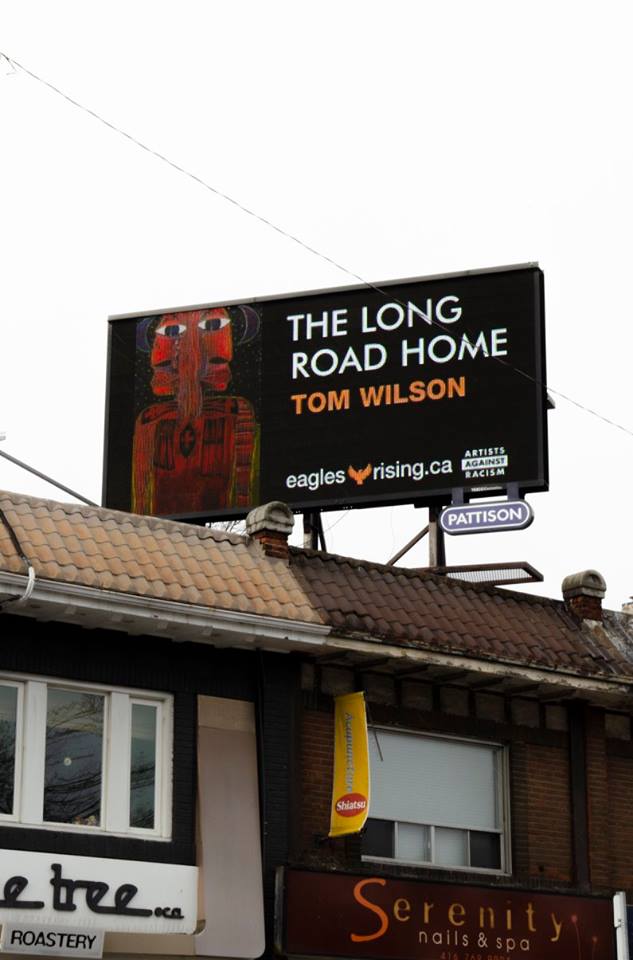 Tom is involved in Artists against Racism's Eagles Rising project, this billboard is part of that campaign.
A\J: Where do you see the most hope that we'll take better care of our land and water.
TW: It comes from an understanding. A lack of greed would help. I don't have problem-solving answers. All I have is observations. There's a lack of spirituality with the people of this land – North America, for example. Listening can touch it. Unless it punches them in the face, they actually don't get it.
So how are we supposed to nurture our land and our air and our water? How are we supposed to take care of these things without true believers? How do we make this population into true believers. Why would you want to deny climate change? Why wouldn't you want to at least hear it out?
I don't really have an answer for that one. I know you don't either. You have some ideas and I have some ideas. Sadly, I haven't really been very much into it enough because it's just such a daunting task. I don't even have the mind to be able to fight Doug Ford properly. But you know what? My daughter does. Somehow being born, coming from a knucklehead has served her properly.
A\J: Well, the knucklehead really found his way, and you have to heal yourself for your kids.
TW: Yeah.
A\J: What message would you like people to take away from this interview?
TW: "I could do that." It's really the same as the door of possibilities.
I was being interviewed by Tom Power and he said, "What do you want people to take away? What do you want people to think when they see your art?"
And I said, "I can do that." And that's really the only takeaway I want people to have.
***
Adding to Wilson's take-away message, go to live music events. Go to see art in art galleries. See live theatre. Take in a movie at a cinema. There is an energy in these live, shared, crowd experiences that cannot be emulated through browsing on your gadget. Gadgets have their place. But you will gain a lot by seeking out live artistic experience. And you'll be supporting the arts. Catch Wilson's live shows. @leeharveyosmond on Instagram | @lhosmond on Facebook | tomwilsononline.com
Marcia Ruby has designed and produced Alternatives Journal for over 30 years. She interviewed Tom Wilson in May 2019. She is a miner of stories and projects that help this deal along. She often hangs out at the intersections of art and environment.
Marcia Ruby is the publisher emerita and creative director of Alternatives Journal.