What do you get when you put one innovative BC artist, a passionate curator, fifty musicians, and fifty porters, sound techs and camera operators on a melting glacier slated for controversial development as a four-season ski resort?
What do you get when you put one innovative BC artist, a passionate curator, fifty musicians, and fifty porters, sound techs and camera operators on a melting glacier slated for controversial development as a four-season ski resort?
You get "Requiem for a Glacier," Victoria artist Paul Walde's four-part operatic composition mourning the loss of glacial ice to global warming, and specifically highlighting the recent approval of the proposed Jumbo Glacier Resort. Performed on the rapidly receding toe of the Farnham Glacier in the central Purcell Mountains, 35 kilometres west (75km by road) of Invermere, the piece was performed for an exclusive audience of melting glaciers.
Commissioned by Kaslo's Langham Cultural Centre, "Requiem's" performance was an inspirational, unique intersection of art, passion, music and mountain culture. Many of the musicians and support staff were moved to tears during the performance, a nod to the power of Walde's music and a spectacular mountain wilderness under threat.
For over two decades, locals in nearby communities, including the Ktunaxa First Nation, have been stalwartly opposed to the proposed resort, which is to be located 55km from the nearest community. Currently, access to the proposed resort is only a rough gravel logging track into the heart of the Purcell Mountains.
Biologists have gone on record opposing the proposed resort for the impacts it will have on local grizzly populations. Skiers don't even want it, as every single local town already has a community ski hill that recently expanded in the mid-2000's economic bubble – 15 community-based ski areas within a five-hour drive all vie for this crumbling ski pie. These resorts are nowhere near capacity, given the well-documented decline in the alpine ski industry, and another major resort in the mix will most certainly draw critical ski tourists – and jobs – away from existing communities.
Sustainability activists argue that the resort's business plan for a glacier-based ski resort on rapidly melting glaciers, combined with its proposed location far into an undeveloped mountain range fly in the face of well-documented climate change science. Finally, the proposed resort location is at the heart of Qat'Muk, the Ktunaxa Nation's spiritual home of the grizzly bear. This is obviously not the place for a real estate scheme.
The trek to the performance site was like a Seussian scene, with formally-dressed musicians shouldering timpanis instead of crusty miners with dusty packs.
Kiara Lynch, curator of the Langham Cultural Centre, was, like many others, deeply angered by the resort's approval. She approached Walde with the idea of a multimedia art project to be shown in local galleries. On a perfect July day, all the musicians, instruments, sound gear and camera operators miraculously made it onto the East Farnham Glacier.
The trek to the performance site, along a snowy trail at glacier's edge, was like a Seussian scene from the Chilcoot Pass, with formally-dressed musicians and goretex-clad volunteers shouldering timpanis, euphonia, violas and French horns instead of crusty miners with dusty packs.
In the amphitheatre at the heart of the Purcells, mountain breezes carried Walde's creation to its icy audience, capturing a beauty that brought tears to the eyes of those of us lucky enough to be present. Deep, melodic voices of horns, reeds, and strings were buoyed by the resonant timpani, evoking a profound sense of loss and sadness at the impending loss of these glaciers, and the proposed mistreatment they face if resort developers dynamite crevasses closed, sink lift poles deep into the remaining ice, and salt the snow surface to squeeze out a few more precious weeks of skiing for wealthy patrons.
The final creation opened last November as an installation in the Langham Cultural Centre and the Oxygen Arts Center in Nelson, BC. "Even though we have been getting inquiries from a number of major galleries and museums in larger centres," explains Lynch, "we wanted to debut this work in the cities that helped inspire and create it." It is hoped that "Requiem for a Glacier" can be toured throughout the region in the future.
Edited: Two new exhibitions are scheduled for this fall, in Coquitlam, BC and Quebec City. See full details below.
Meanwhile, the newly-established Jumbo Municipality – population: zero – now has an appointed, paid mayor and council, and accusations of political back room dealing and anti-democratic process continue to plague the ill-conceived resort. The recent application for $1-million in BC taxpayer money to run the ghost-town municipality further angered local residents embroiled in a strike by BC Teachers, who are told there is "no money" to meet their demands for smaller classes and wage increases.
Residents of nearby Johnson's Landing are also holding out for provincial funds to help mitigate the impacts of the devastating 2012 landslide that killed four people and rendered many properties unsafe for occupancy. Again, they have been told there is "no money," yet BC is digging deep in its pockets for a ski resort that has no local support, no reliable road access, no residents, no building permits and no long-term future.
Democracy, we have a problem.
Upcoming exhibitions:
Evergreen Cultural Centre Gallery, Coquitlam, BC: September 6th to October 25th, 2014. Opening September 6th 2:00 to 5:00 pm.
Galerie des arts visuels | Université Laval, Quebec City, PQ: November 20th – December 21, 2014.
Photo Gallery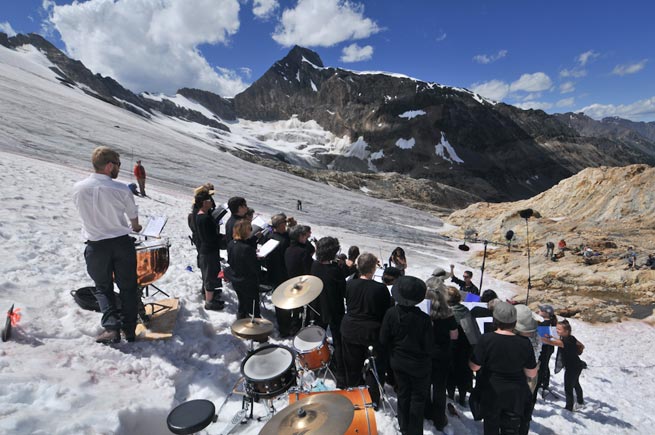 An orchestra of Kootenay-based musicians performs Paul Walde's Requiem for a Glacier on the melting West Farnham Glacier in the Central Purcells, one of the proposed summer ski runs for the controversial Jumbo Glacier Resort.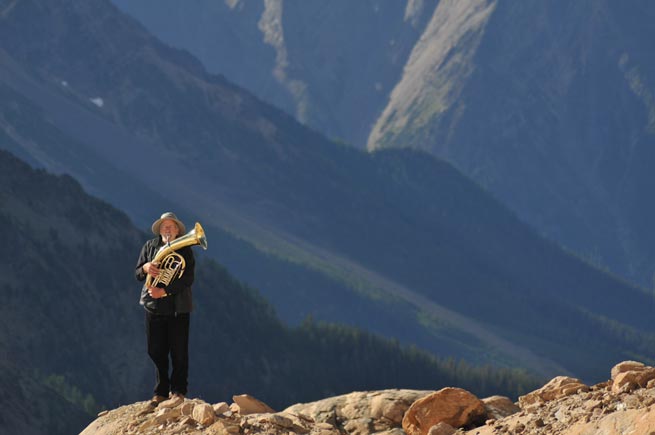 Tobias Jenny celebrates the Wild Purcell mountains with an airy euphonium solo during a break in recording Requiem for a Glacier.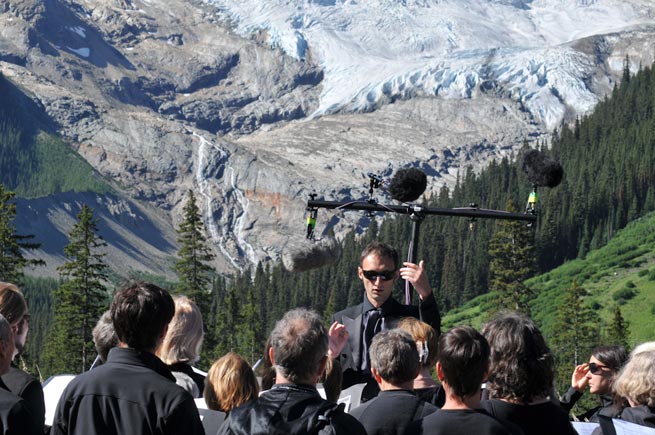 The receding Commander Glacier, the ill-planned site of proposed summer skiing, looks on as Ajtony Csaba, conductor of the University of Victoria Symphony, leads the musicians through the first part.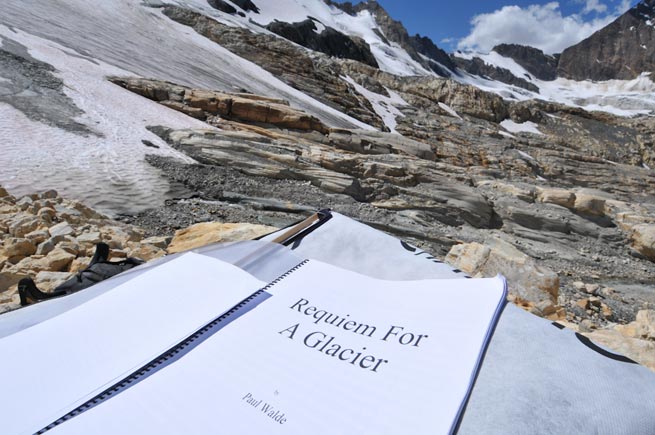 Requiem for a Glacier score and the melting landscape it was written for. All the background rocks were under glacial ice just a few years ago.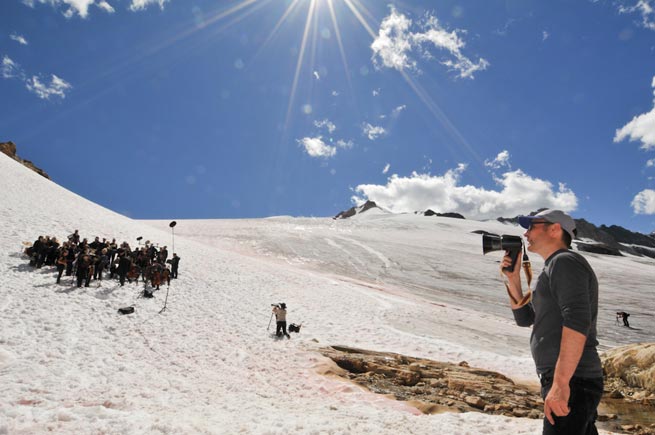 Composer and visual artist Paul Walde directs the recording of Requiem on the West Farnham Glacier.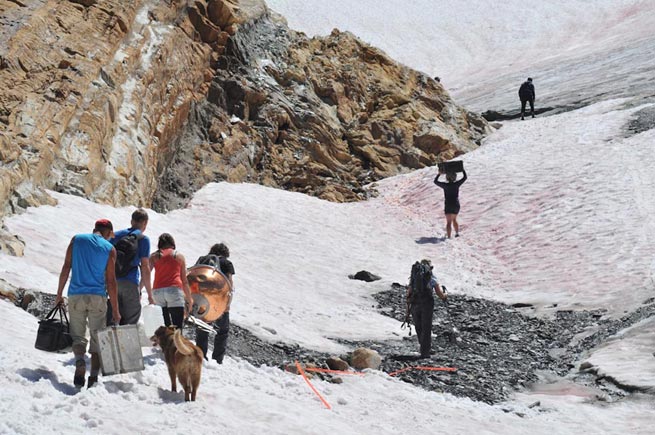 Volunteers from around the region act as Sherpas to haul in instruments, recording gear, and safety gear to the West Farnham Glacier for the performance.
Dave Quinn is a wildlife biologist based in Kimberley, British Columbia. His field work with grizzly, fisher, lynx, badger, mountain caribou, and swift fox has made him a passionate advocate for the wilderness these animals require. His adventure and conservation-focussed writing and photography appears regularly in Canadian Wildlife, Explore, BC Magazine, Westworld, Adventure Kayak and Canoe Roots magazines.