AS THE PUSH FOR TAR SANDS PIPELINES ESCALATES and the legal channels for fighting them become exhausted, some environmentalists are reconsidering the value of civil disobedience, which Sierra Club Canada (SCC) executive director John Bennett describes as "breaking an unjust law or breaking a law to draw attention to an unjust law." After the Sierra Club USA ended its 120-year ban on civil disobedience in February by blocking the sidewalk outside the White House gates to protest the Keystone XL pipeline, SCC began rethinking its own stance.
AS THE PUSH FOR TAR SANDS PIPELINES ESCALATES and the legal channels for fighting them become exhausted, some environmentalists are reconsidering the value of civil disobedience, which Sierra Club Canada (SCC) executive director John Bennett describes as "breaking an unjust law or breaking a law to draw attention to an unjust law." After the Sierra Club USA ended its 120-year ban on civil disobedience in February by blocking the sidewalk outside the White House gates to protest the Keystone XL pipeline, SCC began rethinking its own stance.
Bennett is drawing on his extensive history in the environmental movement – with Greenpeace, the Green Party and others – and the opinions of SCC members across the country to navigate and update the organization's perspective. Staff, volunteers and donors who responded to a recent internal survey were overwhelmingly in favour of taking up civil disobedience. With decisions coming to a head on Keystone XL and Northern Gateway, as well as retrofits of the Kinder Morgan and Enbridge Line 9 pipelines, are the times desperate enough to call for desperate measures?
A\J: What sparked this renewed debate?
John Bennett: It wasn't so much a spark as a smoldering fire. After two decades of government lip service to action on climate change, the Keystone and Northern Gateway pipelines symbolically commit our countries to at least another generation of inaction and have become the lines in the sand – the moment in history when our societies either change direction or doom our children to catastrophic climate chaos. Civil disobedience was chosen by the Sierra Club in the US to dramatically demonstrate the urgency of acting now.
A\J: What arguments are guiding the debate?
JB: Some in the SCC family argue that we have achieved a great deal with scientific campaigns, using facts to mobilize public opinion and convince government to act. This is how we won on toxic pollution, acid rain and many other issues. Since it worked, why risk our position by embracing civil disobedience?
Others believe that when faced with a situation where science is no longer the basis of policy making, governments no longer attempt to garner the support of the majority, and the stakes are catastrophic, civil disobedience is justified, if not required.
A\J: Why is SCC considering this tactic?
JB: It's not a tactic. It is how Western society develops. Every step toward liberty has been aided by those who refuse to obey, and demand that right be done: the suffragettes, the civil rights movement, the American Revolution. All major advancements have been achieved with some form of civil disobedience.
A\J: What advice would you give organizations or individuals considering when to use civil disobedience?
JB: Civil disobedience is spiritual as well as political; it has to come from a place deep inside of us. Superficial people don't inspire.
On the practical side, get some training to prepare the participants, too.
In addition to this interview (featured in the 2013 Art & Media issue), we also asked a range of environmentalists and organizations across the country to weigh in on the debate. Here's what they had to say:
Tzeporah Berman, author and environmental activist
Twenty years ago, inspired by the courage of local residents who were protesting the clear-cut logging of the ancient rainforests of Clayoquot Sound, I moved to Tofino and joined my first protest. In what was to be one of the largest acts of civil disobedience in Canada's history, over the course of that summer close to a thousand people were arrested and over ten thousand people joined the protests. I was arrested and charged with 857 counts of criminal aiding and abetting and faced six years in jail (after a lengthy trial the judge commented that he would have liked to throw me in jail but that the charges were not valid.).
The experience was life changing and also an extremely valuable case study on the power and limitations of civil disobedience. Did the protests stop the logging in Clayoquot Sound? No. Did they play an instrumental role in galvanizing a movement, raising awareness and creating a much-needed debate on forest policy in the country? Absolutely.
Throughout history civil disobedience has played a necessary role in raising the stakes at key difficult moments when vested interests have undue influence on protecting the status quo, and our laws and policy fail to protect us or reflect broadly held societal values. This year more people will lose their homes as a result of climate change than war. As a result of the more than 50 per cent global increase in the severity and intensity of violent storms in our lifetimes due to our reckless development of coal and oil, many communities are battling hurricanes, floods and droughts.
Yet in Canada, our government is aggressively pursuing a dramatic expansion of the tar sands and related pipelines while shutting down the Atmospheric Research station, the National Round Table on the Environment and Economy and other critical education and research initiatives that would help us chart a course to a clean economy and reduce pollution. To add insult to injury, they are muzzling scientists, attacking environmental charities, gutting environmental laws and cancelling or limiting environmental assessments of industrial projects. There has never been a more important time for Canadians to dust off those placards.
Maryjka Mychajlowycz, Friends of Clayoquot Sound
Peaceful civil disobedience is a powerful tool for social change and personal empowerment. Putting one's conscience above the law is not to be undertaken lightly, but only when other avenues have proven futile. To maintain credibility and public support, it's essential to keep direct action peaceful. How? By providing civil disobedience workshops for all participants, having peacekeepers onsite, modeling a respectful attitude toward the "opponent" and creating an atmosphere that portrays civil disobedience as an honourable act of personal responsibility.
Civil disobedience itself does not bring about the solution; rather, it spotlights the problem and serves as a catalyst to make desired decisions happen. Someone needs to be talking to decision makers, trying to effect the decisions you want, while civil disobedience puts the heat on.
Risking arrest or being arrested for a cause you believe in can be a liberating, life-changing experience that helps a person to become an aware, engaged, activist citizen, thereby strengthening democratic society.
Gideon Forman, long-time environmental activist and regular A\J contributor
I did civil disobedience as a graduate student in the 1980s. In one instance I sat in the road near Toronto's US consulate to protest President Reagan's war crimes. In another I squatted at the Defence Department to oppose low-level military flights over First Nations land. These sorts of actions are useful in a number of ways.
First, they affirm the value of non-violence. So much of society is predicated on destruction (whether of human or animal life); those of us doing sit-ins embraced non-violence as a matter of principle. We wanted our lives and whole way of being to refute the dominant model.
Second, civil disobedience can garner significant press coverage and build public concern. This is particularly the case when practiced by celebrities. When Daryl Hannah or George Clooney get arrested, the message penetrates a segment of the population we rarely engage.
Finally, civil disobedience brings home an issue's urgency for the people doing it. I participated in those sit-ins in part to reignite my own passion, to remind myself – at a time when I was politically dispirited – that the issues we face are pressing and time is short. Sitting in the roadway surrounded by friends, I was no longer sleepwalking.
Heather Milton Lightening, co-director of the Indigenous Tar Sands Campaign
Civil Disobedience: n. Refusal to obey civil laws in an effort to induce change in governmental policy or legislation, characterized by the use of passive resistance or other nonviolent means. –The Free Dictionary
Because of our relationship to our homelands and the process of colonization, Native Peoples have a very different perspective on civil disobedience than settlers do. You could simply say our people have always fought for the right to exist – existence is based on our way of life, which is tied to the land. Starting with contact with the newcomers to our homelands and the creation of the United States and Canada – which of course is based in the need for resources: land, food, furs – our people resisted the process of colonization and fought in many wars, depending on which Nation they belonged to. This is in our not-so-distant past.
It's very key to understand that many Nations (but not all) signed agreements to share the land with the US and Canada; we remain to this day as sovereign Nations with relationships – good and bad – to the US and Canada. Our people have and continue to protect our lands and right to exist using a variety of tactics. But the difference between Native Peoples and settlers is that many times we can't be framed within the idea of civil disobedience, as we aren't 'citizens,' but members of sovereign nations.
Simply put, the US and Canada have violated their own constitutions and laws by refusing to uphold the rights of our people. There are not a lot of options when governments are unaccountable and infringe upon rights to exist. Our peoples have engaged state, provincial and federal governments, taken cases to the UN and engaged in litigation at the Supreme Court level to protect our lands and rights.
Most times, but not all, Nations have used civil disobedience tactics such as blockades and occupations to protect their lands and right to exist on it. There are many examples of land-based occupations where communities that have stopped the corporations and governments from coming into their homelands, such as Oka, Burnt Church, KI, Barrier Lake and Grassy Narrows.
Many times, Nations and communities have taken on organizing campaigns to stop resource extraction, to engage governments, to negotiate land claims and to stop the degradation of lands. But policy, lobbying, negotiation, education and awareness are often not enough for government to respond to or engage with our people meaningfully. Many times there are no other options but direct action and civil disobedience.
Clearly the game has changed in Canada. With the gutting of environmental legislation, privatization of water and the supreme power of the senate to override environmental assessment, we are now moving to become an extraction state that is friendly to corporations. The rights of our Peoples are the last line of defense. When the laws in Canada do not uphold the constitutionally protected rights of our Peoples, then we do not have much choice but to engage in tactics that will hold the government accountable and stop the corporations from decimating our lands and way of life.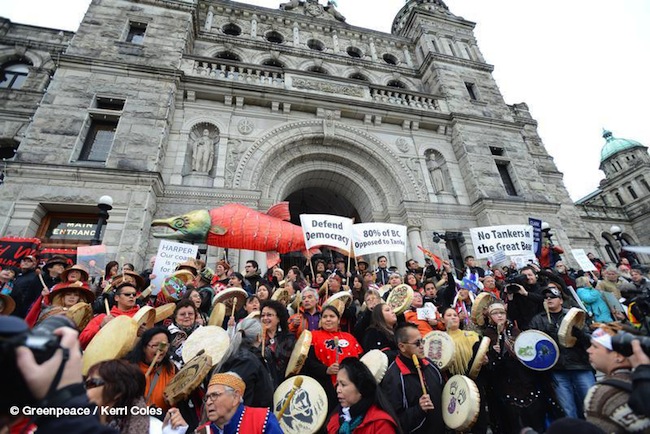 Thousands of people turned up to the Defend Our Coast day of action at the BC legislature in Victoria. Photo © Greenpeace/Kerri Coles.
Gord Perks, Toronto city councillor
Civil disobedience is not only something we must permit, it is something we must be prepared to do. As a society we are unfinished. Despite eons of learning to care for one another and learning to plan for a better future, our better natures often fail. As an elected official, I also have to confess that the way we govern ourselves often fails too.
Some issues – climate change, poverty, war – are so urgent that we cannot turn away. Not if we want to think of ourselves as moral actors. With these issues, inaction is complicity.
I go to work every day as a government official. I work with people who work hard for justice, and are committed to inclusive and transparent decision making. Among (most) of my colleagues and the public service, there is a deep commitment to democratic principles.
However, an ugly thread runs through our democracy. Our institutions were formed under a blanket of sexism, racialization and class barriers, and are thus misshapen. The desires of the privileged and the inherent flaws of our institutions conspire to block justice, to push people to the margins of society and to create deadly ecological instability.
And so our society cannot become what it must become by itself. People of conscience must at times stand outside the rules and declare that we will not be complicit. We must demand more, and be willing to accept whatever punishment our institutions dole out in order to make our demands. If we want a society we can be proud of, we must be prepared to disobey.
Susan Smitten, executive director of R.A.V.E.N. (Respecting Aboriginal Values and Environmental Needs)
Peaceful civil disobedience is not an option for organizations like RAVEN – a Canadian charitable non-profit working on behalf of First Nations and the environment. The chill created by the federal government, first by labeling environmental NGOs as "political radicals," and then by actively seeking to punish and shut them down through intensive audits means we are duly muzzled.
We are supposed to be allowed to use 10 per cent of our resources for 'lobbying' – but in effect our voices are fully stifled under this regime. Losing charitable status is too high a price, and the government knows it. The sword of Damocles hovers sharply above our heads. We must be creative now in how we demonstrate and act to achieve the change we would all like to see in our world.
Franke James, author, artist and game designer
Article 19 of the Universal Declaration of Human Rights: Everyone has the right to freedom of opinion and expression; this right includes freedom to hold opinions without interference and to seek, receive and impart information and ideas through any media and regardless of frontiers.
Whether or not to engage in civil disobedience is a tough question – and very much a personal one. Many leading environmentalists (like Bill McKibben and James Hansen) have chosen civil disobedience as the best way to grab media attention – and thus the attention of political leaders and the public. They got arrested – along with many others – and it made big headlines around the world. The recent acts in front of the White House to protest the Keystone XL pipeline have riveted attention on the risks of imported bitumen from Alberta's tar sands.
I respect the people who protest through acts of civil disobedience – but I'm not willing to do it, and I don't want to tell people to do anything I wouldn't do myself. Maybe it's because I'm a lawyer's daughter, but I can see that the legal problems that crop up for those who engage in civil disobedience, which can be serious. At the least there will be legal bills and fines to pay. If criminal charges are laid they make travel to other countries difficult. The personal costs of civil disobedience are high.
What is good about civil disobedience is that the people who engage in it are passionate and committed to a cause. They are willing to put themselves – and their freedom – on the line. That is admirable, but there are lots of other creative ways to grab media attention. Can you start an online letter-writing campaign? Can you write a protest song? Create a play? Gather people together in a flash mob? What creative actions can you do to raise awareness of the issue?
As an artist I choose to express my views on social change and the environment through the stories I write and pictures I draw. Often those stories involve actions in my own life, like selling our car and fighting bureaucracy to build a green driveway. Poking the powers that be is not without risk and repercussions (as I have discovered), but in most democratic countries our right to speak up is protected under 'free expression.'
You can read an excerpt from James' book, Banned on the Hill, in A\J's annual Art & Media issue. Buy it online now!
Jodi Koberinski, executive director of the Organic Council of Ontario
Never do anything against conscience even if the state demands it. –Albert Einstein
I question whether we ought to consider civil disobedience a tactic at all, rather than calling it what it rightly is: an ethic. When laws are unjust, ought we obey them?
My work has spanned a number of environmental and social concerns – and while I have dedicated my life to transforming the food system, the unfortunate truth is that this system is governed by the impacts of what Dr. Vandana Shiva calls the 'mono-culture of the mind' on every area of our economic life, and the sheer primacy of (some) economic activity at the expense of other values.
And so I continue to support and encourage the wise and thoughtful application of acts of non-violent civil disobedience, particularly in food movements. Simple things like growing and saving seed are increasingly becoming acts of civil disobedience. Choosing to buy raw milk is an act of civil disobedience. And larger scale acts, like the Sheep Rescue attempt at Montana Jones' farm to prevent their unnecessary culling by CFIA agents, or large-scale crop removals in Europe and Central America, are acts of civil disobedience.
Such acts help us see the issues in a new and impactful way. And while I choose to work within the system to shift policy and support the day-to-day needs of our sector's development, I continue to support and advocate for civil society's responsibility to hold our lawmakers accountable to the interests of all, in every way our democracy affords. So save some seeds, grow a garden and find creative ways to engage people in the understanding that we are sometimes called on to suspend 'obedience' and question whose interests our obedience serves.
Cameron Fenton, national director of the Canadian Youth Climate Coalition
All games have rules, and by nature those rules are set to achieve a certain outcome. Board games have rules so that they run a certain way, and politics is no different. The problem with politics is that the rules of the game mean that when we play fair, the people lose, which is where civil disobedience and non-violent direct action become so important.
Each day the fossil fuel industry is spending hundreds of thousands of dollars lobbying politicians to ensure lax regulations and streamlined reviews for their projects – they virtually bankrolled the entire climate denial industry. With the top five corporations making roughly $137-billion in 2012, the simple fact is that we will never be able to beat them as long as we play by their rules.
The good news is that if history can teach us anything, it's that organized people are more powerful than organized money.
As a young organizer, and someone who works largely with youth and students, I am also aware of our power and, in many ways, our responsibility to push the climate movement. Looking at history, from Otpor! to the Student Non-Violent Coordinating Committee, youth have not just been at the center of many direct action centric movements, but it is through their daring and bold actions that past movements have taken steps beyond the realm of the politically "realistic." This means that we need to push the climate movement through our actions, and also by prioritizing justice for and solidarity with the people most impacted by climate change and extreme extraction in our shared struggles.
Recently, the Canadian Youth Climate Coalition decided to forgo our association with a charitable organization. Our decision was for many reasons, but at the core we knew that we needed the freedom to support the kind of youth climate movement that can make change happen.
Wanjira Maathai, director of international affairs for Kenya's Green Belt Movement (in A\J's recent Greenbelts issue – Mar/Apr 2013)
Advocacy is extremely effective. We've always had what we call actions, to bring and agitate for change. So I would say agitation rather than disobedience, because one of the things that the Green Belt Movement has offered as a policy is that we never break the law. We always conduct our actions within the law.
When we're going to have an action to protest the building of a structure in a wetland, for example, we inform the authorities as is required by law – we write a letter or take it to the police station and tell them we'll be doing this and we need their protection. Sometimes they agree to protect us, sometimes they don't. But they can't refuse us to meet. We never engage in stone throwing or things like that because we do not think that's effective. What we do is agitate, we write letters, we publicize, we engage the media so that we shine the light on injustices that are going on. My hope is that we continue to do that.
We've also tracked down some recently published thoughts on civil disobedience worth repeating:
Sandra Steingraber, ecologist and author (in her April 17, 2013, sentencing statement to the Reading town court, after being arrested for civil disobedience)
As a biologist, I have submitted expert comments and petitions about Inergy's application for permits to both the New York Department of Environmental Conservation and the Federal Energy Regulatory Commission. However, I am hampered in my efforts to judge the structural soundness of the salt caverns because the company that owns them insists that the scientific research that documents the history of these caverns – at least one of which sits on a fault line – is a trade secret.
…My actions were taken to protest the trespass of Inergy into our air, water, bodies, safety and security. My small, peaceful act of trespass was intended to prevent a much larger, and possibly violent one. To bring attention to such hazards for the Finger Lakes – and for the act of protecting water, which is life itself – I trespassed. It was an act of civil disobedience. For that, and because I have deep respect for the rule of law, which Inergy company does not, I am willing to go to jail.
Steingraber was arrested for "[blocking] access to a compressor station site that is being constructed in order to prepare explosive hydrocarbon gases, propane and butane, for storage in abandoned salt caverns that are located beside and beneath Seneca Lake."
Financier Jeremy Grantham, co-founder and chief investment strategist at GMO (writing in Nature, November 15, 2012)
Scientists are understandably protective of the dignity of science and are horrified by publicity and overstatement. These fears, unfortunately, are not shared by their opponents, which makes for a rather painful one-sided battle. Overstatement may generally be dangerous in science (it certainly is for careers) but for climate change, uniquely, understatement is even riskier and therefore, arguably, unethical. It is crucial that scientists take more career risks and sound a more realistic, more desperate, note on the global-warming problem. Younger scientists are obsessed by thoughts of tenure, so it is probably up to older, senior and retired scientists to do the heavy lifting. Be arrested if necessary. This is not only the crisis of your lives — it is also the crisis of our species' existence. I implore you to be brave.
Reprinted by permission from Macmillan Publishers Ltd: Nature 491, 303 (15 November 2012).
We know that there are many more perspectives out there and hope that this is just the beginning of the conversation. Please join in with your own comments and spread the word.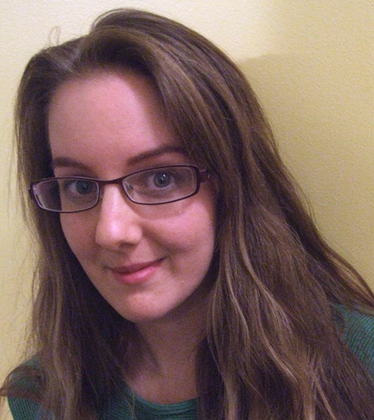 Laura is a past A\J managing editor. She has an MA in Communication Studies from Wilfrid Laurier University, is an organizing aficionado, lackadaisical gardener, and former musical theatre producer. @inhabitings