Plastic Free July Series (Volume 4 of 5)
Plastic Free July Series (Volume 4 of 5)
Environmental policy and social activism go hand in hand with ending the plastic problem. While people have been doing their part to reduce the amount of plastics they use and dispose of them properly by recycling, it does not just end there. The issue of plastics lies at the source- the manufacturers. A major part of the solution is in the hands of the government to implement policies and legal framework to control plastic production, the materials used in their production to make all products easily recyclable and also recovery of plastics.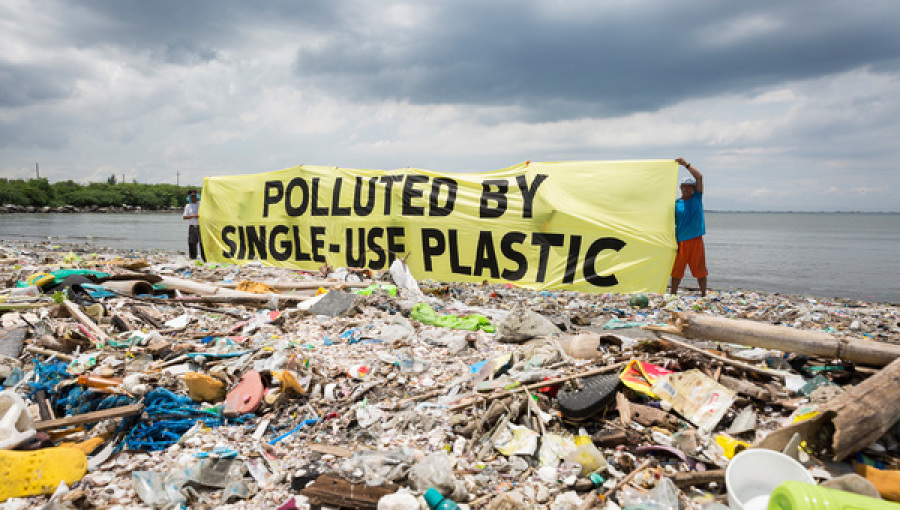 Source: bne IntelliNews
While the onus is, in my opinion, unfairly placed on consumers to sort and dispose of plastic waste, numerous plastics are not recyclable and in many cases, the public recycles incorrectly (e.g. recycling soiled food containers without rinsing). While each municipality has different recycling guidelines a list of items that can and cannot be disposed of exists. Thankfully, over the past few years, some companies have made their packaging more sustainable. However, assuming companies will make this executive decision is insufficient but policies banning the production of plastics is what will ensure that environmental pollution is curbed in the future.
We, my friends, have learned how to play our part in reducing our use of plastic in Volume 2 and 3 of this series but what about if more can be done in the greater scheme of this plastic battle. The Government of Canada originally aimed to ban single-use plastics (plastic straws, bags, stir sticks, cutlery, plates) by 2021 but it is unclear as to how the effect of COVID-19 has impacted this timeline. They also plan on introducing targets and standards for plastic manufacturers and those who sell plastic packaged items to be held responsible for their waste. The government sees that creating innovative solutions to manage plastic waste can result in the reduction of carbon pollution by 1.8 million tonnes, create over 42,000 jobs and produce billions in profits. Their goal and timeline (2021) are similar to that of the European Union but the EU also has a 90% collection and recycling target for beverage containers by 2029.
Ashley Wallis, Plastics Program Manager at Environmental Defence emphasized that the organization is pushing for a more holistic policy framework to reduce the overall use of plastic including the ban on single-use plastics. Wallis suggested that a policy framework should include packaging or products with a circular economy, meaning that at the end of a lifecycle of one product, the materials used can be broken down to create other valuable products to minimize waste. This will help shift the plastic disposal problem away from the consumer and rightfully over to manufacturers who are the source of the poor plastics disposal issue.
Canada will implement the Strategy on Zero Plastic Waste which has a circular economy approach and will be done in two phases. The first phase focuses on areas such as product design, single-use plastics, collection systems, market and recycling capacity. The second phase that will be developed will consist of consumer awareness, aquatic activities, research and monitoring, clean-up activities and global action.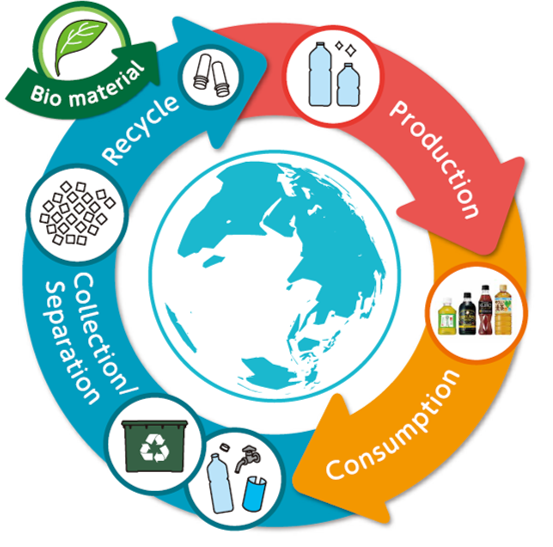 Circular economy approach for plastic bottles
Source: Suntory
Wallis believes that there is a need to see more extended producer responsibility systems across the country which is a part of Phase 1 of the Zero Plastic Waste Plan. According to her, this means that the companies will be "financially and operationally responsible for managing their waste and end-of-life and that's particularly important because as of right now products and packaging are designed by companies". However, she stated that recycling collection and infrastructure are operated through municipalities who then have to deal with complex materials that constantly change and that the recycling systems weren't designed for. Wallis suggests that if the producers are responsible for the recycling infrastructure, then there would be a built-in incentive for them to create materials and other packing that can be easily transformed into high-valuable goods.
Canada is also responsible for the launch of the Oceans Plastics Charter at the G7 Summit in 2018 which has targets to reduce 100% recyclable, recoverable and reusable plastics by 2030, according to Environment and Climate Change Canada. This along with reducing microbead usage by 2020, making products more recyclable by 50% by 2030 and recovering 100% of all plastics by 2040, are a part of the Ocean Plastics Charter's targets.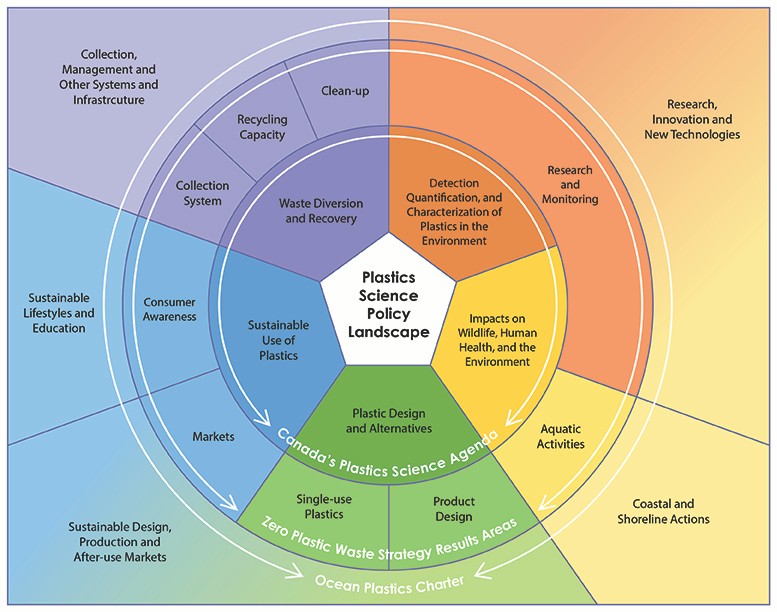 The larger picture of the Zero Plastics Waste Strategy and the Oceans Plastics Charter
Source: Government of Canada
While this Strategy and Charter may help, Environmental Defence also believes that policies should involve systems with reusable systems that transition to reusable alternatives instead of single-use plastics. Wallis mentions that for the production of new plastic goods, there is a need for high targets for plastic collection, recycling and recycled content.
What can you do?
Environmental Defence says that if people really want to help make the change with reducing plastic production, people can reach out to elected officials, their MP's, to inform them that they are still concerned about plastic and would appreciate the government moving ahead with their ban on single-use plastics. As shown in Volume 1 of the Plastics Free July Series since the onset of COVID-19 resulted in a 250-300% increase in single-use plastics usage, according to the International Solid Waste Association (ISWA). This value would only increase if nothing is done about it. Thus far, Oceana showed that in 2020 86% of Canadians would like to see single-use plastics banned by 2021. May this be the value that's increasing, rather than the former. Wallis believes that public pressure would prevent the delay of this ban.
While some companies have set their personal goals and commitments for making their packaging more recyclable-friendly, Wallis believes that they are not legally mandated to do so and due to this she sees the need for federal or provincial leadership to ensure that reducing the use of plastics and making them more recyclable is adhered to.
Wallis suggests that implementing fees can be an effective way to reduce plastic and promote alternatives. She stated that Loblaws charging $0.05 for plastic bags at checkout was more effective than when they tested out offering discounts to customers who brought their own reusable bags. Using a fee for purchasing plastic bags helped reduce distribution by 55% and in 2009 helped divert 1.3 million plastic bags from the landfill.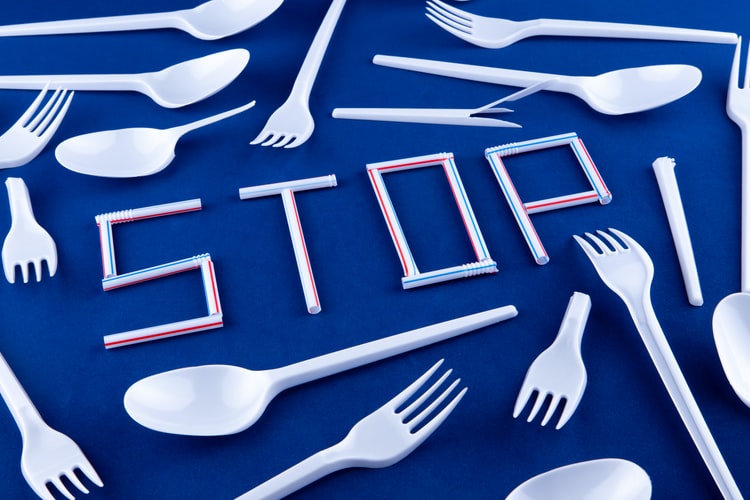 Stop single-use plastic production
Environmental Defence is keen on seeing businesses such as beverage companies in Ontario support a deposit return program for containers as they are the most effective way in achieving high collection rates. According to Wallis, the recycling targets are higher and the material is already sorted and cleaner, making it easier to turn into new bottles. Environmental Defence would also like to see businesses adopt the reusable delivery models. Wallis provided an example of an existing program in Quebec with to-go coffee cups having a $5 deposit which can then be returned to that same shop or other participating cafes to obtain your deposit refund and help reduce the use of disposable cups. She highlighted that this will help make that switch to reusables easier without depending on consumers to bring their own cup.
While this plastic ban by the Canadian government is solely for single-use plastics the need for plastics with less complex materials are needed. Findings show that non-single-use plastics such as thermoset plastics (e.g. in tyres, car parts, construction equipment) can now be broken down easily and made more recyclable. More on this in the article "Tough Plastics Can Be Made More Recyclable".
Overall, it can be seen that change is needed more at the policy level and not just at the individual level to ensure that manufacturers are held responsible for the impact they have on the environment. While ensuring policies banning the use of plastic can help in the Canadian context, ensuring that it is done globally can have a large impact on the future and decrease the amount of plastics in terrestrial and aquatic environments that will outlive us.
***
For more on the Plastic Free July Series see:
Impact of plastics on the ocean: Two Million Too Many
Presence of Plastics in the soil moving into the food we eat: Plastic Food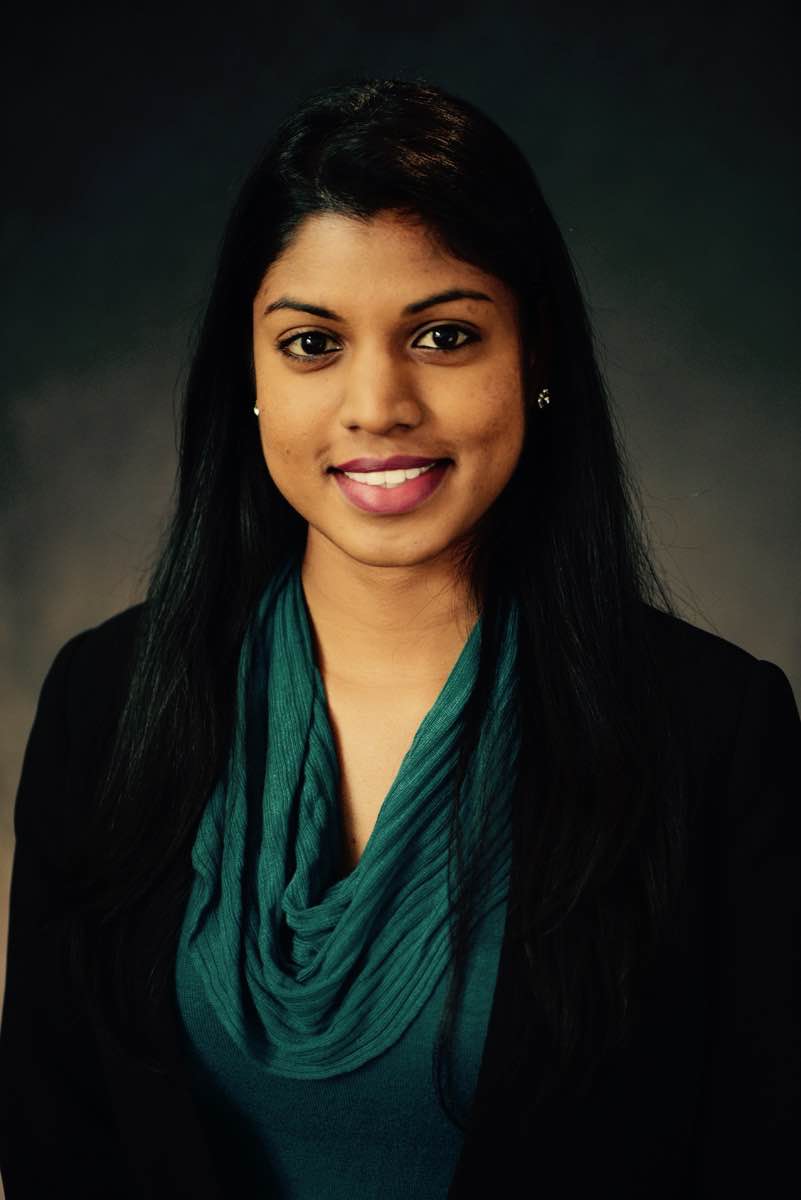 Shanella Ramkissoon is a Masters in Environment and Sustainability candidate. Her background is in the field of Environmental Science and Environment and Resource Management. Her interests lie in environmental conservation, especially for marine species such as coral reefs, turtles and dolphins. In her free time, she enjoys landscape photography, baking and art and craft projects.