Aliens in the Arctic: how the earthworm is altering the North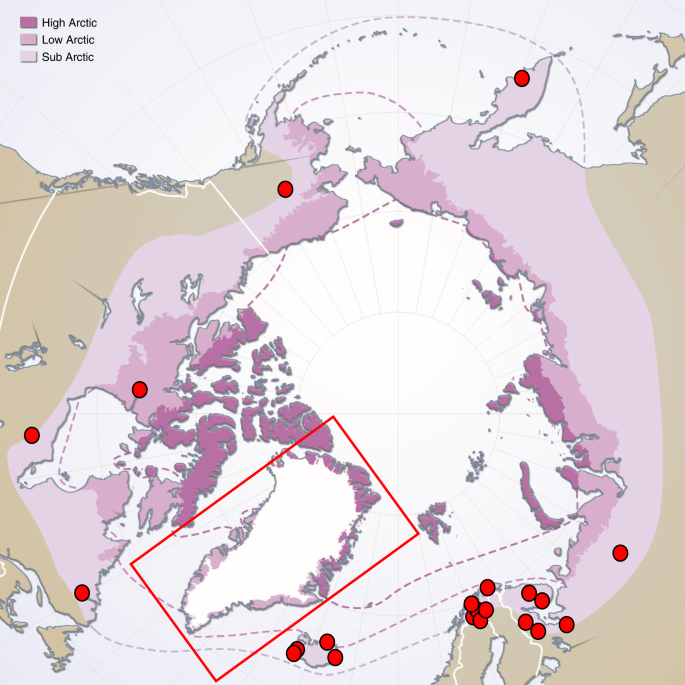 Presence of geoengineering earthworms in the Arctic
Source: Nature Communications
According to a recent study the gardener's best friend, the earthworm, is making Arctic soil too fertile. Earthworms are not usually regarded as an invasive species because they typically help the ecosystem flourish. However, lead researcher Dr. Gesche Blume-Werry, ecologist from the University of Greifswald, Germany explains that the Arctic may feel differently. She states that herself and her colleagues realized that there are a growing number of earthworms in the Arctic as a result of human movement in the area. Earthworms are reaching remote areas by hitchhiking in the treads of shoes, to being used as fishing bait, to being imported for gardening.
As the Arctic warms the worms can colonize more areas. Early research indicates that earthworms could have the same effect on Arctic plant productivity as a 3C rise in temperature. Arctic temperatures are typically too low for decomposers to break down organic matter, causing a lack of nutrients in the soil, thus inhibiting plant growth. Now, scientists are starting to realize that earthworms are a key part of the story because they unlock nitrogen, which is an important component for growing plants. Taller plants which tend to grow better due to nitrogen-rich soils are more likely to stick out of the snow in the winter, and scientists believe this could mean an increase in heat absorption which accelerates snow melting.
To read more about the study and research process click here.
Global Geoparks – the role they play in Canada's sustainability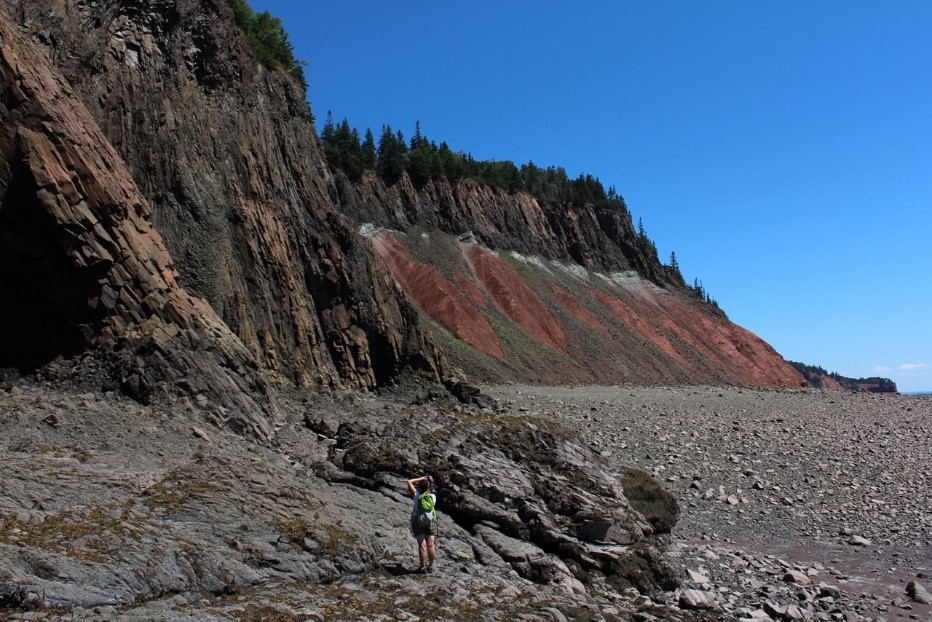 Cliff of Fundy Geopark
Source: Canadian Geoparks Network
Covid-19 changed many aspects of our lives forever. Canadians are known to be resilient, thriving on a rugged and diverse ecosystem and we have grown to withstand major natural events. Navigating these unpreceded times and emerging as a thriving nation is consistent with the goals of UNESCO Global Geoparks. Through the five Canadian UNESCO Global Geoparks and six Aspiring Geoparks, there's an opportunity to explore scientific, cultural, and educational avenues that stimulate and diversify our economy, which could help lift us out of this crisis towards a greener future.
UNESCO Global Geoparks are regions with geological heritage and landscapes of significant importance. Global Geoparks are also used for raising awareness of important issues that society is facing such as climate change and global warming. They can be used to link socio-economic development with the conservation of natural resources. Right now, there are 161 UNESCO Global Geoparks spread over 44 countries working together towards the same goal: "bring together sustainable economic recovery ideas to make our communities stronger in a post-COVID-19 world".
Canada's five UNESCO Global Geoparks include
– Stonehammer, N.B. (2010)
– Tumbler Ridge, B.C. (2014)
– Percé, Que. (2018), Cliffs of Fundy
– N.S. (2020), and Discovery, N.L. (2020)
Canada has an additional six Aspiring Geoparks in communities across the country, working toward achieving this coveted designation:
– Cabox, N.L.
– Charlevoix, Que.
– Niagara Peninsula, Ont.
– Temiskaming, Ont. and Que.,
– Big Impact, Ont.
– Sea to Sky Fire and Ice, B.C
To read more about the Geoparks click here.
The truth about deforestation in the Amazon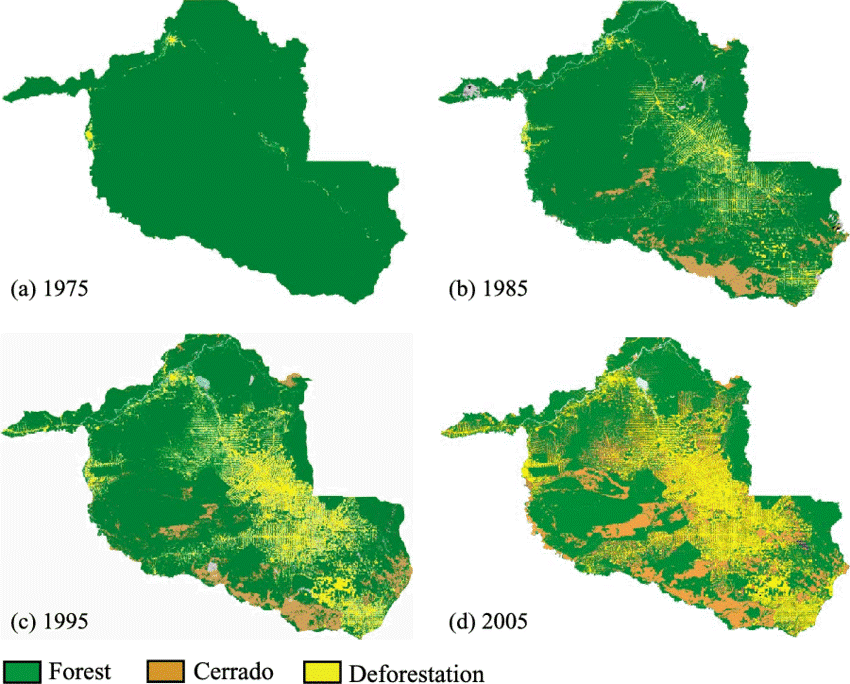 Evolution of deforestation in Rondônia
Source: Research Gate
2020 is on course to be the worst year in over a decade for deforestation in the Amazon. Illegal tree loss is accelerating. In May, after facing immense global pressure, Brazil's President sent in the army to fight illegal logging. But is this just for show? Or will it make a difference? One area of the forest that has faired worse than the others is Rondônia, an area that has seen growing deforestation since the mid-80's. Rondônia is almost the same size as the UK has been burned and cutdown to make way for crops and logging businesses. NBC Forensics focused on Rondônia as the military was sent in – meant to track the 'successes' and accomplishments of the mission.
The President claims the mission a success and states that if we compare the index of deforestation from May of 2019 to May of 2020 the decrease is almost total. However, that is not the case. The figures supplied by the government's own space research agency show that deforestation rates in May of 2020 and higher than in May 2019. The government's own data shows that deforestation is increasing every single month since the previous year for 13 months in a row. So what's really going on?
This video from NBC Forensics that investigates the situation in more detail and draws some conclusions.
Beyond The Blaze
Wildfires spread across California as a result of nearly 11,000 lightning strikes. These deadly wildfires have ravaged Northern California over the past two weeks; an estimated 367 known fires, 26 of which have had deadly consequences.
Well over 175,000 people were forced to evacuate their homes as these fires spread in multiple directions, ravaging several communities.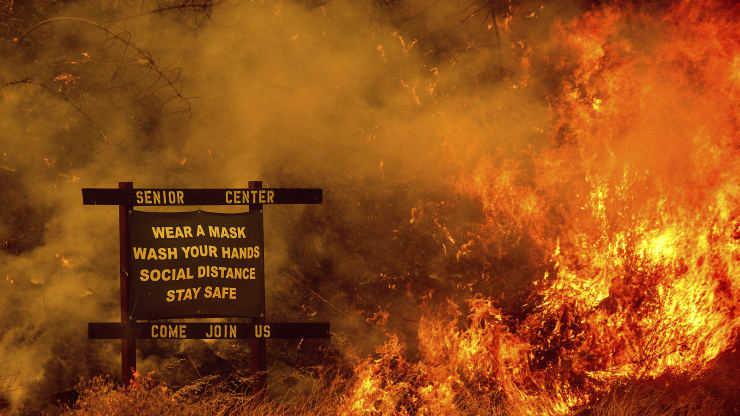 Photo: Flames from the LNU Lightning Complex fires burn in unincorporated Napa County, Calif., on Tuesday, Aug. 18, 2020. Credit: AP Photo/Noah Berger
Firefighters in California have done tremendous work in battling these blazes, successfully making progress in their effort to curb the flames despite staffing hurdles. Widespread attention has been drawn to the seeming shortage of firefighting assets notably the cohort of penal firefighters whose ranks have been severely depleted as a result of coronavirus infections. According to Cal Fire – The California Department of Forestry and Fire Protection, this year there are only 90 inmate crews out of the 192 teams in operation currently fighting fires and executing mitigation efforts. whose brave contributions have come to light in recent media coverage.
The conditions surrounding the use of penal firefighters and their respective remunerations and terms of service have triggered a certain level of public awareness, eliciting diverse viewpoints around the ethics that surround the use of inmates to do dangerous work on the frontlines – between $2 and $5 per day and $1 extra per hour. Another factor compounding the lot of penal firefighters is the restrictive nature of California state law which prevents released ex prisoners with basic firefighting capabilities and experience in front line service under penal employment from becoming full time firefighters.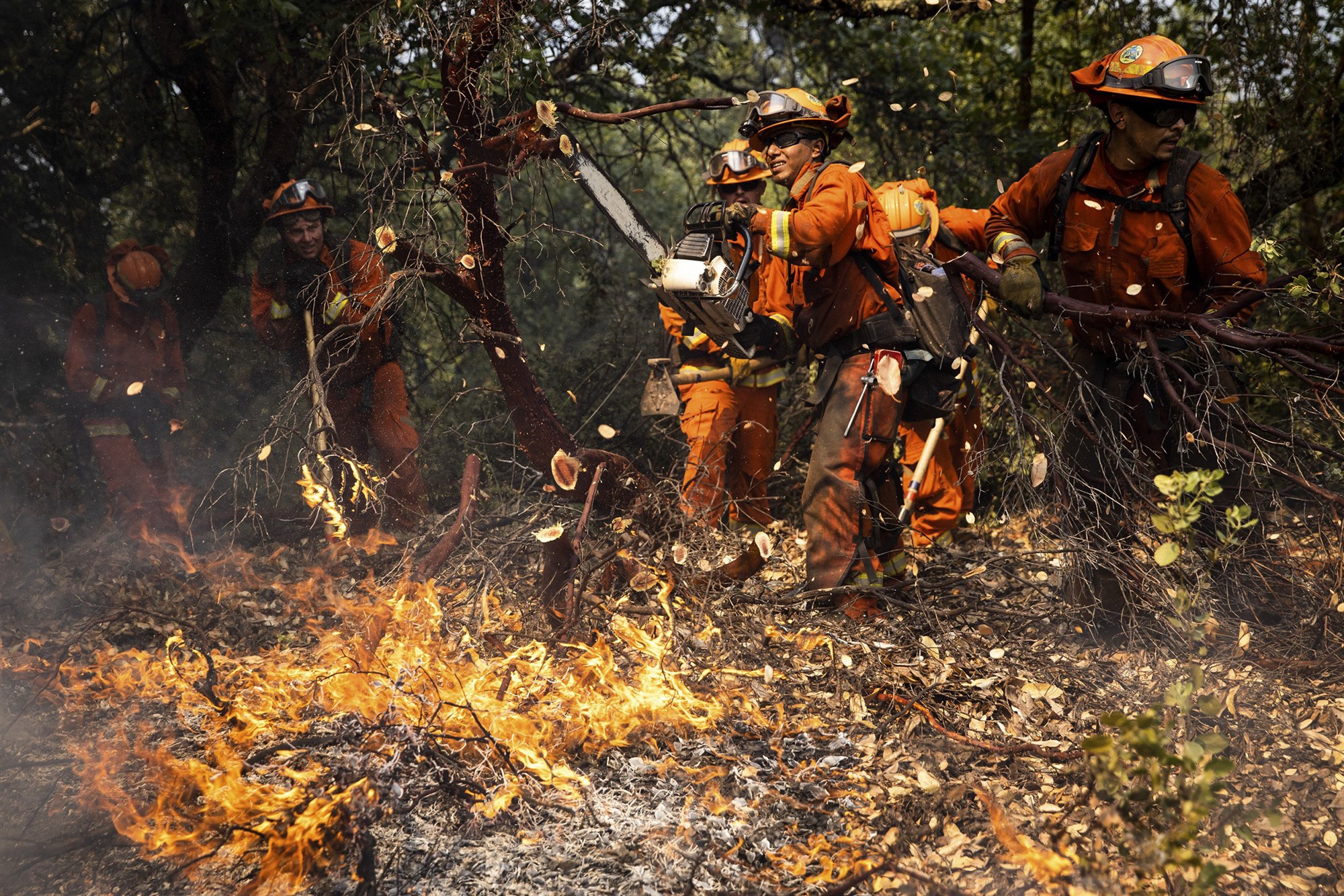 Photo: Members of the Delta Conservation Crew, made up of inmate firefighters, clear a fire line on the Walbridge Fire in Healdsburg, Calif., on Sunday. Photo Credit: Max Whittaker/The New York Times/Redux Pictures.
"It's not right for California to train people in firefighting while they are incarcerated and then keep them from turning those skills into a profession." – Dario Gurrola, seasonal firefighter and ex penal firefighter.
A glimmer of positivity struck this past Thursday (27th August, 2020) when state officials in Solano County began allowing residents back home. The wine producing counties of Napa and Sonoma saw evacuation orders lifted for about 35,000 residents to return after their emergency evacuation last week.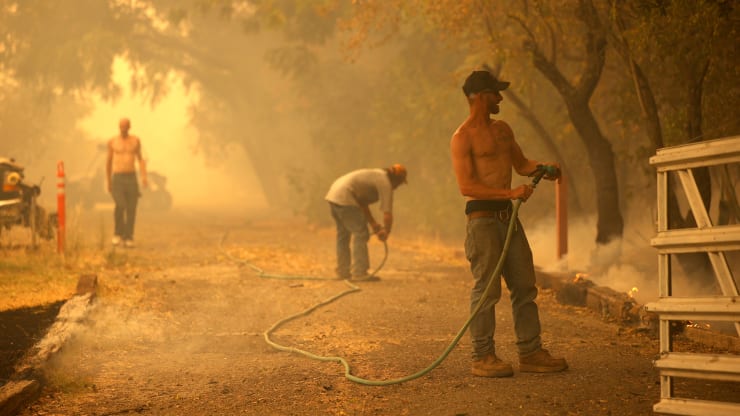 Photo: Residents extinguish spot fires while protecting their property as the LNU Lighting Complex burns through the area on August 19, 2020 in Fairfield California. Photo Credit: Justin Sullivan/Getty Images.
Efforts are still underway to combat these fires and mitigate the spread of new fires.
Thirsty Thirsty Colorado
Every part of the state is currently under one of their driest spells in nearly a decade. Every part of the state is under a drought or very dry conditions. These conditions are expected to last into the Fall. With droughts and intense dry conditions, there emerges a greater risk of wildfires and loss of crops. The extreme heat and dry conditions are intensified by climate change. World temperatures have been hitting record heat figures and droughts have been seen as a reoccurring theme in the negative effects of climate change. These effects are most felt in the agricultural sector as it has potential for a large scale crop and pasture loss; creating disruptions in global food supply. With little precipitation in the spring months, and blazing hot summers it put the state into a severe drought condition in every region. The drought isn't the only threat to food supply, during the coronavirus there have been worker shortages, falling prices, and closure of plants. Climate change and coronavirus is putting a double strain on our economies, food systems, and environment.
Colorado is proof.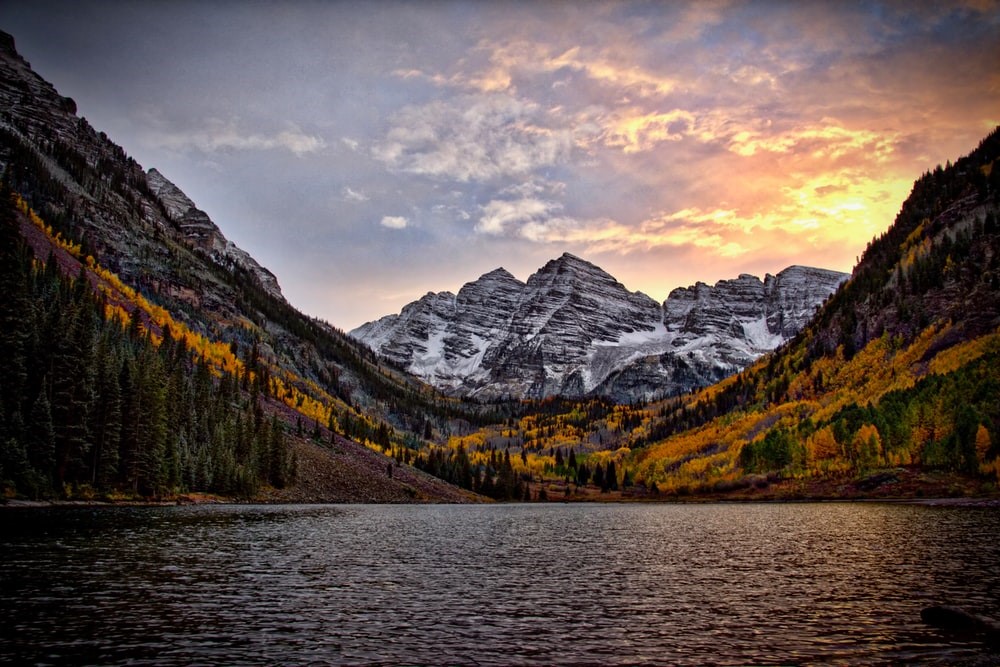 Source: Pixabay
Ice Ice Baby..
Between 1994 and 2017, the Earth lost 28 trillion tonnes of ice and currently, global ice caps still continue to melt rapidly. For the first time climate in history, scientists were able to calculate the total impact of global climate change on melting ice. 60 percent of all melting occurred in the northern hemisphere, with Greenland, Antarctica, and Arctic all had significant ice cap loss and melting of permafrost. With global GHG emissions still at all-time highs, we can only foresee accelerated melting of ice caps. With Greenland and Antarctic ice sheet melting, it could contribute to 25-30cm to global sea levels by the end of the century.
According to NASA, the Greenland ice sheet stores enough water to raise the planet's sea level by 7.4 meters. When the total has been calculated and put into a quantifiable perspective it allows us to recognize how much climate change has the potential to impact our lives and the natural conditions we are surrounded by.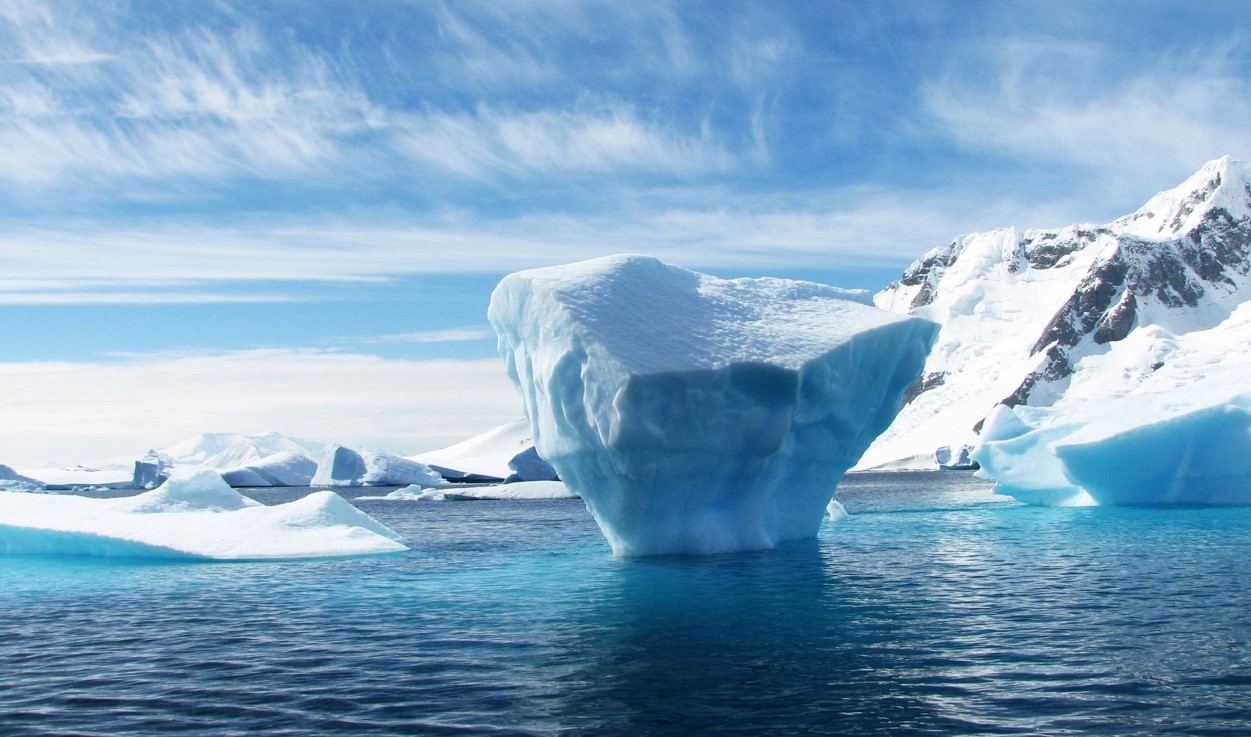 Source: Good Free Photos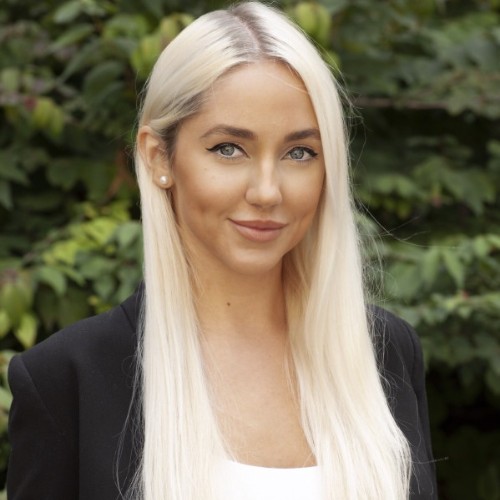 Greta Vaivadaite is a Journalist, Online Editorial and Social Media Coordinator at Alternatives Media. Greta has completed her undergraduate studies at York University in Environmental Management, and completed her Masters of Environment and Sustainability at Western University in 2020. Her professional interests lay in advocating for environmental education, sustainable fashion, and a greener travel industry.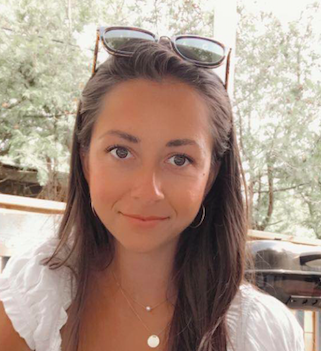 Teo Guzu is a Master's in Environment and Sustainability student with a focus on policy and research. Her background is in the field of Sociology and Global Development Studies where she developed an interest in how climate change disproportionately affects different communities. Her interests lie in plastics and waste management, conservation, and clean technology. In her free time, she enjoys spending time with her family/friends and her dog Charlie, reading, writing, and watching docu-series on various topics.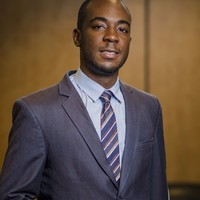 Theo believes in Lean Growth and Entrepreneurship. He is interested in cultures that promote initiative taking, continual learning and creative thinking.