Killing killer Whales – human activity linked to surge in death count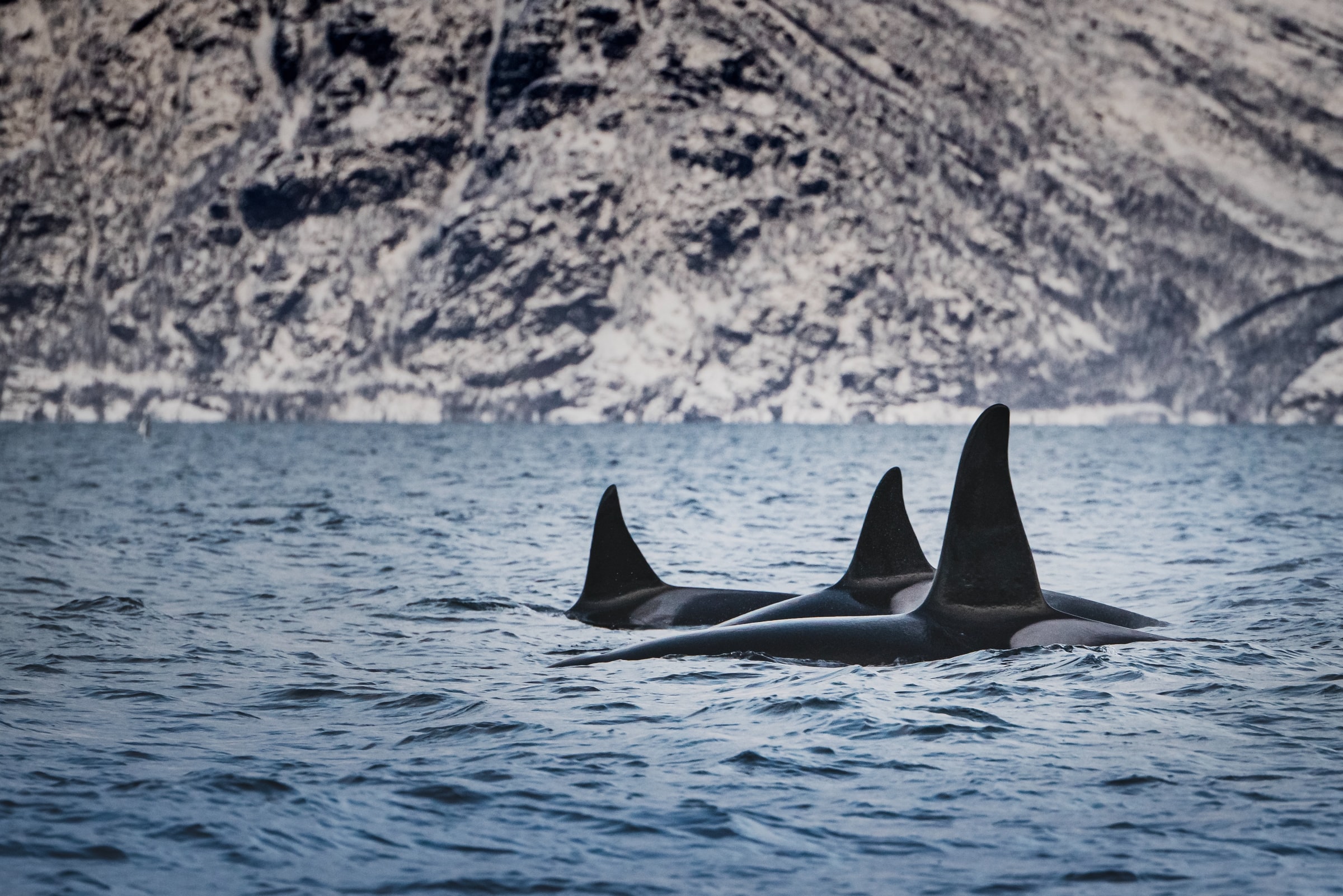 Source: Unsplash
Not a surprise that humans pose a threat to marine life, a study has showed that over 50 killer whales showed up dead due to human activity. Every age group from calves to adults are shown to be impacted – with the surge of whale deaths appearing around Alaska, British Columbia, California, and Hawaii.
Findings show that there are direct causes of orca death from collisions which result in blunt force trauma to cuts to the species from vessels. Indirect causes were also found – such as ingested fish hooks, and a variety of human-induced pollution and malnutrition. Noise pollution and lack of prey availability is also negatively impacting the marine life to thrive in healthy conditions.
Federal support should step in and implement measures to reduce vessel traffic and minimize noise pollution in order to protect and conserve current populations. The Federal government has ordered whale-watching boats in British Columbia to stay away a minimum of 400 meters from orcas. This is just the first step in recognizing that we need to let marine life be wild – as we already place these magnificent creatures into burdened situations due to increased human activity.
Alberta to retire coal in 2023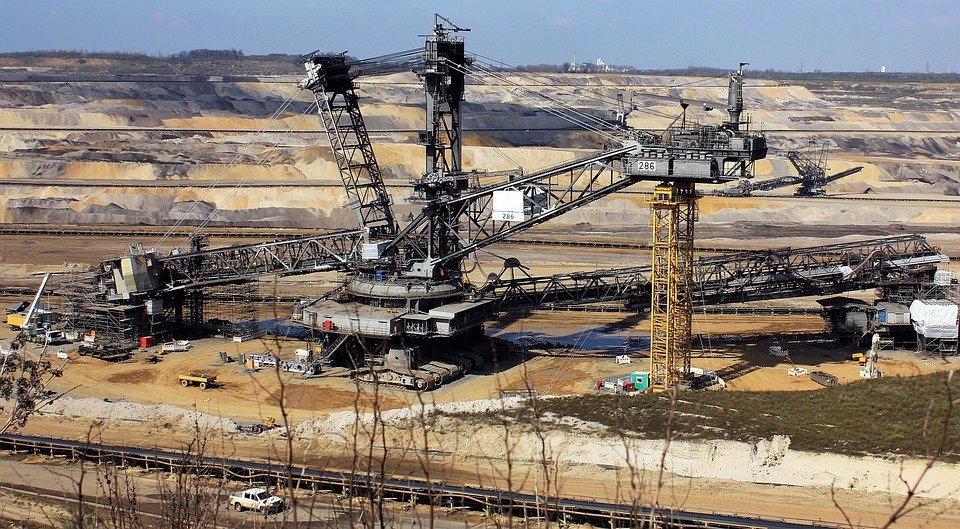 Source: Pixabay
Utility companies announced that coal fired electricity production is to come earlier that previously projected. Capital Power Corp. declared that the company will invest roughly $1 billion to implement the switch from coal-fired power to gas as a plan to ditch coal completely by 2023.
Capital Power Corp. estimates that CO2 emissions will be decreased by approximately 3.4 million tonnes per year. With renewable energy being cost-competitive, it allows this shift away from coal to be feasible, as Capital Power also plans to have an growth among their investments in solar power.
Binnu Jeyakumar, the director of clean energy Pembina states that "Alberta's early coal phaseout is also a great lesson in good policy-making done in collaboration with industry and civil society,". This sheds light for some hope of better policy making in regards to combating climate change for Canada.
UN subject to fraud allegations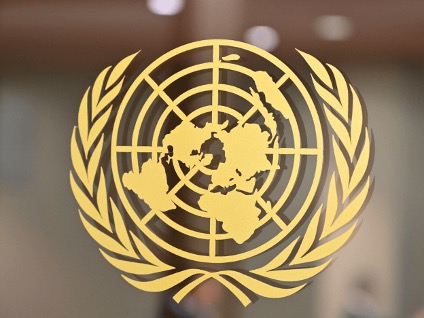 Source: The National Post
This week, the National Post announced that the United Nations Development Programme is being hit with multiple fraud and corruption allegations linked to their Global Environment Facility (GEF).
The Global Environment Facility was created by the World Bank in 1991 to assist with some of the largest environmental problems including deforestation, species conservation/biodiversity loss and pollution. Today, the GEF has split and become an independent organization, distributing "more than $21 billion in 170 countries, including $7 billion in projects managed by the UNDP."
The investigation, which audited UNDP-GEF funded projects between 2018-2019, described multiple "financial misstatements and fraudulent activities" worth millions of dollars across GEF portfolio and projects, such as the GEF project operating in Russia.
As a result of the investigation, twelve GEF donor countries "including the U.S., France, Australia and Japan" have requested an independent review of the program. One donor stated, "Matters of misconduct and misappropriation of funds continue to obstruct sustainable development across the world."
Tastes like pollution to me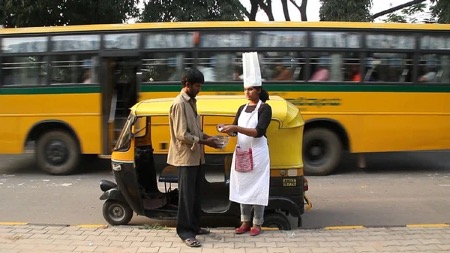 A smog harvester in southern India. Source: Vice
Have you ever wondered what air pollution tastes like? A think-tank from Portland called the Centre for Genomic Gastronomy does.
This week, Vice shared a story discussing the Centre's newest undertaking: the smog tasting project. The project, according to Vice, seeks to transform "the largely unconscious process of breathing into the conscious act of eating, the project creates a visceral, thought-provoking interaction with the air around us… The objective is to give our taste buds a taste of what our lungs experience. And the food of choice to do so—smog meringues."
The meringues are composed partially of egg foam, which harvests the smog out of the air and incorporates the taste into mousses, gin fizzes and soufflés. The project's intention is to create meringues from different locations all around the world to compare air pollution levels through the sense of taste.
So, what does air pollution taste like in New Delhi, the most polluted city in the world? It is described as "Gritty, with notes of burnt coal, laced with the metallic tang of gasoline and a sharp hint of chemicals—a flavour so toxic that it chokes your throat and makes you want to rinse your mouth several times over."
Yuck.
The Great Barrier Reef: status now lowered to "critical and deteriorating"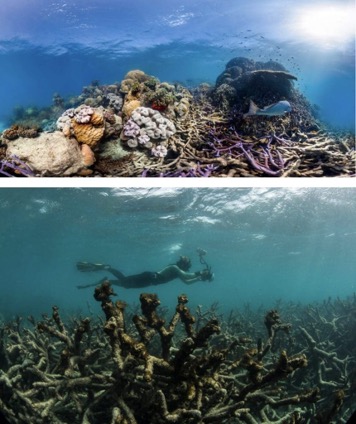 Bleaching in 2016 before & after // Source: Bulletin of the Atomic Scientists
Sometimes it takes a tragedy to get people to act. According to the International Union for Conservation for Nature (IUCN), the health of Australia's Great Barrier Reef, the world's most extensive and once spectacular coral reef ecosystem, is in a critical state and deteriorating as climate change warms up the waters in which it lies. The Reef has lost more than half it's coral in the past three decades. Coral-bleaching in 2016, 2017 and now 2020 has further damaged its health and affected its animal, bird and marine population. Coral bleaching occurs when hotter water temperatures destroy the algae which corals feed on, causing them to turn completely stark white. Because of mass bleaching events, the IUCN moved the Reef's status to critical and deteriorating on its watchlist. Some activities which threaten it, like fishing and coastal development, can be tackled by the management authorities. "Other pressures cannot be addressed at the site level, such as climate change, which is recognized as the greatest threat," the IUCN explains. Although efforts to safeguard the Reef are rising, process has been slow under a long-term sustainability plan through 2050. HSBC and the Queensland government said back in October that they would buy "Reef Credits," a tradable unit that quantifies and values the work undertaken to improve water quality flowing onto the reef. This program would incentivize landlords by paying them for improved water quality.
Climate Change costs are racking up in Canada $$$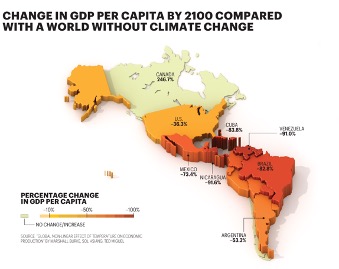 Source: Fortune
Climate change costs are already taking an increasing chunk out of Canada's GDP growth and the country is falling behind other nations when it comes to planning for them, says federally funded research – Canadian Institute for Climate Choices. The institute was formed and is funded by Environment Canada as a source of independent advice and analysis on climate change threats and possible ways to minimize them – planning for adaptation and mitigation. This is its first report, which uses data from other government sources such as the Insurance Bureau of Canada to conclude findings on weather-related disasters. Findings are as follows: weather-related disaster costs are increasing dramatically. It says the number of such disasters had risen to 27 a year in 2016 from an average of eight annually in the early 1970s. There were $14.5 billion in total costs from 2010 to 2019, dwarfing the total of $21 billion for the four previous decades. That drain is starting to dent the economy. The report says disaster costs used to equal about one per cent of GDP growth. Over the last decade, that has climbed to between 5-6 % says institute economic Dave Sawyer.
And apparently, the biggest threats are yet to come. Examples include, agriculture disruption due to precipitation patterns, and health cost increases due to heatwaves, wildlife smoke and insect borne illnesses (i.e. Lyme disease). "Governments need to start talking to each other and work together" explains Sawyer. I would argue that preparing for the changing climate is important, but looking for ways to mitigate these threats is necessary. To read more about the report click here.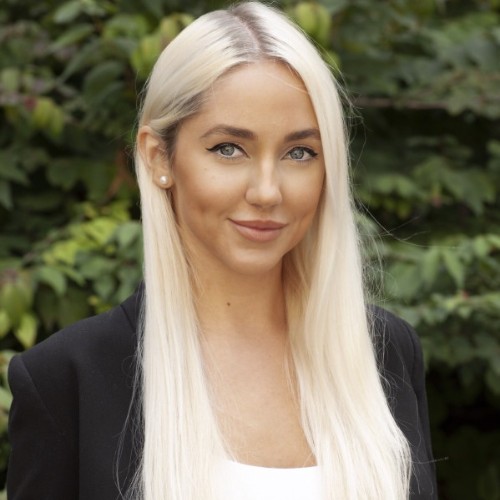 Greta Vaivadaite is a Journalist, Online Editorial and Social Media Coordinator at Alternatives Media. Greta has completed her undergraduate studies at York University in Environmental Management, and completed her Masters of Environment and Sustainability at Western University in 2020. Her professional interests lay in advocating for environmental education, sustainable fashion, and a greener travel industry.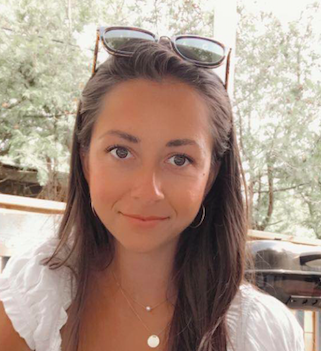 Teo Guzu is a Master's in Environment and Sustainability student with a focus on policy and research. Her background is in the field of Sociology and Global Development Studies where she developed an interest in how climate change disproportionately affects different communities. Her interests lie in plastics and waste management, conservation, and clean technology. In her free time, she enjoys spending time with her family/friends and her dog Charlie, reading, writing, and watching docu-series on various topics.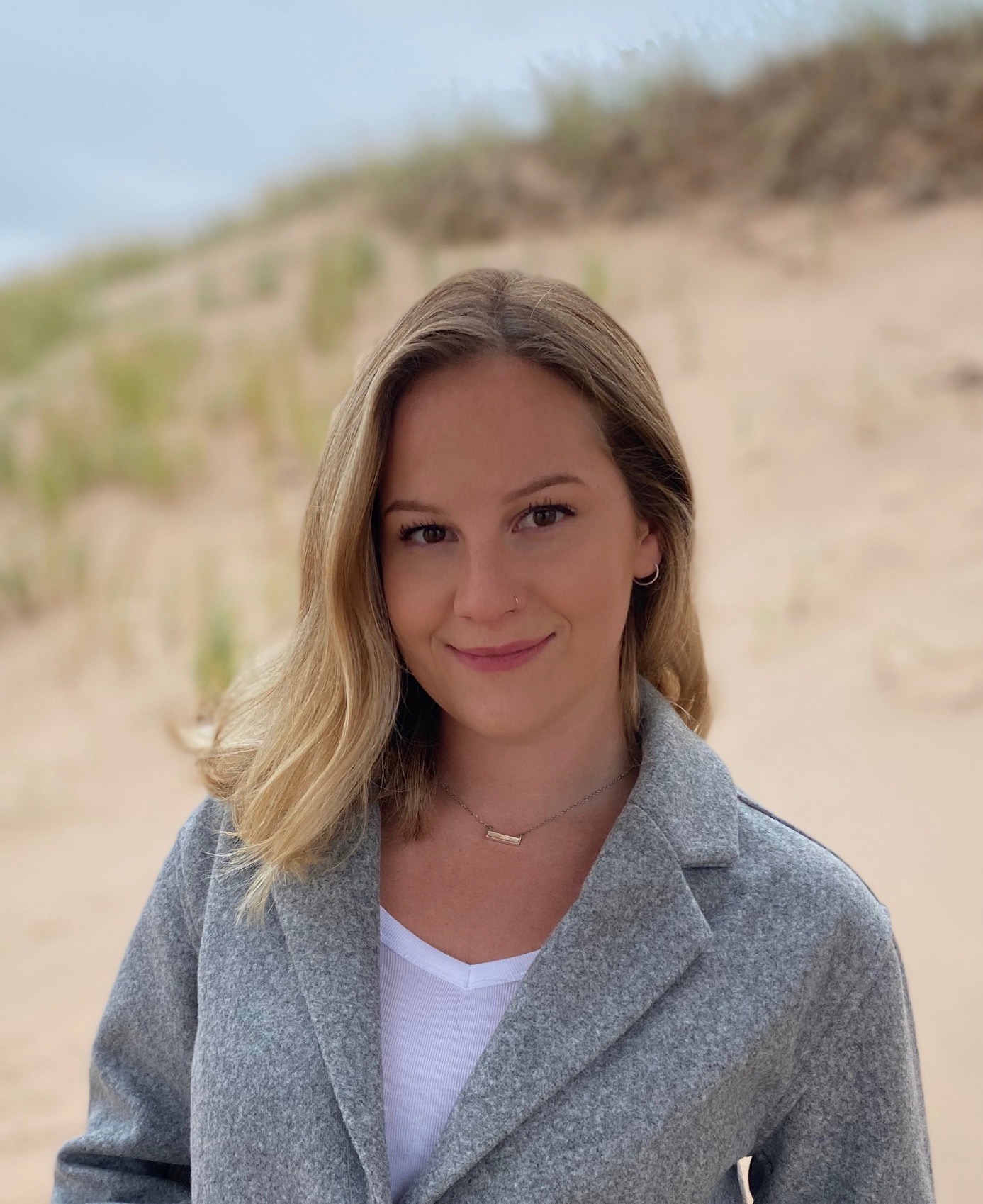 Alexandra completed her Masters degree in Environment and Sustainability at Western University. She also holds a Bachelor's of Science from the University of Windsor with Honours in Environmental Studies, where she concentrated in Resource Management and was actively involved in undergraduate research. Outside of academia, she enjoys hiking, camping, and spending her summers on the beach in Prince Edward Island.