The words on the back of the business card say so much: Belong & Thrive.
For staff at House of Friendship, a social service charity based in Waterloo Region, Ont., these words are much more than an inspirational motto. They are a reminder that helping people in need by providing food, shelter, addiction services and community centre programming is just the beginning. Meaningful change draws from a much deeper well.
The words on the back of the business card say so much: Belong & Thrive.
For staff at House of Friendship, a social service charity based in Waterloo Region, Ont., these words are much more than an inspirational motto. They are a reminder that helping people in need by providing food, shelter, addiction services and community centre programming is just the beginning. Meaningful change draws from a much deeper well.
This is an agency where the 150 staff and 1,000 volunteers don't talk about fixing problems or delivering services. They talk about "walking with" those seeking help, and about how "everyone has a seat at the table." Now add the agency's list of core values – compassion, inclusion, justice, dignity and hope.
"When someone walks through our doors, we do not engage them as a client, as a number, as an addict, as a homeless person," says executive director John Neufeld. "We engage them at a human level with a name and a story."
"Engage" is another key word in the House of Friendship belief system. With it come "empower" and "equip." Community is the other important component. The agency expresses its vision as "a healthy community where all can belong and thrive."
Neufeld explains: "The minute you start walking with people and enabling them to be part of a community, everything changes because then they belong; then there's purpose, and then they feel like they matter."
He knows from experience that when that happens, people find ways to reach out to others.
"Thrive isn't about making millions of dollars," Neufeld says. "Thrive is quite simply finding what your gifts are and finding a meaningful way to connect those gifts and contribute to the community around you."
House of Friendship was founded in 1939 by a local women's prayer group that wanted to reach out to transient men. Today, staff and supporters are diverse, and its innovative programming touches more than 42,000 people each year.
Neufeld is passionate – and compassionate – about the work, and he asks big questions of the rest of us.
"We all need to look in the mirror and ask: what is it about the society and community we have built that would allow individuals to be on the margins and not feel like they belong?"
He also challenges us to consider our own doubts and insecurities – and what it means to be shielded by jobs, material goods or personal support networks.
"The people we serve have been stripped of everything," Neufeld points out. "So their brokenness is so raw, it's right in front of you, it's in your face. And that's threatening to us. So it's easier to say, 'I'm not like that,' 'I'm better than that.' 'I would never do that that.'"
But what if the unthinkable hits our friends or family – job loss or mental health issues, for example. How would we want them to be treated?
For Neufeld, the answer is straightforward. We wouldn't just want them to survive, we would want them to heal, to thrive, to regain a foothold in the community.
For Steve Gosselin, the seeds of healing were deceptively simple – acceptance without judgment; having someone really listen; receiving a supportive hug.
The seeds of addiction were much more complex.
Gosselin is a carpenter, public speaker, respected volunteer – and in recovery from drug addiction. "There are people who no way on Earth would believe I am sober today and doing what I am doing," he says.
He grew up on a military base in an overtly macho world. Hard drinking was common in his home; so was physical, emotional and verbal abuse.
For a boy, one lesson ran deep: "Never, ever do real men ask for help," Gosselin notes. Even when things go horribly wrong.
And things did go wrong at age 13 when he was sexually assaulted. As if the emotional uncertainty of an abusive home was not enough, now the boy carried a crushing secret. He turned to alcohol – and drank to the point of blacking out.
"I drank because there was nowhere else to run," Gosselin recalls.
Over the coming years, however, he did find another place to run – street drugs, which he abused for 20 years. Even a positive in his life – a passion for carpentry – had a dark side. He was a workaholic. A need for perfection, for control, haunted him, even when he had his own company. He compensated with drug use. Lying and stealing came with it.
When his family finally convinced him to get help, the first rehab opening was at House of Friendship. Gosselin arrived in February 2006 with a dufflebag containing his life's belongings. He was 46, frightened and unsure. "I'd never done anything sober. I'd never talked to anyone in my life sober."
The weeks ahead were not easy as he struggled to find his footing.
A breakdown – and a breakthrough – came unexpectedly when he was assigned a new roommate, a man who reminded him of his father. Gosselin was shocked when the man's simple "Good night, Steve," delivered with kindness and respect, unleashed deep emotion. He cried like he hadn't cried since he was 13.
The next day, when a male counsellor offered support, Gosselin asked for something he had never had – a hug.
"He hugged me and that started the process that has led me to today," Gosselin says simply.
Looking back, he says everything about House of Friendship gave him a place to belong. It was there in the addiction services, which offer residential and day programs to both men and women. But it was also there in the way staff treated him when he relapsed. There was no judgment when he returned to drugs and the street, only expressions of support.
Today, he has put his addictions behind him. He works for a supportive employer and finds numerous ways to give back. He has been a peer health worker at the House of Friendship and continues to be a compelling public speaker for various community initiatives.
"The belonging and the support of the community are for me like a huge acknowledgement," Gosselin says. "I believe I am the only one who needs to acknowledge myself, but it's really nice to have it from the community."
On a more personal level, he and his wife of two years have welcomed people in recovery into their home.
"I don't give advice to anybody," he notes. "The reason is that in all my time going through [the addictions program] not one counsellor gave me advice. What they did was they listened. I believe we all know the answers to our own questions. It's just that men have to stop thinking with their heads and start thinking with their hearts. Which is very difficult for us men."
What drives him to help others?
"I get to see miracles. I get to see somebody inch forward, just like I did. Somebody asked me once, 'Well really, Steve, how many miracles do you get to see for all the work you do?' And I say, 'Well really, how many do you need to see?'"
Retired professor Luke Fusco guides a visitor around the emergency food hampers facility on a quiet Kitchener property not far from the border with Waterloo. We squeeze by other volunteers to peer into freezers and refrigerators; shelves are loaded with everything from canned and packaged goods to breads and fresh produce.
The distribution centre, which House of Friendship plans to renovate, is bare bones at best, but Fusco exudes such commitment he could be unveiling a trendy Whole Foods market.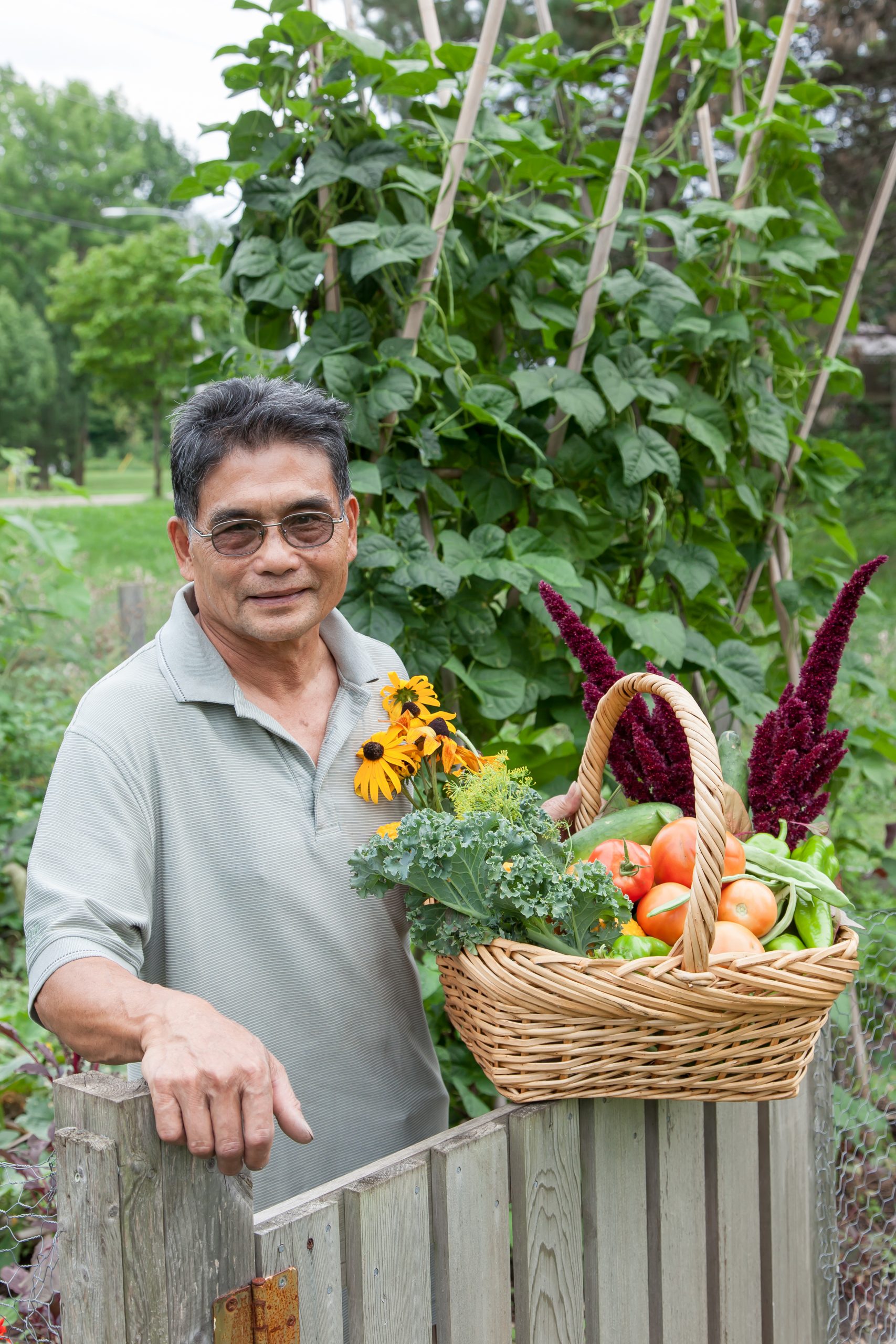 Dat Tran poses with a basket of the garden's yield at the Sunnydale Community Centre. Photo by Tomasz Adamski.
"No one should not have food, especially in this community, especially in this country," says Fusco, who volunteers three partial days a week. "It's immoral for people to be without."
The program distributes more than 28,000 hampers a year using food from the Food Bank of Waterloo Region, community groups, farmers, businesses and individuals. Hampers are customized to fit family size and particular needs, including Halal meats and specialized choices for diabetics.
Fusco, who was dean in the Faculty of Social Work at Wilfrid Laurier University before retiring in 2006, sees his volunteer work through both professional and personal lenses.
"Anybody could come here – including you, including me, theoretically, could come here and need food," Fusco points out. "And so there isn't a whole lot of difference and space, in fact none, between the people that come and the people that are working."
Such understanding permeates the food hub. For example, Fusco is impressed that program co-ordinator Matt Cooper does not turn away anyone who arrives just at closing time. Who knows what pressures have held the person up? "It's a huge message without being any message," Fusco says. "It's an attitude. What we do is important."
He looks for unobtrusive ways to reach out. Like the time he approached a person who seemed distraught as she accepted her hamper. "It's none of my business, but I think you're upset …" Indeed, she was. Fusco listened as she poured out her financial and personal problems; he suggested community resources that might help.
"The beautiful thing is that nobody is going to come out and say to me, 'You're not doing your job; you've got to get back in there – we've got three people waiting for the food,' " Fusco notes.
He has also noticed that those receiving food hampers find ways to give back – to be part of a caring community. Some join the program's volunteer roster.
He recalls thanking a man for gathering carts in the parking lot. "He said, 'I haven't worked in a month and I just want to do something,'" Fusco recounts.
A woman picking up a hamper wondered if the extra tomatoes from her home garden could be useful. It was a small donation compared to those from farmers or food companies, but it was accepted with gratitude.
"You see that all around you and it humbles you," Fusco says. "So what I am doing is OK, it's good, but there's a lot of people doing a lot of things, some much better and bigger."
Fusco reflects on the meaning of giving back: "I've learned it is never about you, no matter how good you feel, or how important you think you are, or how wonderful you are for giving your time. If that's your motivation, then I don't think you will do it well. And you have to fight that."
Sunnydale Community Centre has a big presence in its North Waterloo neighbourhood, but you wouldn't know it from the centre itself. In fact, if you miss the small street-side sign, you'll drive right by. That's because the centre occupies what was once a five-bedroom unit in the back of a cluster of ordinary-looking townhouses.
Don't be fooled. As with the other three community centre programs House of Friendship operates, a wealth of services and connections take place within Sunnydale's walls. It's a place of action and it's a place of welcoming – the area is culturally diverse, with many newcomers.
It's hard to believe this was once an undesirable neighbourhood with a high crime rate. It's hard to believe that concerned citizens had to fight to have their voices heard. Finally, in 1999, the Sunnydale Community Association found partners in the House of Friendship and Waterloo Region Housing, and this partnership launched the community centre. It has been growing and evolving ever since.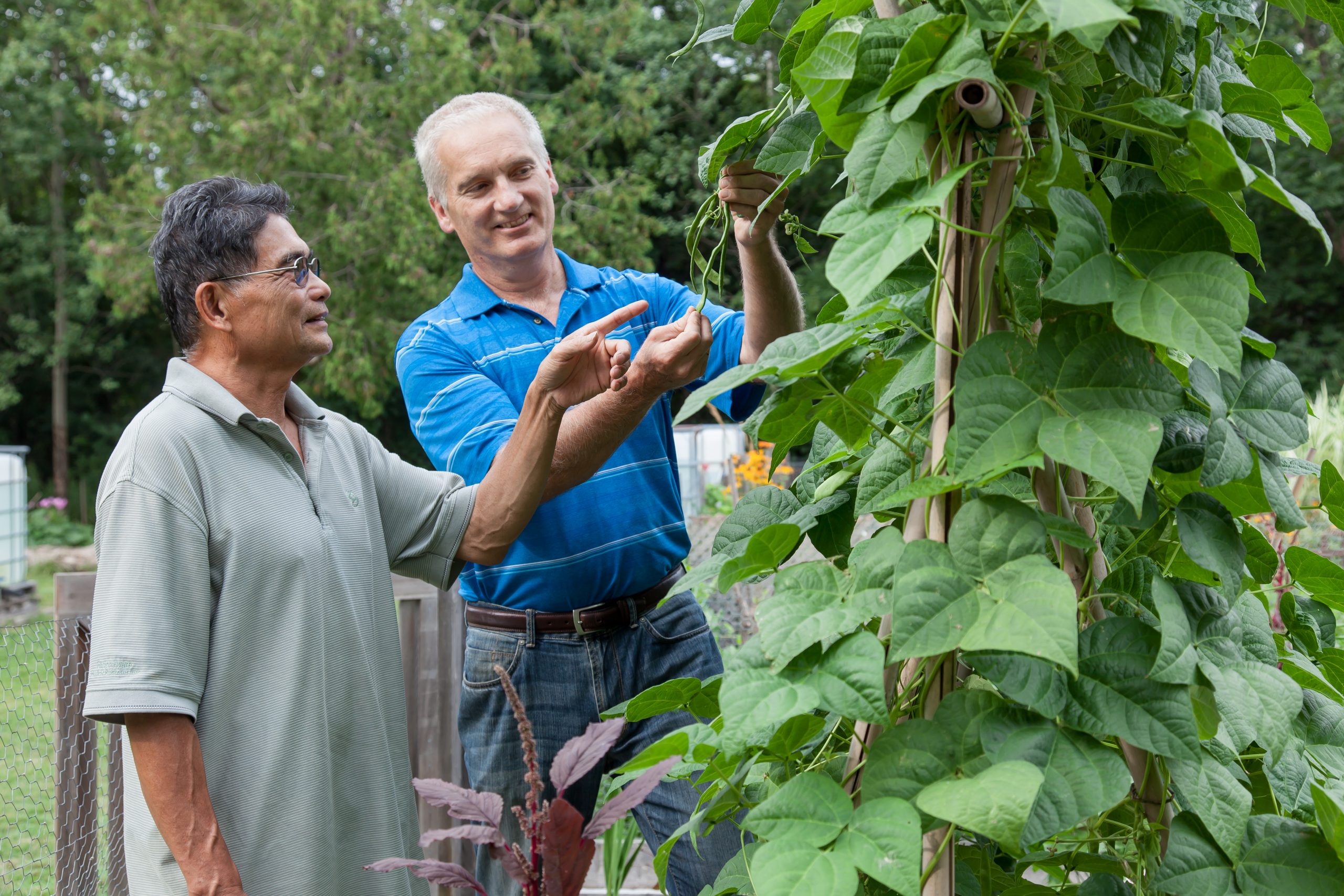 Dat Tran admires a strong stalk with garden supervisor Bill McFaddin. Photo by Tomasz Adamski.
"In my experience, this community consistently and capably identifies both its strengths and its needs, building and responding as needed," says Linda Kruger, who has been community resource co-ordinator since 2007. "They do well at identifying the bright spots, or what is working well, and then both building on and celebrating those."
Today dozens of supportive circles flow in, out and within this facility.
First, there is the actual programming, including children's activities, English training, and a computer room where people can get career coaching. Fariba Chaghand, a community outreach worker, connects families to outside services, everything from employment to recreation to counselling. The centre also offers a meeting space for other social service agencies with clients in the area.
A huge circle of support flows in from organizations, businesses, churches and individuals in the community at large. Kruger mentions a six-year-old boy who asked for donations to the centre's "gift cupboard" rather than birthday presents. Volunteers donate countless hours in countless ways, including teachers who offer tutoring and a small group of men who refinished the centre's basement.
Equally important is the support the centre's participants give each other. Kruger recalls a woman bringing in a new neighbour to introduce her and translate for her – just as a neighbour had done for her. When a participant told the sewing group about young women in an Ethiopian village who were unable to work or attend school during menstruation, the group sewed 200 washable sanitary napkins to be distributed on the woman's next trip.
Some people – Dat Tran for one – help with the centre's weekly food distribution to about 60 families.
Tran's family fled Vietnam's war and political upheaval in 1979, among refugees known as "the boat people." Neighbouring nations turned their boats away. There were pirate attacks, hunger, death and malaria.
"It was a hard time," Tran recalls. "We thought we would not survive."
Still, in the first few years after they were accepted into Canada, Tran says his family constantly reflected on life in their homeland. Since then, he has returned three times. "Now when we go to Vietnam, we want to go back to Canada, " he says with a smile. "We don't want to stay there for long."
Why? No question his family's sponsorship by First United Church in Waterloo paved the way. So did finding work, including at a carpet company and most recently a garden nursery. But the Sunnydale centre has also played a vital role.
Tran came to Sunnydale in 2004 to brush up on his English and stayed for the friendship. He has introduced others to the tastes of his homeland through friendly cross-cultural cooking sessions. He reaches out to newcomers facing familiar struggles. "They don't know how to live in Canada," he says. "They don't know the law in Canada. Sometimes they make mistakes. If I know anything, I tell it all."
Each year Tran also signs up for one of the 23 community garden plots the centre oversees in two sections of adjacent parkland. Here Tran grows garlic, squash, peppers and green mustard in a carefully tended plot surrounded by bunny-proof fencing.
The garden program is co-ordinated by Bill McFaddin, who has a Bachelor of Science and a keen interest in horticulture. He divvies up the plots, 16-by-16-feet each, and is on hand to offer advice as needed. He muses about adding a different kind of community plot – a herb garden anyone can use.
He and Kruger compiled a list of homelands for the community gardeners and it's like a mini United Nations. Some are Canadian born; others are from Pakistan, China, Iraq, Bangladesh, Somalia, Laos, Belarus, Russia and Vietnam.
Still, as with any community, things are not always perfect.
Like the time someone – perhaps a passerby from the adjacent sidewalk – smashed all of Tran's squashes just as they were ready for harvest.
"He brought the pieces of squash to the community centre to show me and share his story," Kruger recalls. "I was heartbroken for him."
But Tran took the incident in stride – and then some. His next stop was the centre's kitchen where he cleaned the squash, cut it up and bagged the pieces for the weekly food distribution.
"I was speechless," Kruger recalls, "and those who received squash were truly moved."
Providing supportive, subsidized housing is another integral component in House of Friendship's mission. Individuals live in apartment-style units in Eby Village (64 residents) and Charles Village (22 units). The nine men at Cramer House have individual bedrooms and shared common space.
Allison Dunn, supervisor of the supportive housing program, says the residents have various backgrounds. Some are still working, some have disabilities, and some have dealt with addictions or mental health issues.
Staff and volunteers encourage independent living, but also a sense of belonging through regular programming such as games and outings. There is a community garden; a tenant council works through suggestions and problems. From there, it's up to the residents.
"Yes, we can support in building community, which we do every day," Dunn says. "But the coolest part about community here is the relationships they make with each other."
Individuals become good neighbours through pet-sitting, cooking a meal for a neighbour with health concerns, visiting a fellow resident in hospital.
"When that stuff happens, we know we have created a positive environment for people to thrive," Dunn notes. "And if we can help build capacity with the individuals that don't depend on us but depend on each other, that's a metric of success."
Enter retired nurse Brenda Leis, who has been volunteering at the three supportive housing facilities since 2014. She does not do hands-on medical treatment but will help residents navigate the health care system or interpret results of diagnostic tests. Mostly, Leis uses her weekly visit to build relationships – to just be there.
The day of the interview, she had brought her bike for an outing with a resident, partly for recreation and partly just to check in with him. Sometimes she goes for walks with residents, or maybe for a coffee.
Sometimes she goes further. One day a resident with terminal cancer mentioned that he loved ice fishing.
"So I called my brother who is a fishing fanatic and they went out fishing," Leis says. "Strangers, total strangers, but neither of them had a problem with that because, they said, if someone likes to fish. …"
Leis tells the story matter-of-factly, as if this were an ordinary situation, something anyone would do. She talks about how every volunteer stint makes for a good day. "I come with no expectations and always go home feeling full."
But she also expresses concerns about the stigma attached to mental health and poverty issues. "Nobody asks for that," she says.
She describes a man whose career plan was sidelined by schizophrenia, and how important House of Friendship's support can be. "His one goal in life is to stay out of the hospital and he's reaching that," Leis says. "There are a lot of us that don't reach our goals. So when you look at it that way, he is doing really well living on his own."
Through her nursing career and her volunteer work, Leis has built a deep empathy for those living on the margins.
"As a society, we can't expect those people to ever care about nutrition or their mental and physical health and wellbeing if they don't have a place to sleep — and to be," Leis says.
The last word about House of Friendship's commitment to belonging, thriving and community goes to supportive housing supervisor Allison Dunn:
"I think there is a common understanding among people who work here and participate in the programs that we have a common humanity, and it's a humility that people come to work with every single day."
"Our philosophy is 'walk with;' 'do with, not for.' And I think when we really believe that and take that to heart, that's when it really happens," Dunn says.
"And I think everyone that is part of this community – participants, volunteers, supporters, community partners and staff – we all believe that and so we are all working together as humans, just helping each other out when we need help."
Kathryn Storring is an award-winning journalist with over twenty-five years experience covering breaking news and in-depth stories from the Waterloo Region.