It is easy to become accustomed to the system standards in a workplace and to turn a blind eye to it, even when unfair. When viewed through the prism of 'fairness', the fast-paced world of fashion may not be as glamourous as it seems. Behind the scenes and in the factories that churn out our fast fashion favourites, it is hard to keep up with its cutthroat competition and to stay above without cutting corners. Those 'corners' could be environmental, financial, employee safety and protection, supportive workplace infrastructures, and forward-thinking leadership. Sometimes, within the industry, we accept these corners being cut without blinking an eye, viewing it as simply the status quo in our industry.
Well, times have changed, and now this is the time to keep questioning the status quo of the industries we are working within, and to understand that foundation ideas and suppositions about the right way of doing business with outdated mentalities just won't cut it anymore. If the 'customer is always right', then we are the leaders, we have the voices, and we need to ensure that we're leaving a legacy that with enough will may move mountains for our future. This is especially seen in the fashion industry time after time. From unsafe working conditions to landfills piled to overflowing with textile waste. It is a problem we all contribute to, but it's time to step up and do better.
From fast fashion to luxury goods, there are opportunities to use our platforms and consumer power to demand innovation and creativity from our designers, manufacturers and fashion retailers to make more sustainable goods produced with better conditions for its workers. It really is that simple. With the ever-changing and evolving trends, consumers would be very appreciative and supportive of the designers, the 'architects and artists' of the industry, taking this an extra step forward and using sustainable textile as another form of artistically expressing themselves and the vision for our future.
We decided to hold a Q/A with Brana Dane on the idea of sustainable fashion. Brana is more than a model and activist. She has seen firsthand the negative environmental legacy and injustice that can be left behind in the name of fashion and believes in being the changemaker from inside out.
Brana is a Model and Activist. Brana is also one of the leaders of the activist group, "Model Mafia", which promotes fair working conditions, more sustainable fashion practices, and promoting a more inclusive fashion and modelling industry. She was honored to speak about the importance of sustainable fashion at the annual NYC public Earth Day rally in Union Square April 2019. Brana has participated in and led numerous social media campaigns to reduce plastic consumption. For example, she collaborated with Lonely Whale to reduce single use plastic and again with Rainforest Alliance to help get the plastic bag banned in NYC.
Brana has helped organize members of the fashion community during many environmental marches and several public events. In fact, she created and led the recent NYFW rallies for the climate strike that went viral on social media and was even reposted in Vogue Brasil, proving that customers want more than garments – they want ethics in the workplace and they want it now.
Growing up on the ocean in Vancouver, Brana feels a deep connection to nature and is motivated to preserve it for future generations. While using her platform to shed a light on the needs of our planet and the plight of the modern garment worker, she seeks to inspire a light to as many people as possible as her heart and soul is intertwined in two seemingly opposing worlds: Fashion and Sustainability. Below we take a look through Brana's lens on the industry.
***
GV: What is your definition of 'sustainable fashion'?
BD: Fashion is a means of expressing oneself. Sustainable fashion goes beyond the surface and expresses concern for the lives that made the garment as well as a concern for our shared environment. The benchmarks to asses this for me are threefold. Firstly, is the garment produced with a long life-cycle? Secondly, does the production use renewable resources while creating minimal waste? Lastly, is the piece produced using labor that is responsibly treated and paid fairly?
GV: From your perspective , what is the biggest environmental concern in regards to the fashion industry?
BD: The amount of textiles burnt or that end up in landfills is astounding. At around 92 million tons of textile waste across the globe annually, it adds up quickly.
GV: Are there any main culprits that fall into this?
BD: Big names need to take responsibility for setting the example. Unfortunately only some hear this call. Chanel is still burning it's unsold garments, but other brands like Burberry have recently stopped this practice. It's a good first step, but to truly make a difference so much more is needed.
GV: What can brands do to promote sustainable fashion practise?
BD: Brands need to be very clear about how they are different. They need to help raise awareness along with the rest of us to expose the cost of fast fashion. Simply being a sustainable brand creates more demand for sustainable solutions within the industry and will have a great effect to decrease production costs for the future.
GV: What can we do as consumers to lower our carbon footprint associated with fashion and textile waste? And how do we promote a more conscious mindset when shopping?
BD: As a consumer the first question I always ask myself is, "do I need this"? Buying less is the single best thing we can do as a population. I love fashion and support artistic expression but more often then not we are buying things on a whim and not because we truly love or need them. You can always take an old garment to a seamstress or an artist to create a unique fashion piece no one else will ever own. This is great for the environment and supports the artist and craftsmen of the world locally. I think it's up to the new generation to define what makes us worthwhile people; is it having the newest brand name item or is it honoring the lives of those making the garment? What do we value? Ourselves and our world or branding and labels?
GV: Do you see the problem getting better or worse? What is the leading factor of this change?
BD: There is definitely a subtle shift happening in fashion. It's been coming for a long time. As a climate activist, I see the overlap between environmental concerns increasing and the surge of demand for sustainable brands. Retail itself is in the midst a major transformation with many large fast fashion companies, such as Forever 21, filing for bankruptcy. It's slow moving but we have been making some headway. Since COVID some major designers such as Giorgio Armani have even vowed to stop following the fashion week calendar of production and instead produce simultaneously with the actual season. It's a time to truly wake up to what's important and embrace our green hearts.
***
There is enough hope, it would seem, from a leader like Brana, to sustain our efforts to fast-forward our efforts to green our less-fast-fashions. We, the buyers of fashion, have the power within our hands to demand more – and to uplift those who are doing more in the process. With changemakers within the industry like Brana, we hope more can take similar footsteps in leaving a positive impression in their industry, as this is much more than just fashion. There's an old saying that 'clothes make the person', if so it could be looked at as 'you are what you wear'. Today, at the grassroots level of young citizens (and consumers, there's a change of mentality and lifestyle. Oftentimes, fashion and textile waste are overlooked as a not-so-silent climate offender. With fast fashion giants (and their industries silos like retailers and designers) contributing the trash that's fueling the growing waste problem in landfills, it brings us as consumers to a crossroad: what drives our decision-making? What's more important when it comes to our fashion choices: how to be more conscious when purchasing or staying on top of the latest, hot-now apparel? If we all work together as citizens AND as consumers to demand a greener alternative THIS FASHION SEASON, the industry can't afford to be offering goods and services labeled as REDUCED TO CLEAR, OUT OF STYLE and SO LAST YEAR.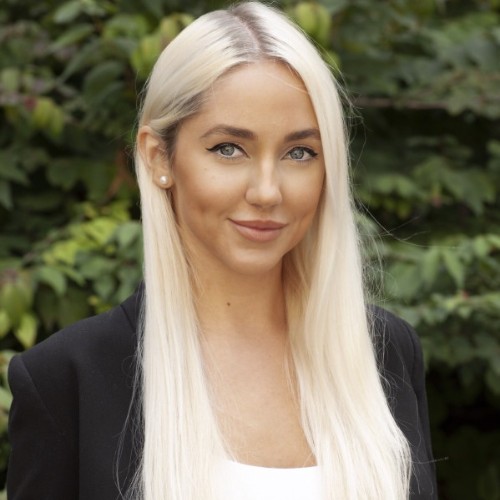 Greta Vaivadaite is a Journalist, Online Editorial and Social Media Coordinator at Alternatives Media. Greta has completed her undergraduate studies at York University in Environmental Management, and completed her Masters of Environment and Sustainability at Western University in 2020. Her professional interests lay in advocating for environmental education, sustainable fashion, and a greener travel industry.