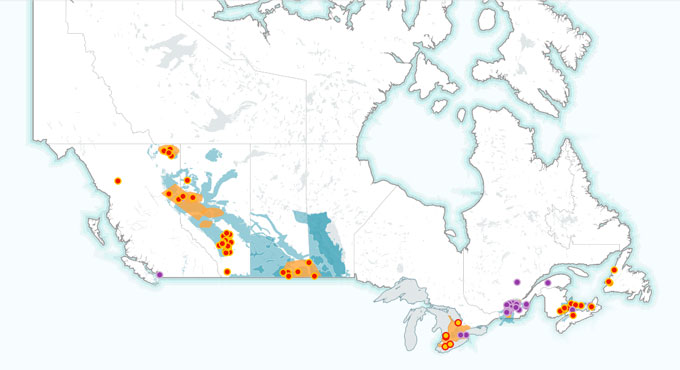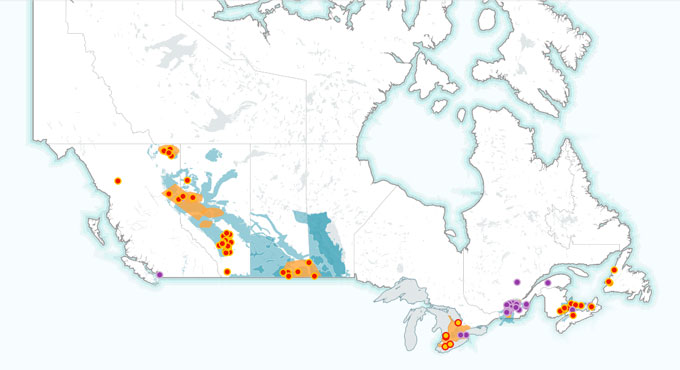 Click to launch the map
. Last updated Nov. 13, 2014.
The development of shale gas promises to fuel North America's energy future but with substantive environmental and energy costs. Assumptions that shale gas can be produced at low cost for over a century remain just that: faith-based assumptions. In fact the revolution could dramatically slow down while costs climb dramatically.
To date, Canada has not developed adequate regulations or public policy to address the scale or cumulative impact of hydraulic fracking on water resources or conventional oil and gas wells. Moreover, the country has no national water policy. In the absence of public reporting on fracking chemicals, industry water withdrawals and full mapping of the nation's aquifers, rapid shale gas development could potentially threaten important water resources, if not fracture the country's water security.
– Ben Parfitt, from Fracture Lines, written for the Program on Water Issues, Munk School of Global Affairs, uToronto
The map above shows the overlap of shale gas basins, aquifers, fracking wells and calls for moratoria below the 60th parallel. But hydraulic fracturing is dividing Canada's northern territories as well. In June 2013, for example, the Yukon Council of First Nations unanimously passed a resolution calling on the Yukon government to prohibit fracking and declaring their traditional territories as "frack-free."
This map also does not show potential water contamination or increased earthquake activity and GHG emissions from fracking. It doesn't show the cumulative impact of pumping unknown chemical concentrations underground, or the heavy metals, VOCs, brine and radioactive materials that can resurface with flow back. It does not show the lack of government oversight or violated environmental regulations.