AFTER ABOUT FIVE MINUTES in darkness, our eyes become up to 30 times more sensitive than they are to bright light. After about a half hour, they become 100,000 times as sensitive.
AFTER ABOUT FIVE MINUTES in darkness, our eyes become up to 30 times more sensitive than they are to bright light. After about a half hour, they become 100,000 times as sensitive.
Perhaps the best way to keep our peepers attuned to the rich, cavernous details of night-time is to borrow ideas from the International Dark Sky Association (IDSA). There are also incredible low-light communities and conservation areas worth emulating – among them the 53-hectare, 128-lot Better in Belize ecocommunity that is currently taking shape in the Cayo district rainforest, about 70 km from the capital, Belmopan.
Beyond these tips for mitigating light pollution, the main ingredients to giving any home, business, community or city a dim-over are common sense and thoughtfully chosen tech.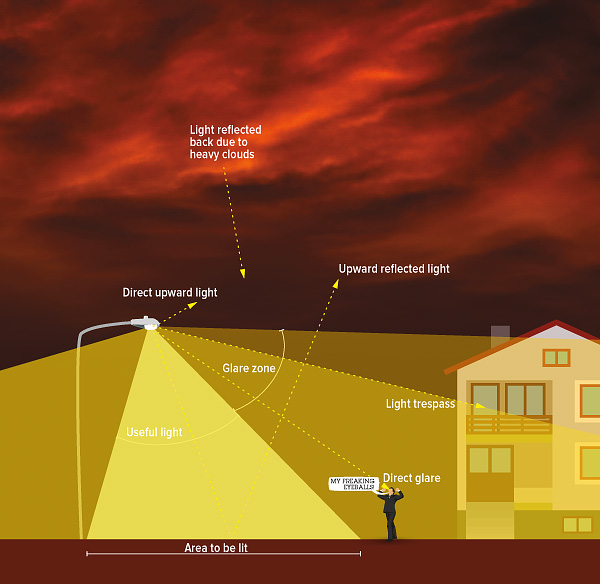 Better in Belize has a head start on most communities – it sits under one of the darkest skies on the planet. Their outdoor lighting design plans follow IDSA guidelines: all external lighting must use fully shielded fixtures that minimize impact on nocturnal environments; exterior lights on homes must not glare into public view or neighbouring property; all bulbs are low-energy, low-light, three-watt LEDs that run on solar power.
No street lights are installed along the roads that wind through the Better in Belize community. Instead, people just use headlamps and flashlights. Alternatively, replacing protruduing "cobra-head"-style street lamps can save a community both light and money.
"Downlighting" (instead of "uplighting") is a foolproof strategy both inside and out. The Vancouver branch of the Astronomical Society of Canada suggests using half-mirror bulbs for interior lighting, which can make even 40- or 60-watt bulbs more efficient.
Shield existing fixtures. For home or business owners who aren't quite ready to install new, full-cutoff fixtures, light shades or sconces are available that will convert many into night-sky-friendly fixtures for a minimal cost.
Use warm white lighting. Outdoor LEDs are energy-efficient, but they often emit a blue light that has a shorter wavelength than red light. Blue light scatters more easily into the atmosphere, which can strain our eyes, impair night vision and actually add more pollution.
Install motion sensors outside homes or businesses. This typically reduces electricity used for lighting by more than 90 per cent, easily covering installation costs.
Install reflectors. They can be just as effective for outlining a driveway or another necessary space as a string of lights. Reflectors are also cheaper to buy and run, plus immune to power outages.
Minimize light loss at home by closing your curtains or blinds.
Contribute to turning a park or public land into a Dark Sky Preserve. These specially designated areas raise awareness about light pollution and create protected space for science, education and the nocturnal cycles of nature and animals. Find inspiration by checking out the planet's first Dark Sky Preserve in Mont Megantic Park in Québec's Eastern Townships, featuring the ASTROLab activity centre.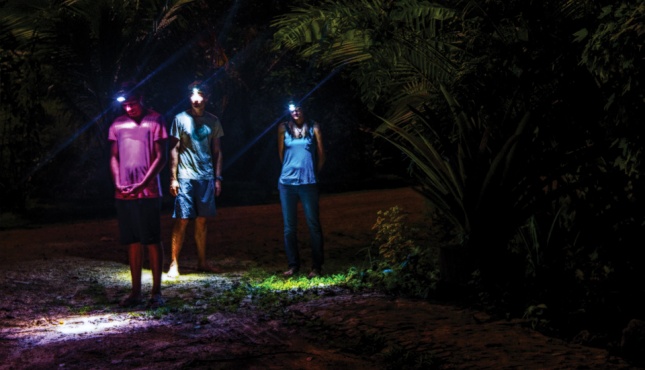 In otherwise complete darkness, photographer Jim Hagen captures a long exposure of a headlamp-wearing trio. From left to right, they are uWaterloo Faculty of Environment students Josh Diegel, Rory Kennedy and Hannah Furlong, during a co-op placement this summer at Better in Belize.
Photo © Jim Jagen \ BetterinBelize.com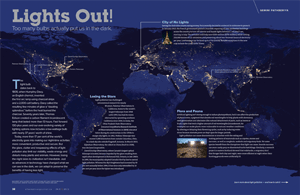 This issue's centre spread featured a global map of light pollution and its impacts. Order Night or subscribe now.
For more tips, research and more, float on over to darksky.org. For more on whether or not we even need outdoor lighting at night, read Alana Westwood's recent blog post "Streetlights? Who Needs 'Em!"
Semini is a graduate of the Environment and Resource Studies program at the University of Waterloo and a former A\J editorial intern.