Full disclosure: I love my green job at the Project Learning Tree Canada – an initiative of SFI. Every day, I have the privilege of working alongside a creative, diverse, passionate and collaborative team of professionals—each deeply committed to a common vision of providing every young person with the resources, support and opportunities they need to become future forest and conservation leaders.
But even within that innovative and dynamic environment, I sometimes find myself in need of inspiration: a personal reminder of why I find my work so meaningful and quite frankly, fun.
Lately, that inspiration has come in the form of a matter-of-fact insight, shared with me by an extraordinary young First Nations man during my graduate studies.
I couldn't have asked for a better master's project. Building on an existing Lakehead University partnership, I was invited into the Outland Youth Employment Program (OYEP) camp to live, work and learn throughout their six-week program. My goal was to gather the stories of OYEP's First Nation youth participants, to better understand their perspectives on forest sustainability and opportunities for forest sector career exploration.
Each Ranger, as they're called, taught me valuable lessons. Even today, I regularly find myself going back to my thesis and research notes, seeking their wisdom and advice. For some reason though, I turn back to a single statement more than any other:
"Most of my family weren't really doing good as far as education… So, I had to work on my own at home. They couldn't have helped. They wouldn't know how," one young man offered during a sharing circle. "I was the only one paddling the boat, I guess you could say."
Poetry, struggle, resiliency and determination all contained in a then 16-year-old's few simple sentences. I must have read them hundreds of times by now. Yet, without fail, they still simultaneously break my heart, fill me with pride and energize my soul with the most profound feeling of hope for our future.
In many ways, that young man's lived reality couldn't be any more different than my own. Higher education has long been a priority—almost an expectation—in my family. To this day, I still love hearing about my grandma's adventures in Western University's Secretarial Science program during the 1940s. With those types of experiences in my family, I grew up taking for granted that when it came to pursuing my aspirations, I would never have to paddle my boat alone.
I now recognize my deeply engrained sense of potential as an immense privilege. It's through the stories of incredible, resilient young people—like those who have generously shared with me at places like OYEP, Feathers of Hope, and the 2018 Emergency Meeting on Indigenous Child and Family Services—that I can constantly remind myself that the world is far bigger than my own experience.
It's in those stories that I also find inspiration. They serve as my personal calls to action, the fuel I need to do more, whether it be knocking on the doors of elected leaders, building and growing youth-focused programs, or writing editorials that call even more people into the conversation.
No young person should have to paddle their boat alone. In the Green Jobs sector, we have a responsibility to use our collective passion, knowledge, insights and experiences to be the community of support that many young people currently struggle to find. As a single voice, we must consciously invite young people into our circle and help instill within them the confidence that they can achieve their highest aspirations—whatever they may be.
Taking action has never been easier. Whether you're a student, young professional, or corporate leader, it can be as simple as sharing your own story, offering your time as a mentor or a role model, or committing to continuous action-oriented learning and professional growth. I invite you to reach out to PLT Canada if you want to take action, but simply don't know where to start—our team is here for you through our growing toolkit of resources, webinars and one-on-one support!
As I wrote about last week, life's most impactful moments can come at the most unexpected of times. We can truly never know when something we do or say might be that moment for someone. So, let's treat every moment like it is. Let's let intentionality and generosity be our legacy.
Let's all commit to doing our part now so that someday every young person can grow up knowing that they too can become a forest and conservation leader. Let's show them that there is an entire community of support that is eager to paddle alongside them, who values their voices and experiences and is excited to work together to grow a future in which everyone can fully value and benefit from sustainably managed forests.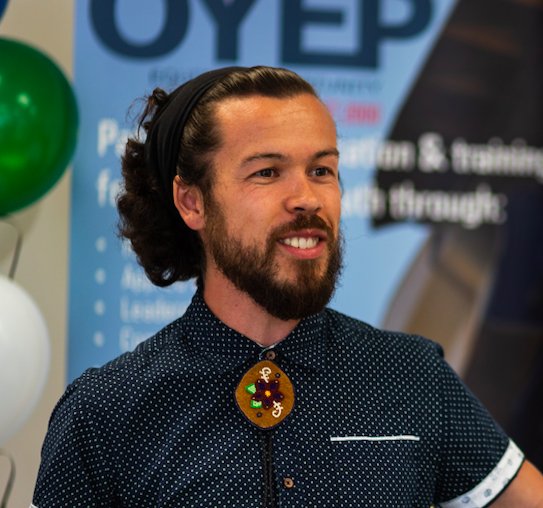 Paul Robitaille is Métis with roots in the histroric Drummond Island community. He holds a Master of Science in Forestry from Lakehead University. Paul is currently the Director of Indigenous and Youth Relations at the Sustainable Forestry Initiative and Project Learning Tree Canada.