Evan Hall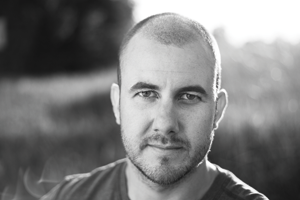 BScH, Environmental Science, Queen's University
Postgrad certificate in Environmental Visual Communication, Fleming College
Current Job: Marketing and communications officer, Ontario Ministry of Natural Resources and Forestry (MNRF)
Evan Hall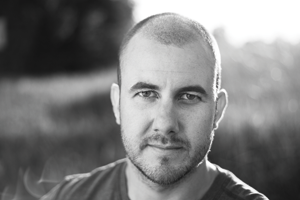 BScH, Environmental Science, Queen's University
Postgrad certificate in Environmental Visual Communication, Fleming College
Current Job: Marketing and communications officer, Ontario Ministry of Natural Resources and Forestry (MNRF)
Hall has worked as both a biologist and as a communications officer at the MNRF, and he also freelances as a multimedia producer and photographer. His background in both science and the arts has given him a very unique skill set – expertise in ecology and conservation biology, as well as graphic design, film and photography.
"From a very early age I have been fascinated by the natural world. As a child growing up in the country, I spent my summers catching frogs and snakes. And as I've grown, my interest in the world around me has grown too. My appetite for exploring the natural world has led me to become an avid traveller, and through travelling I have become obsessed with photography – both its power to create connections between people and its ability to capture extraordinary moments in time."
Hall is currently collaborating with Montreal-based, Australian-born Katrina O'Kane, another environmental scientist-photographer, on a multimedia documentary project called Profiles from the Arctic. The pair hope to add to the scientific body of knowledge about climate change in the Arctic by bringing attention to this poorly understood and yet rapidly changing part of the world.
Dawna Hope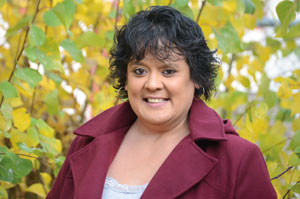 Renewable Resource Management diploma, Yukon College, Whitehorse
Circumpolar World, Yukon College, Whitehorse
BSc, Environment and Conservation Science, University of Alberta, Whitehorse
MA, First Nations Studies, University of Alberta, Whitehorse (pending)
Current Job: Manager of lands, resource & heritage, government of the Ta'an Kwäch'än Council
Dawna Hope has managed to complete her extensive education and embark on an impressive career entirely in Canada's north. A member of Na Cho Nyak Dun First Nation, which paid her postsecondary school expenses, Hope has also worked for the Na Cho Nyak Dun as a fish and wildlife manager, and as a lands policy analyst.
"I was born and raised in Whitehorse – a very small town girl – there was no way I was going to a large university!" Coming full circle, she has taught fisheries resources at Yukon College, inspiring the next generation of intrepid northerners to stay in their communities and give back by building more resilience into this challenging and exciting place. Almost gilding the lily, Hope is also a gifted wildlife artist!
Hope says that getting an education in her own backyard has allowed her to gain a strong understanding of land claims, Aboriginal treaty rights and resource conservation strategies for now and for generations to come. "I get to pay it forward and share the knowledge I have gained not only through my educational path but through my traditional knowledge," she says. "I am not where I thought I wanted to be at the start, but I know I am where I am supposed to be."
Hope is taking a year to become comfortable in her position with Environment Yukon, then she plans to return to University of Alberta's Whitehorse campus to finish her master's degree in First Nations Studies. Hope is justifiably proud of her path and her accomplishments, but at heart she is a northern woman with deep ties to the land: "Avid fisher, hunter and gatherer throughout my entire life!"
Ian Picketts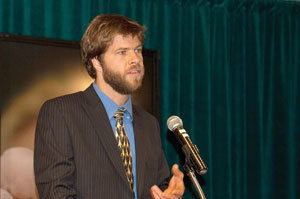 BSc (Eng), Environmental Engineering, Queen's University
MES, Natural Resources and Environmental Studies, UNBC
PhD, Climate Change Adaptation, UNBC
Current job: Faculty member at Quest University in Squamish, BC,; adjunct faculty at University of Northern BC; associate member of Sustainability Solutions Group; and consultant at Picketts Consulting
Picketts' doctoral work focused on climate change adaptation in the BC community of Prince George. He worked with city staff and a number of partners to understand past and projected changes in the climate and create a comprehensive adaptation strategy for the City, outlining key impacts and the means to address them. Picketts then worked with the City to incorporate adaptation into local plans, and to look for ways to implement changes in local policies and practices. Outcomes of his research reveal how local governments can proactively pursue adaptation and also address common challenges such as a lack of funding and political will.
"I worked closely with a range of people who all had a sincere interest in making Prince George a better place. It is a really interesting challenge to communicate complex information to a variety of stakeholders."
Picketts also feels fortunate to have complimented his research by teaching a number of courses, covering subjects ranging from Outdoor Recreation to Natural Resources to Planning. His previous employment covers environmental work in the Arctic and for the Pembina Institute, being a backcountry ranger in Ontario and a dog sled guide in Alberta.
"I'm currently working on trying to wrap my head around how resource development and climate change interact on landscapes – really trying to think about how to communicate the ways that these two complex topics intersect."
Heidi Swanson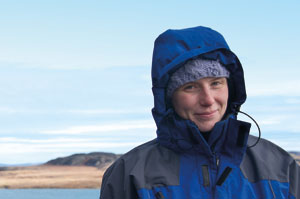 BSc, Queen's University
MSc, University of Alberta
PhD, University of New Brunswick
Current job: Faculty member at University of Waterloo
Heidi Swanson completed her MSc working with internationally renowned water scientist David Schindler. She was interested in understanding how invasive rainbow smelt were affecting the ecology of lakes and mercury levels in predatory fish, such as lake trout, walleye and northern pike. Swanson found that the invasion caused changes in food web structure, which had unexpected consequences for mercury levels.
"Conducting my MSc with Dave was an incredible opportunity and experience. Dave gave me a really long leash, and let me learn fundamental field research skills in my own time and way. He let me chase my own questions and passion for aquatic ecology. The most important thing I learned from Dave was how to talk to people about my research in a way that is understandable and relevant. You can do the best science in the world, but if nobody knows or cares about it or nobody believes you, what's the point?"
During her PhD at University of New Brunswick, Swanson discovered anadromous (sea-run) populations of lake trout. She spent several years conducting months worth of field research on the Arctic tundra, and worked in collaboration with Hope Bay Mining Ltd, Golder Associates Ltd and local Inuit. "Finding anadromous lake trout was really surprising to scientists, but not to local Inuit. Through this experience, I learned how traditional knowledge and science can complement each other. The results of this research are relevant to fisheries managers and human health, because anadromous lake trout are larger, in better condition and have lower mercury than freshwater-only lake trout. During my several years of field work in Nunavut, I developed a driving passion for northerners and northern ecosystems, and a deep connection to the Arctic landscape. That passion drives me forward in my new career as an academic."
Swanson's current research interests lie at the interface of freshwater ecology, fish ecology and the accumulation of contaminants in living organisms. She aims to bring her previous industry and government experience to the table when developing positive collaborative relationships with stakeholders and project partners. Much of her research is conducted in the Canadian North, and in collaboration with industry and Aboriginals.
"The Canadian North is still a frontier," says Swanson. "We have a chance to do things better – develop resources more sustainably, and achieve a balance between economics and the environment. I want to be a small piece in that evolving puzzle, and I want to teach my students the value of cooperation, listening, and respect for the land in their scientific pursuits."
Stefan Pohl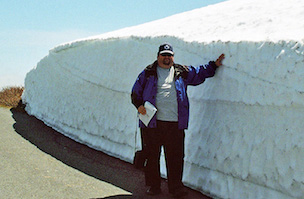 BSc, Geography, Trent University/University of Freiburg
Diploma Hydrology, Institute of Hydrology, University of Freiburg
PhD, University of Saskatchewan
Current Job: Research Scientist/Chair of Hydrology at the University of Freiburg
Stefan is currently leading a project designed to monitor the spatial and temporal variability of snow covers and their melt in the famous Black Forest – a medium elevation mountain range in Southern Germany. The project's aim is to improve the ability to forecast and warn ahead of fast-developing winter floods that are often the result of rain or snow events. Stefan enjoys working with young students and seeing their growing interest in and understanding of the important role that snow hydrology plays in our environment.
Stefan grew up in Southern Germany and did his Undergrad and Master's degrees at the University of Freiburg, Germany. During his Undergrad he did a one-year exchange in Peterborough, Ontario at Trent University. During that time Stefan fell in love with Canada, applied to Canadian Universities for a PhD and completed his at the University of Saskatchewan in the National Water Research Institute (NWRI).
One of Stefan's major successes is having introduced a new monitoring approach into central European snow hydrology; this has garnered considerable interest in the community and several other groups are now using or plan to use this approach. Stefan is work is currently working towards improving flood forecasting for winter floods. This should make life safer and easier for everybody.
Igor Poroger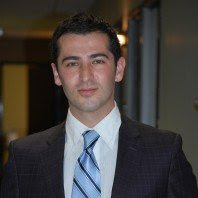 BES, Environment and Business, University of Waterloo
JD, Queen's University
Current Job: Legal Counsel and Commercial Manager at BRE Global Limited
Igor currently works as the In-House Counsel and Commercial Manager for Building Research Establishment (BRE) Global Limited. His role is mainly focused on drafting and negotiating commercial agreements, primarily for BRE's certifications, which include BREEAM.
Igor states that "my practice-driven environmental education helped set me apart from other candidates." Igor's interest in the environment started in high school when he took a class entitled "Science in Society." This class opened up his eyes to the problems, opportunities and solutions related to global environmental issues and he quickly knew that he wanted to learn more. Igor ended up at the University of Waterloo in the Environment and Business program because he realized that its multifaceted platform, in combination with the co-op program, would create a very unique degree and resume.
One of Igor's major successes was becoming a qualified lawyer in Canada and then uprooting to the UK, to end up at a dynamic and challenging organization such as BRE. Igor is currently working towards getting his UK law qualifications to become jointly qualified in both Canadian and UK law.
Janet Kimantas is associate editor at A\J with degrees in studio art and environmental studies. She is currently pursuing an MES at UWaterloo. She splits her spare time between walking in the forest and painting Renaissance-inspired portraits of birds.