WHETHER CRAFTING OR CONSUMING, Canadians are no strangers to experimenting with alcohol. And while our skills and appetites for beer and wine are renowned, our reputation for making and sharing bottled spirits remains small – or at least haunted by the spectre of being "screeched in" by Newfoundlanders.
WHETHER CRAFTING OR CONSUMING, Canadians are no strangers to experimenting with alcohol. And while our skills and appetites for beer and wine are renowned, our reputation for making and sharing bottled spirits remains small – or at least haunted by the spectre of being "screeched in" by Newfoundlanders.
But small-scale distilleries across Canada are gradually dousing that status quo. In search of world-class homegrown spirits to fill the A\J office liquor cabinet (which previously didn't exist, for the record), we found six artisanal producers from different regions that are crafting compelling (and in some cases quite exotic) alcoholic drinks using locally grown plants.
In May, at the gorgeous Canadian Clay and Glass Gallery in Waterloo, Ontario, we assembled a small tasting panel and tried to take stock of some of the most interesting flavours from sea to sea to sea. The details are a little fuzzy, but what we discovered sure tasted like ingenuity brewing.
Scroll down for photos from the tasting event.
Ungava Premium Gin
Belied by its bold yellow hue, this 100-per-cent natural gin is crafted with plants and berries found on Northern Québec's Ungava Peninsula, which flanks the eastern side of Hudson Bay. Its characteristics come from six rare botanicals – Nordic juniper, wild rose hips, cloudberry, crowberry, Arctic blend and Labrador tea – that are hand picked during the short summer season and then distilled at the 170-hectare, family owned Domaine Pinnacle orchard and maple grove in the Eastern Townships.
TASTING NOTES Nice balance between pine (juniper) and herbal flavours, with a fruity sweetness and tartness (rose hips and crowberry). Its complexity makes it open to experimentation, not least for the colour changes.
PAIRING IDEA With tonic on the rocks and a wedge of grapefruit. Ungava's website also has more excellent cocktail recipes.
Stalk & Barrel Single Malt Whisky
Ontario's first micro-distillery released the province's first single malt whisky in April 2013, in both a 46-per-cent version and a 61-per-cent cask-strength. Based in Concord, Ontario, Still Waters makes its whisky by hand with 100-per-cent Albertan malted barley and municipal water treated by a reverse osmosis system, producing single-cask batches (and individually numbered bottles) using a custom-built pot still and ex-bourbon barrels (American oak).
TASTING NOTES The cask-strength's alcohol content is a bit top heavy, with caramel and ginger coming through on the long finish. It'll be interesting to see how this whisky matures, given that a few A\J panellists said this batch "tastes like burning."
PAIRING IDEA Whisky's complexities are best parsed alone, but cut it with elderberry tea if you're in the same "burning" boat.
Ironworks Pear Eau de Vie (and Apple Brandy)
Pears and apples from the Annapolis Valley are distilled inside an old nautical blacksmith's shop in Lunenburg, Nova Scotia, to produce Ironworks' signature digestifs. The ingredients that go into the company's product line (which also includes vodka and blueberry and cranberry liqueurs) are sourced entirely from the province, except for the molasses used in making rum. They also use the hot water from the distillation process to heat their cellar and for domestic activities.
TASTING NOTES The eau de vie is as astringent, yet not as sweet or fruity, as you might expect. The apply brandy is well balanced, with hints of vanilla, clove and cinnamon.
PAIRING IDEA Take the eau de vie neat after a long meal. Try the apple brandy with lemon and orange juice and a splash of maple syrup, or add to a whisky sour for some extra bite.
Carmine Jewel Cherry Liqueur
This liqueur gets its name (and its lovely tang) from a dwarf sour cherry cultivar that ripens into an intense, almost black colour. The cold-tolerant, drought-resistant fruit was developed at the University of Saskatchewan and has since become a commercial success on the Prairies. All of Lucky Bastard's fruit (for various liqueurs and an eau de vie) is purchased from Saskatchewan orchards and they don't use preservatives. The Saskatoon-based micro-distillery also offers a bottle reuse service to its wholesale customers.
TASTING NOTES Rich and bursting with a pleasant sourness, with accents of raspberry and honey, and as fresh as popping a cherry into your mouth.
PAIRING IDEA Try finding a better way to enjoy this than pouring it on cheesecake. (No, really, we insist.) Cherry coke might be a close second.
Okanagan Spirits Blackcurrant Liqueur
Based in Vernon, BC, this inventive craft distillery is regarded as one of the planet's best. They use only hand-chosen fruit grown in the province and add no artificial flavours, colours or essences. Their blackcurrants are sourced from the Pacific Coast Fruit co-op and distilled in a traditional copper pot still. The blackcurrant liqueur won the World Spirits Awards' top prize in March 2013 and Okanagan Spirits added "Distillery of the Year" to its many accolades.
TASTING NOTES Slightly bitter on the front note and fabulously tart on the finish, with very natural flavours (like a jam or jelly) and zero synthetic sweetness.
PAIRING IDEA This liqueur is versatile (so make a martini, a Kir Royal, then something else) but also totally delicious (and really interesting) on its own.
Left Coast Hemp Vodka
Organic shelled hemp seeds grown in Saskatchewan contribute an appropriately offbeat and earthy twist to this corn-based vodka madeon Vancouver Island in the BC capital. In April 2013, Victoria Spirits became a carbon-neutral distillery by purchasing 29 tonnes of carbon-offset credits. The company also powers its still with wood by-products, and donates its waste to a biofuel co-op.
TASTING NOTES Silky in texture and surprisingly savoury, with a nutty, slightly musty flavour and a bit of saltiness – truly unique for an often tasteless type of alcohol. Perhaps a bit too robust with fruit mixes.
PAIRING IDEA It's excellent in a well-spiced Caesar. Curiously, it tastes like gin in a martini.
Check out photos from the event on Flickr!
Julie is an urban planning graduate student at the University of Waterloo, focusing on sustainable transportation.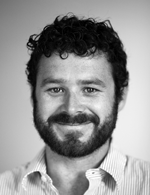 Eric is the founder and executive director of Night\Shift, downtown Kitchener's nocturnal adventure festival, and he helped craft the rebranding of A\J as its editor-in-chief (2012-2014). He has a dusty Bachelor of History from uWaterloo and has worked as a journalist in Canada since 2000, holding editing positions with up! Magazine (WestJet Airlines' in-flight publication), Adbusters, Reader's Digest and other publications, and contributing as a writer to Canadian Geographic, Maisonneuve, Canada's History, Swerve, Saturday Night and others. He also used to curate a blog about great Canadian record cover art at lpwtf.tumblr.com.