At 16, Mérida Anderson became a vegan and cooked her first meal. She opened a can of mini corn (which she loved) and cooked cauliflower (the only other vegetable in the refrigerator). She remembers that it was "truly awful."
At 16, Mérida Anderson became a vegan and cooked her first meal. She opened a can of mini corn (which she loved) and cooked cauliflower (the only other vegetable in the refrigerator). She remembers that it was "truly awful."
Twelve years later, Anderson has become a successful self-taught vegan chef who infuses her original recipes with boundless imagination, a sense of adventure and a wide variety of fresh, organic and seasonal ingredients. She thrives on deviating from conventional vegan cuisine; for example, Anderson doesn't use fake dairy or fake meat. "I try not to substitute, but to cook so that you would never think anything was missing," she explains. Instead, her plant-based recipes rely on irresistible multicultural flavours such as maple syrup, cardamom pods, tahini and kombu (edible, dried kelp).
In 2008, Anderson's passion for sharing food with people led her to create Vegan Secret Supper (VSS), an "underground kitchen" that hosts recurring Sunday dinners and pop-up suppers for groups of friends and strangers (and often strangers who become friends) at apartments and homes in Montreal, Vancouver and Brooklyn, NY. A multi-course VSS meal – which normally lasts a couple of hours but takes about two or three days of preparation, including soaking nuts, making sauces and freezing desserts – becomes the foundation for a cozy, delightful evening among like-minded bon vivants. Chef Mérida also aims to make her diners rethink the possibilities of vegan food, presenting dishes that are full of artful surprises.
Her new book, Vegan Secret Supper: Bold and Elegant Menus from a Rogue Kitchen, features 150 recipes that are ideal for holidays, a romantic dinner or impressing guests at your next dinner party. Recipes draw from Anderson's VSS events and the book assembles an exceptional fusion of starters, soups, salads, mains, sodas, desserts, brunch, breads and nut cheese – plus great advice about stocking a vegan kitchen, plate setting, fermenting and other inventive cooking ideas. Mouth-watering photography showcases the amazing possibilities: watermelon red pepper gazpacho; pepper crusted cashew cheese with juniper tofu and olive tapenade; dark hazelnut rye bread; pine nut parmesan cheese; sesame flax crackers; pumpkin maple cinnamon buns; lavender vanilla ice cream; and many more.
Anderson's ancho chocolate truffle pie and butternut squash walnut ice cream recipes (turn to the next page!) were the result of various experiments. "I always have a chocolate-cashew pie of some sort kicking around, and I change it up with other ingredients and accompaniments to suit my mood and the seasons," she says. "Because I love spice, I added ancho chilies, along with cinnamon and cloves. The ice cream came about because I was steaming butternut squash to make gnocchi and had a bit left over. So I decided to make ice cream with the butternut. It ends up tasting a bit like pumpkin pie ice cream."
Sumac has been high on Anderson's list of favourite flavours to work with recently, and some of her go-to ingredients include coconut milk, garam masala, sesame oil and raw cashews. She's certainly come a long way from preparing "awful" cauliflower and mini corn, and she's clearly figured out how to have an awful lot of fun in the kitchen. "It's sometimes hard to say exactly how recipes and dishes come about, but one idea leads to the next to the next – sometimes they start as a joke and then end up being delicious!"
Ancho chocolate truffle pie – Nut crust
This is a no-fail, all-purpose crust. You can mix and match flavors to go with what you have on hand or the type of pie you're making – almond cinnamon crust, hazelnut mocha crust or chocolate walnut crust are good choices.
Makes one 25-cm crust
1 cup (250 mL) nuts (almonds, hazelnuts or walnuts), ground
3/4 cup (185 mL) spelt flour (gluten-free option: 3/4 cup rice flour and 1 Tbsp arrowroot powder or corn starch)
1 tsp cocoa powder (or 1 tsp ground cinnamon, or 1 tsp fine ground coffee and 1 tsp vanilla extract)
1/2 tsp salt
2 Tbsp grapeseed oil
2 Tbsp brown rice syrup
1/2 tsp apple cider vinegar
1/2 tsp flavored extract, optional (almond, vanilla, orange, etc.)
Preheat oven to 350˚F (180˚C). In a bowl, combine nuts with dry ingredients and make a well. In a separate bowl, combine wet ingredients. Add wet ingredients to dry and stir until combined. Use your hands as needed. Press into a pie plate or 25-cm springform pan.
Ancho chocolate truffle pie – filling
Makes eight to 12 servings.
1/3 cup (80 mL) coconut oil
4 oz (115 g) chopped chocolate
1 cup (250 mL) raw cashews, soaked in 2 cups of water overnight and drained
1 can (398 mL) of coconut milk
2/3 cup (160 mL) cocoa powder
3/4 cup (185 mL) maple syrup
3 Tbsp coconut flour
1 tsp vanilla extract
1/4 tsp ground cinnamon
1/8 tsp ground cloves
1/4 to 1/2 tsp ancho or cayenne pepper, to taste
1/2 tsp salt
In a double boiler on medium heat, melt coconut oil and chocolate, and set aside. In a food processor or blender, blend remainder of filling ingredients until smooth. While blender is running, slowly pour in melted oil-chocolate mixture and blend until smooth. Pour into a 25-centimetre (10-inch) springform pan with pre-baked nut crust and chill overnight.
Butternut squash walnut ice cream
Makes three cups (750 mL). See below for Anderson's ice cream making method.
1 cup (250 mL) peeled and cubed butternut squash
1/4 cup (60 mL) toasted walnuts
1 can (398 mL) of coconut milk
1/2 cup (125 mL) maple syrup
1/2 tsp vanilla extract
1/4 tsp ground cinnamon
1/8 tsp ground nutmeg
Place a 15-cm vegetable steamer in a pot. Add at least 2.5-cm of water, place squash in steamer, and cover pot. Steam squash on medium-high heat for 10 minutes, until squash is tender. Set aside to cool. In a blender or food processor, blend squash with remainder of ingredients until smooth. Chill in a covered bowl or container in the refrigerator overnight before following manufacturer's instructions for ice cream maker, or those provided below.
To Plate
1 tsp ground cinnamon
Slice of ancho chocolate truffle pie
Butternut squash & walnut ice cream
1 tsp flaked sea salt
Sprinkle a tiny pinch of cinnamon in a diagonal line across a square plate. Place a slice of pie in the middle and a scoop of ice cream beside it. Sprinkle a pinch of salt on top of pie before serving.
Making ice cream
Even if you don't own an ice cream maker, you can still make perfect ice cream. Here is Anderson's method:
Take two metal bowls that nest together well. Fill one up with water and place the other one on top. (You may want to do this in the sink, as adjusting the water levels can be messy.) Weigh the top bowl down with a bag of frozen peas, until the bowls are nesting with an even layer of water between them. Place the stacked bowls in the freezer for two hours, until water is frozen solid.
Remove bag of peas. Pour the well-chilled ingredients into your frozen bowl and stir it. It will start freezing to the bowl as you scrape the sides. Stir for at least five minutes before taking a break. You can put the bowl back in the freezer for about 10 minutes to harden the ice cream slightly and keep the bowl frozen, then remove it and stir again, until ice cream reaches the desired consistency.
Transfer ice cream to a sealed container and keep in the freezer for up to two weeks.
The base in most of Anderson's recipes is coconut milk. You can substitute other milks, but coconut milk will result in a smoother and creamier ice cream, especially when turning by hand, because of its higher fat content.
Recipes are excerpted from Vegan Secret Supper: Bold & Elegant Menus from a Rogue Kitchen, by Mérida Anderson, published by Arsenal Pulp Press (2013).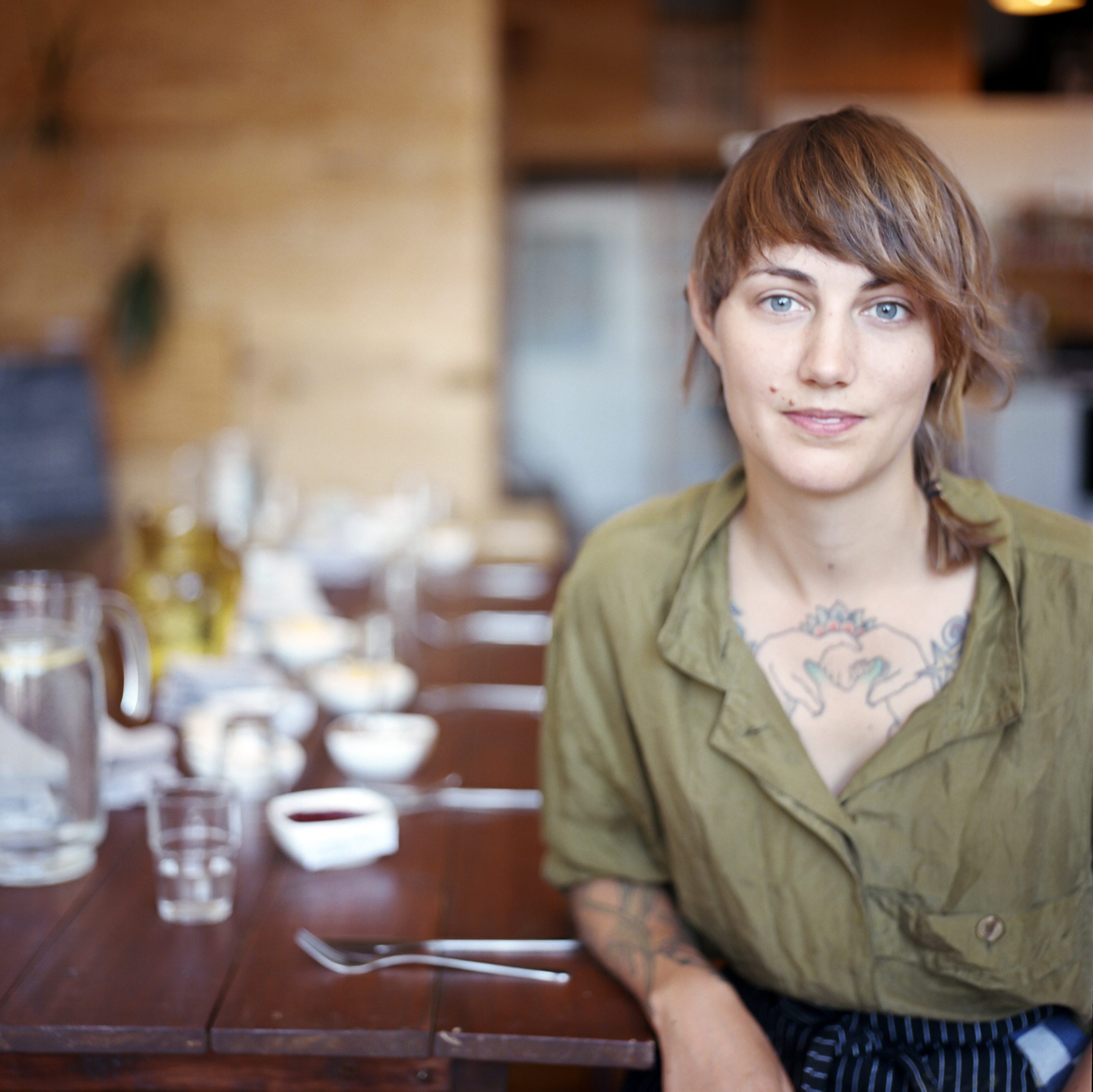 Semini is a graduate of the Environment and Resource Studies program at the University of Waterloo and a former A\J editorial intern.