When I think of Earth Day, the first thing I think of is spring. My mind fills with images of bumblebees and butterflies gliding around spring flowers and of groups of people gathering in their local park to plant trees or collect litter. I think of soil and worms and composting, cycles of nature. I think of local farmers and the lovely in-season produce they provide their communities. A thousand images come to mind and all of them have something in common: they all show people connecting with nature in some way. And that's really what Earth Day should be all about – respecting and connecting with our Earth and expressing what that means to us through our actions. What better way to connect with the Earth than to go outside, put our hands in the soil, and truly make that physical bond.
Since our current food system gives us the freedom to go to the grocery store and buy any type of food packaged up on a shelf, the connection between the consumer and where food comes from is often lost and taken for granted. But all of our nourishment comes from the earth and that connection needs to be rekindled. We need to connect ourselves to our food to appreciate how important the Earth is to human existence, just like all other life, and to remember that we are a part of nature. Growing food in our own backyards is one way to foster this connection. People have been gardening for thousands of years, so through growing our own food from the land, we can learn skills that our ancestors have passed down to our generations and connect with history as well.

Cherry tomatoes from my best friend's garden // Source: Siobhan Mullally
Growing our own food has so many benefits. The health benefits alone are plenty: gardening provides fresh produce, an opportunity to get fresh air and physical activity, and for many individuals, a way to de-stress. Many people have expressed their stress relief through gardening since the act of growing something in the soil takes you to the present moment where you can focus on your own hands planting seeds, weeding, and watering. In our current world, we can get so caught up in our work, our to-do lists, our future worries. With long hours on our computers and our phones always by our sides, it feels like there is no rest from the notifications and all the thoughts that come associated with them. I just finished my undergraduate degree and on my first day of "freedom", I sat in my room and didn't know what to do. I had to make a list of "things to do when you don't know what to do" because my brain was so untrained to accept rest and free time. This is a product of the fast-paced, capitalist world we live in. But last summer, I visited my best friend's house and helped her garden. When we were digging in the soil, spreading mulch, and watering flowers, there was no space to worry about other things. It was just me and the earth and the present moment. I think gardening can help us reduce our eco-anxiety and whatever other anxieties we feel by giving us this sense of peace.
In addition to growing food, planting native wildflowers is another way to garden that can improve native biodiversity, support pollinator and wildlife communities, and create beautiful, low-maintenance spaces of your yard to enjoy. Planting native vegetation is key to helping create and restore ecosystems for native wildlife.
"By planting vegetables or flowers, we can take those small steps towards sustainability in our own little corner of the world."
Throughout history, people have planted non-native plants from different areas of the world usually for aesthetic reasons. Many of those non-native plants have since spread, dominated ecosystems, outcompeted important native species, and changed natural areas for the worse. Native plants are so important to support biodiversity and restore natural habitats for other wildlife. In the first article I wrote for A\J, I talked about ecological restoration and how individuals can help restore nature in their own backyard spaces. We all have an impact and we can all make those impacts positive. By planting vegetables or flowers, we can take those small steps towards sustainability in our own little corner of the world.

A mulberry from my mom's backyard // Source: Siobhan Mullally
Gardening is such a wonderful way to connect to the earth, but it becomes a problem for those of us who do not have any space to do so. If you're like me and you don't have your own land to create a garden, there are other ways to plant and create mobile gardens. You can plant vegetables, herbs, or flowers in small pots in your house or apartment, on a balcony or porch, or in window boxes. You can also seek out local community gardens in your neighbourhood and look into renting or sharing a garden space there. There are options to be sustainable for nearly everyone and there continue to be more inclusive options as our communities move in the right direction.
If gardening just isn't your thing or you can't make it work for you, that's okay. We're all connected to nature and you can feel that just by going outside and appreciating what is around you. It starts with mindfulness. If you go outside, whether you are in your backyard, on a city street, or in a park, you can be intentional about what you focus on. Mindfulness teaches us to be present and aware of our surroundings. Being mindful in nature is paying attention to all the little details of nature around us. A mosaic of pinecones and leaves on your lawn, a fuzzy caterpillar crossing the sidewalk, birds singing to each other, the soft sound of wind blowing through trees, the feel of grass beneath your shoe soles. These details can ground you in nature and allow you to zoom in closer and feel like you are a part of it, not separate from it. It really comes down to establishing and fostering a relationship with nature whether you are planting a wildflower garden, growing tomatoes on your balcony, or taking a walk around your block and paying attention to the world around you.

Observing pollinators on my walk home from school // Source: Siobhan Mullally
"By stepping outside, not only are you getting a good dose of fresh oxygen, serotonin, vitamin D, and maybe a pretty sunset out of it – you're reconnecting with the earth. The ground you're walking on. The plants and animals that you coexist with. The little delights that live and thrive and breathe and walk and live all around you. And if we keep connecting with these things, I hope we will feel a little bit more grounded in our own backyards, realizing that we're part of nature and we can take care of it in the footsteps of people who have done so for many generations. We can get to know the names of the species around us, the bird calls, the texture of the grass outside, the smell of the soil in our gardens. These details are important – they are vital to upholding the connection we have to the Earth. And we will be able to fight for this planet and remedy our eco-anxiety if we keep tending to the relationship we have with nature." -Siobhan Mullally, "A Being in Nature: How the Mourning Dove's Call of Inspiration Quieted My Busy Mind"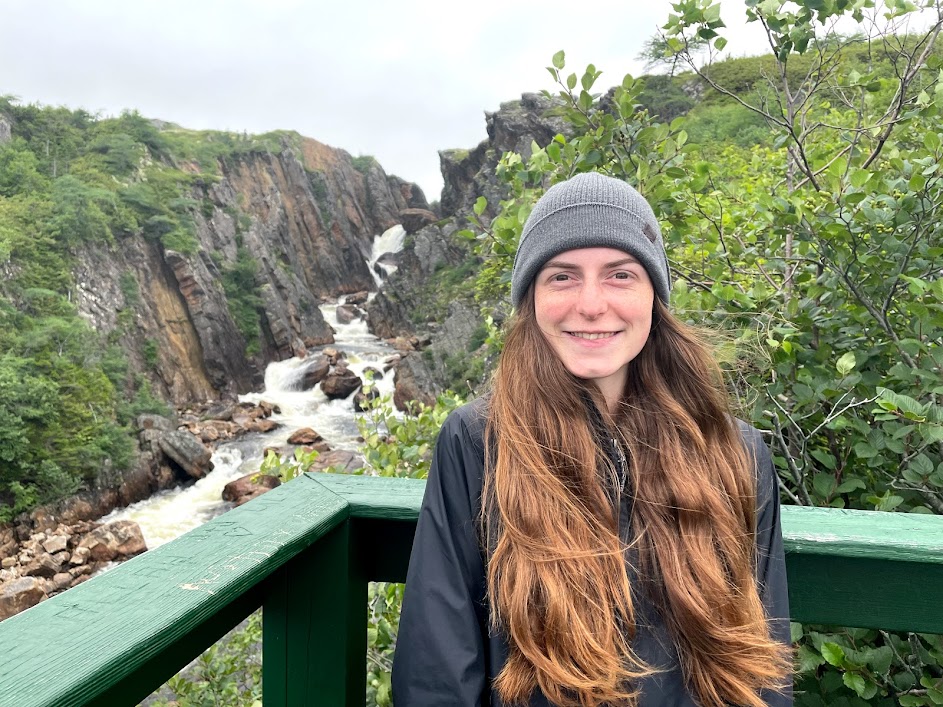 Siobhan Mullally (she/her) has an Honours B.E.S. from the School of Environment, Resources and Sustainability (SERS) at the University of Waterloo with a minor in English Language and Literature and two diplomas in Environmental Assessment and Ecosystem Restoration and Rehabilitation. For her senior thesis, she travelled to Labrador to study climate change impacts on tundra ecosystems in the Canadian Subarctic.
As a budding ecologist, researcher, and writer, she is interested in exploring the intersections between ecology and communication to inspire climate change and help others develop a deeper appreciation for nature. In her free time, she enjoys spending time in nature and getting lost in her favourite novels.