Andrea Palframan (she/her; settler of Scottish and Irish ancestry living on unceded Hul'quimin'um speaking-people's lands) is RAVEN's Director of Communication. She is dedicated to make media that brings the strength of data together with the power of storytelling.
She holds a Masters in Intercultural & International Communication. Her research focus— how Indigenous communities are responding to, resisting, and adapting to climate change—forms the underpinning of her understanding of environmental justice and human rights issues.
Author Articles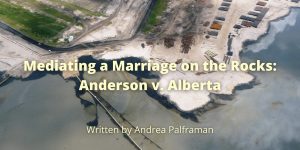 The relationship between Canada and First Nations plays out like a marriage on the rocks. Once upon a time, separate Nations came together: some brought a love of land, and...
Authors Blog