Rachel is a community builder, organizer, artist, performer, wordsmith, and facilitator. She spends much of her time working within environmental justice movements, and, more specifically, has been engaged for a number of years in activism that opposes the harmful effects and practices of the Canadian extractive industry.
Joanne is a writer and facilitator from the Maritimes now living in Toronto. Her fiction, poetry, and non-fiction work has been included in a variety of national and regional publications and on-line projects.
Author Articles
Further ReadingDig deeper into the history and struggles of Indigenous peoples on Turtle Island (North America) with these recommended resources. [photo: credit Ben Powless]Why Does Canada Hate Indigenous Rights? Further ReadingDig deeper...
Authors Blog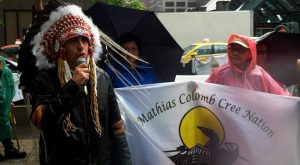 The scene was absurd: four activists, each with a bundle of 75 black and gold helium-filled balloons, riding an escalator. As we reached the top, we clipped our banner to...