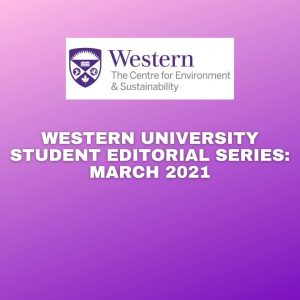 The Collaborative Specialization in Environment and Sustainability at Western University is an interdisciplinary enrichment program designed for graduate students studying environmental and sustainability issues. The program has a diverse, campus-wide academic community that brings together students from the Faculties of Social Science, Arts and Humanities, Information and Media Studies, Engineering and Science.
In this blog series, students from the Specialization shine a spotlight on the important environmental issues they are studying and offer some suggestions on how we can move forward. Topics range from conservation and sustainable development to the importance of film in highlighting social issues and forest fire management. New ways of living within a post-pandemic society touch on green energy, the proliferation of school gardens and the possibility of bamboo cities. Nature-based solutions are discussed to help mitigate climate change…even through green burials!
Find the schedule below with new content coming each Monday and Wednesday:
March 8th – Why is it Vital to Conserve Rivers?
March 10th – The Summer of the Flying Fish
March 15th – Fighting Fire with Fire
March 17th – A Greener Way to Go: Exploring Environmentally Friendly Death Practice
March 22nd – School Gardens: The Change Makers
March 24th – Drinking Water Quality and Access Problem facing First Nations Communities in Canada
March 29th – "Now is the Time": Analyzing the push for a sustainability focused recovery from COVID-19
March 31st – Nature-based Solutions for Climate Change Mitigation 
April 5th – Joining Hands: The Decade of Action on the SDGs
April 12th – Wolf Culls: Public Trust or Failed Policy?