A\J has been a proud sponsor of Hillside for many years, and this year we were back again to live-tweet shows, take photos and hang out in the Neighbourhood tent.
A\J has been a proud sponsor of Hillside for many years, and this year we were back again to live-tweet shows, take photos and hang out in the Neighbourhood tent.
The Heartbeat of the Drum
Semini Pathberiya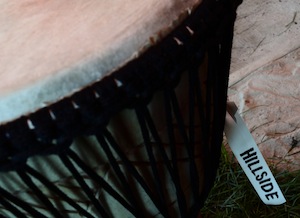 Du-dum, Du-dum, Du-dum. The drumbeat went on as I sat in the Drum and Dance tent playing a Djembe at my very first Hillside Festival. The Healing Drum workshop leader, Karen Hack, said that playing drums with a group of people is similar to having a set of metronomes in one place; after some time, the ticking synchronizes.
True to the word, after a while all the people sitting in the tent were playing a complicated rhythm that none of us thought we would be able to grasp when Hack first played it. Interestingly enough, I found that the more I concentrated on the beat, the more mistakes I made. The trick was to let the flow of my fellow drummers' beat guide me, one hand after the other, on and on.
What stuck in my mind is how Hack mentioned that the heartbeat can be synchronized with the drum beat. If my heart is beating along with the drumbeat, so it must be with the thirty other random strangers of all ages and backgrounds sitting in a circle beside me.
This is not the first time I have come across how the human heartbeat unites us all. I noticed in the documentary Occupy Love that the heart beat rhythm is snuck in as an integral part of the soundtrack.
It is indeed something I rarely think of, how similar we are to other people. We spend day after day in an individualistic bubble, chasing after materialistic goals in our lives. We tend to forget that in the global context, the 7 billion other people are just like ourselves, no matter their social position, age or race.
What Occupy Love and the Healing Drum workshop had in common is not just the heartbeat. Both explained how communal interests can trump individual interests and how that has the power to lead to change. You can't Hillside by yourself when there are thousands of others that are sharing the same experience and supporting each other. You can't live gracefully in this world if you're absorbed in yourself. But together, just like a set of drums can produce a loud, overpowering harmony, people can bring out unity, creativity, love and joy.
Through my Hillside experience, the lesson that reverberates in my mind is that we're all connected, not only through emotions and experiences, but also through something as simple and fundamental as a heartbeat. No matter where in the world you might be, this du-dum within me, and you, is the same.
Happy Hillside: A Reflection on 30 Years of Staying Young
Janet Kimantas (Originally posted August 1, 2013)
My first experiences with Guelph's Hillside Festival were in the mid-eighties, when both the event and my kids were infants. For us, those were heady days of wooly idealism and misplaced but well-intentioned effort. I would change the world with my love. My babies would never know bottle-feeding, cribs or pacifiers. All of our lives would be dedicated to enlightened creativity and true partnership. Some of this grand, golden plan unfolded, much of it did not.
As so often happens, intent lost contact with action and the gossamer web unraveled. Push did come to shove, the years passed. I didn't return to Hillside until well into the 2000s, and didn't bring my kids. Turns out, I don't Hillside very well.
13-year-old Flynn's mom Hillsides like a trooper. Pregnant for the first half of Hillside many years ago, she gave birth on the Saturday night and brought Flynn on Sunday. The young man can now say, at the age of 13, that he has been to 15 Hillsides. Flynn might be playing fast and loose with the actual number of individual festivals he has been to, perhaps double-counting one or two, but the general idea is sound.
The three-day festival, now in its 30th anniversary, is a treasured and integral part of the lives of thousands of people. Spawning a lingo of its own, the festival program includes a section entitled "How to Hillside." An appropriate question is "Do you Hillside?" Hillside is now a verb. Seemingly from a pre-ironic era, tie-dyed, tattooed and dreadlocked participants of all ages detach from the throng, doff backpacks and bear hug each other. The salutation "Happy Hillside" is heard everywhere.
Hosting 6,000 attendees a day and with 1,300 volunteers, dozens of performers, vendors and artisans, staff, coordinators and sponsors, Hillside is a miracle of organized happiness. It lies at the intersection of community, art and culture, environmentalism and social capital.
One veteran attendee spoke of Xavier Rudd's performance years ago. An Australian artist with a truly global reputation, Rudd invited elders from the Six Nations to speak on stage. They described how, many years ago, different tribes would travel to the Guelph area to celebrate together. This woman can feel that energy still, describing Hillside as a type of "healing vortex."
Although most people I spoke to admitted to coming for the music, it was the sense of shared community and overarching happiness that animated them the most:
It feels like a great big family picnic.
There's nothing like Hillside – it's absolute magic.
Sharing and generosity.
The vibe, the happiness, everything.
The festival began in Guelph's Riverside Park in 1984 as a free, 11-hour musical celebration. It quickly morphed into a three-day, multi-stage festival, moving to its present location on Guelph Lake Island in 1987. In 1989 it was given as a reason for Guelph being one of the "Top ten places to live in Canada" and the next year saw its first sold-out Saturday night. In 2005 all tickets sold out before the festival began, in 2006 weekend passes sold out in three days, and in 2007 they sold out in one. Last year all tickets sold out weeks before the event.
"We've been to music festivals all over the world," a woman told me. "But this one is special, it has its own vibe." Her kids have been coming almost all their lives and the 14-year-old told me that meeting new friends and taking in the many workshops were his favourite pastimes. Other festivalgoers also singled out the workshops and artisans as important parts of their Hillside experience.
In 1992 the Sun Stage started running on solar power and the Body, Mind and Spirit tent started offering workshops on meditation, yoga and mindful self-awareness. In 1999 the Aboriginal Circle was inaugurated and in 2004 the brand new, permanent main stage received a green roof. Lightning struck in 2009 – the next year lightning rods were installed.
The development of the festival has been a case study in adaptive management. In 1991, the "Free For All" was introduced – a chance for attendees to share their thoughts and ideas and in 1995 the "First Hillside Survey" solicited feedback from festivalgoers and volunteers.
One intrepid volunteer comes from Detroit each year to work on the waste crew. With a PhD in environmental history, he sits on numerous environmental committees and advisory boards. Although ostensibly retired, his annual task at Hillside is to research its zero-landfill-impact waste management stream and take what he learns back to such initiatives as "The Greening of Detroit."
Hillside has seen its share of world-class musical artists. Such names include Buffy Sainte-Marie, Barenaked Ladies, Broken Social Scene, K'naan, Bruce Cockburn, Cowboy Junkies, Feist, Gord Downie, Arcade Fire and others. But if reputations are national or international, the festival experience is local and personal. Children and grandparents alike dance spontaneously, either to music or as they move from place to place. One grey-bearded volunteer free-style danced his directions to drivers parking their cars, clearly moved by a compelling interior music and illuminated by sheer joy.
This joy and optimism is manifest everywhere at Hillside – it's an electricity that rides on an underpinning of earnestness that might be shy or vulnerable elsewhere but just feels right at the festival. One young woman wears a tattoo that reads "Human rights are everybody's business." A young man wears a T-shirt announcing Sea Shepherd Crew. "Happy Hillside" is more than a three-day musical celebration. It is a faith in the ability of people to work together with a common vision of shared values, to put aside petty differences and just be in the moment of community and family and creativity. These are old values, traditional ones – a celebration of coming together at one location and one time that goes back generations to the original people of this land. The Hillside Vision Statement promises to "create a more vibrant and caring world by promoting altruism, equality, environmentalism and peacemaking in every aspect of its work." In my recent reconnections with Hillside, I have frequently found myself overwhelmed with emotions of nostalgia, hope, love lost and found, values misplaced and recovered. I have relived the optimism of young parenthood, seen that spirit alive in the children of others and in the faces of people whose children's children are experiencing this special community for the first time. The introduction to the 2013 program says, "We are young and still in love with creativity, environmentalism and community. … We still believe in the power of optimism, generosity and intuitive benevolence." Yes we are, and yes we do.
Happy Hillside, everyone. Thank you for another wonderful year. See you next time.
A\J's Eco-Friendly Festival-Going Guide for Families
Web Editor Emily Slofstra (Originally posted July 30, 2013)
At a festival like Hillside, it's easy to be green, with the reusable dishes, sustainable food options and water refill station. However, there are still some things that families (and individuals) can do to make sure that they keep their footprint light. My family was lucky enough to volunteer at Hillside, so we had our 9-month-old, 13-year-old, my partner and myself camping within 100 feet of the Island Stage (festival-goers who purchased tickets have the option of going home at night or camping a fifteen minute walk or shuttle ride from the site of the festival). I hope these tips can help you and your family to have an eco-friendly festival experience, wherever you are in the world.
1. Diapers. After a successful festival weekend of cloth diapering, I can say that it is indeed possible – and not difficult. We carried a few cloth diapers and a small wetbag around during the day, occasionally emptying the latter into our larger wetbag back in the tent if necessary. Any "unmentionable" contents were emptied into the portapotties without much fuss. Hand-washing stations at Hillside are notorious for running out of water, so we kept clean by keeping a plastic bag of pre-moistened cloth wipes in the diaper bag, and you can pick up some slightly more appealing hand sanitizer at a health food store before your trip if you want to make sure you're avoiding alcohol-based sanitizers that may contain triclosan.
2. Communication. For teens, it may be necessary to make sure cell phones are charged all weekend so that meet-ups are possible. This past Hillside, our 13-year-old's phone died on Saturday and I didn't even notice since we did a good job of communicating about meet-up locations and times, but my partner and I had some battery packs that we used to charge our phones throughout the weekend so that we could tweet at a moment's notice. We also have some solar chargers that we didn't have to break out, but can be very helpful at other times. Hillside also has a charging station set up in the Neighbourhood tent and the volunteer hospitality area. Hillside has a message board that could also be used if your family doesn't have multiple cellphones; family members could leave each other notes if someone changes their plans and wants to meet up at a different time or location. If the festival that you're attending doesn't have a message board, perhaps you could find a tree knot to leave notes in.
3. Food. I'll be honest and say that we did have a few boxes of granola bars on hand for grab-and-go snacks, but otherwise we did a good job of sticking to recyclable and compostable waste. We also had bags of apples and yam loaves that my mom sent along with us, and my partner even brought his own u-brew beer in reusable bottles to bring home again. We also had a set of lightweight, reusable stainless steel containers for buying small food items, and our own cutlery in case only the less sturdy plastic forks were available from vendors. This year Hillside had stainless steel beer cups available, which did the trick for kombucha, hot chocolate and coffee (though mine never saw a beer!). Three years ago when we were patrons of the festival instead of volunteers, we brought a cooler full of homemade grilled sandwiches so that we could have on-the-go food that was a little more substantial than granola bars.
4. Transportation. A friend commented that our small stroller was a breath of fresh air compared to some of the monster buggies that parents cart around the island. However, we didn't need a lot of space because we were camping right on site and were able to go back and forth to our tent throughout the day to get fresh diapers, snacks, and clothing layers. If you're attending for a full day or a weekend, particularly at Hillside, it's a bit of a trek to go back and forth to your campsite or car, so it's a lot easier to just bring a bike trailer to push your kids around in, and the mountain of stuff you will likely need to feed and clothe an entire family. Bonus points if you actually bike out to the festival with said trailer, rather than packing it into your car.
Pre-Hillside Workshop Rundown
Web Editor Emily Slofstra (originally posted July 23, 2013)
When I first attended Hillside ten years ago, I was there for the music. I went Friday evening to see Sarah Harmer and Buck 65 and then headed up to a cottage for the rest of the weekend. I returned to Hillside five years ago with a weekend pass and have since alternated between volunteering and buying a pass; each year I've been there less and less for the music (which is still awesome), and more for the atmosphere, the community and the workshops.
For those of you who haven't been, or for anyone who has been too focused on the music to pay attention, Hillside workshops cover a wide range of topics. There are eight tents, not including the children's tent. This year in the Active Living tent you'll be able to learn parkour fundamentals and "backyard archery with budget bows." In the Do It Yourself tent you'll learn to make natural paints and dyes and potato print bandanas. The Environment tent covers cycling, renewable energy, gardening, water, food forests, sun-cooking and simple living. Laughter yoga and massage yoga will both be a part of the Body and Mind tent. Like most years, there's a backyard chicken workshop in the Thing We Eat tent, as well as "Enjoy Eating Gluten/Dairy-free." The Performing Arts tent will feature ukuleles and didgeridoos, amongst other singing and dancing methods. Finally, the Interplay tent has a mix of workshops from babywearing to lifedrawing to growing resilience in your community.
Last year I presented a workshop called "DIY in the WC," where I taught participants how to make their own toothpaste and handed out handmade shampoo bars. We also shared recipes for making your own deodorant, conditioners and moisturizers, and discussed how to find other products without toxins and with the least amount of packaging.
This year I'll be in the Interplay tent doing a workshop called "Communal Living for Everyone." It will be discussion-based, and content will vary depending on who the participants are. I've lived in communal housing throughout university, and hope to share my home for as long as possible. Currently I live with my partner and our daughter, my friend and her 13-year-old sister, and another roommate. I have a lot of ideas about different ways to split costs, food, childcare, spaces and so on, so I'm looking forward to sharing tips and tricks for staying sane in communal living arrangements and also learning from other festival-goers about how and why they don't live alone.
Semini is a graduate of the Environment and Resource Studies program at the University of Waterloo and a former A\J editorial intern.
Janet Kimantas is associate editor at A\J with degrees in studio art and environmental studies. She is currently pursuing an MES at UWaterloo. She splits her spare time between walking in the forest and painting Renaissance-inspired portraits of birds.
Emily is former A\J web editor and a graduate of Environmental Studies at Wilfrid Laurier University. Emily is an urban homesteader who tries to live as plastic-free, local and organic as possible, and can be intense about it.