Rather than a list of specific products or DIY ideas (there are enough of those already), our gift guide focuses on basic principles you can apply to avoid filling the world with more plastic, toxic, resource-sucking or unwanted crap this holiday season. (But we also have some specific gift ideas, too, don't worry.)
Tip: you can also apply these to all of your purchases year-round!
Rather than a list of specific products or DIY ideas (there are enough of those already), our gift guide focuses on basic principles you can apply to avoid filling the world with more plastic, toxic, resource-sucking or unwanted crap this holiday season. (But we also have some specific gift ideas, too, don't worry.)
Tip: you can also apply these to all of your purchases year-round!
1. Buy less
Average holiday spending in Canada is somewhere between $885 and $1056 per person. While that includes more than just gifts, it's a lot of cash, however you slice it. While not all of our suggestions here will save you money, buying less is a pretty straightforward way to align your environmental and financial goals.
Environmentally speaking, as Ask Umbra over at Grist reminds us about clothing, the most eco-friendly stuff is no stuff at all. Everything has an impact, even the most sustainably made items. We're not saying you have to forego gifts altogether (though you can!), but buying fewer, higher quality items will reduce the long-term impact of your gift giving.
2. Buy used
You'll probably want to be cautious of who you buy used gifts for, but it's an option – and one with a really light footprint. A\J founder Robert Paehlke wrote about vintage goods earlier this year: "the environmental cost of producing these goods has already been paid." They're usually "not being shipped around the planet, nor are new raw materials being extracted and refined to produce them."
Try starting with used toys for young children. "It is easier to buy second hand if your kids aren't exposed to commercials and don't know what's current," says Emily Slofstra, former A\J web editor, Queen of Green coach and mother of two. "But in general really young kids don't notice or care if things are in their original packaging or gently used."
A\J fave: Pick up a really nice vintage piece for a clothes hound rather than something from a fast fashion outlet.
3. Buy upcycled
If you don't think your gift recipients would appreciate pre-loved stuff, how about stuff made from pre-loved materials? They might never even have to know (but hopefully it's a selling point).
Get ideas: We profiled a handful of Ontario upcyclers a couple of years ago, and there are plenty more out there.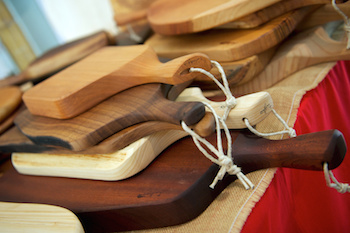 © ferrerilavarialiotti \ Fotolia.com
4. Buy local – and handmade
Not everything made locally is guaranteed to be environmentally friendly, but it is more likely. "If I am buying new, it's usually local and handmade," says Slofstra, largely because local, handmade stuff isn't plastic. "It's hard to hand-sew a Barbie."
Buying local also increases your community's self-sufficiency and strengthens the local economy. I guarantee you there are craft sales happening in your area (I've been to four this season already), and local artisans are making some pretty awesome stuff these days. Etsy has event listings and you can filter any Etsy search by location.
More info: Treehugger has a great explanation of why buying local is a better option than ordering online.
Get ideas: The Tyee has a list of Five Holiday Essentials You'd Be Better Off Buying Locally.
A\J fave: Local spirits! We sampled six last year, but there are plenty more out there! Or a gorgeous cutting board paired with some local cheese.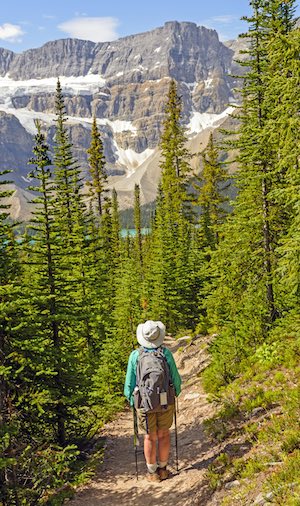 They'll think of you on every hike.
Photo: © wildnerdpix\ Fotolia.com
5. Buy experiences, not things
Sandra Muir from Marmanbee, seller of experience gifts for kids and teens in Kitchener-Waterloo (including rock-climbing lessons, knitting classes and trampoline sessions), says that whenever she asks someone about a favourite gift they've given or received, it's always an experience. "We clearly value experiences" over things, she says, but her business is also about "not creating more stuff that … ends up in a landfill."
With 11 nieces and nephews and three godchildren, Muir knows a lot about buying gifts for kids and admits that sometimes you do need more than just a gift certificate, especially with younger children. Marmanbee's gift packages include a few extra goodies, to give the recipient "visual cues," as Muir calls them, that help kids "anticipate what they're going to be doing."
Experience gifts aren't just for kids, though – people of all ages will appreciate theatre or movie tickets, lessons, outdoor adventures or whatever else you can come up with. Services are also a great idea – professional cleaners, organizers, consultants, or maybe a personal chef for a night.
Get ideas: Nourishing Minimalism has a list of 18 non-toy gifts for children, including experiences and some other great ideas. Unclutterer also has experience gift tips, as does Treehugger.
A\J fave: Buy an avid camper or hiker an annual pass or gift certificate for Parks Canada, provincial parks or their local conservation authority.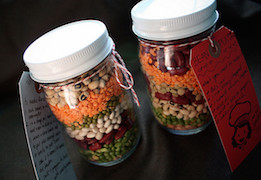 Photo: Amber Karnes \ Flickr. CC BY-NC-ND 2.0
6. Buy consumables
Consumables are things that are going to get used up. Think craft supplies for kids, delicious-smelling handmade soaps, or heirloom vegetable seeds for a gardener. Experiences are also consumables, and Organized Home includes magazines and books in their list.
And of course, there's always food. Food gifts often take the form of baked goods and processed snacks. Don't get me wrong – cookies are awesome, but here are five ways to give healthier, but still delicious, treats:
A food box, CSA or buying club membership
A favourite recipe and all the ingredients for a meal or dessert
A grocery delivery service gift certificate
Grocery store gift cards
A gift certificate for that awesome – and expensive – restaurant that uses only local, organic food
Get ideas: Endless gift-in-a-jar possibilities on Pinterest. Endless.
A\J fave: It bears repeating: meals in a jar. They're delicious, nutritious, and convenient. Though if someone bought me a gift certificate for my local buying club, I'd swoon.
7. Buy useful stuff
In other words, don't buy things people don't need, or won't use. Muir issued a warning about secret santa gift exchanges in particular: often you end up "running out to get a $2 or $5 gift that is really silly and funny for those five minutes, but where does it end up?"
Consumables – especially food – are great for a secret santa. And – I kid you not – a particularly hot item at A\J's last White Elephant gift exchange was bus tickets (then again, so was the box of model magic…). Never underestimate the appeal of stuff people actually use.
Some people think lists take the fun out of the whole thing, but they also guard against excess consumerism. You don't have to list exact items; even some general ideas or guidelines can go a long way to reducing your chances of having to pretend to like something and then stashing it in a closet somewhere forever.
Get ideas: We've got a Pinterest board full of sustainable secret santa suggestions.
A\J fave: Usefulness depends on who you're buying for, but we just had to plug this one somewhere: Abeego waxed cotton food wraps are a brilliant replacement for plastic wrap and I find them very useful.
8. Don't buy – make it instead
Going the DIY route is inexpensive and gets you major thoughtfulness points. Plus, you know exactly what's in your gift and where the materials were sourced – and, of course, you can often upcycle materials that would otherwise end up in a landfill.
Get ideas: Yup, we have a Pinterest board for this, too. Plus, Check out Treehugger's 11 homemade gifts to make and give this holiday season.
A\J fave: Definitely our DIY Sweater Mittens. Or a t-shirt memory quilt. Those are pretty hard to beat.
9. Buy safe and sustainable
For everything else on your shopping list, here are some resources for finding toxin-free, sustainable and ethical stuff: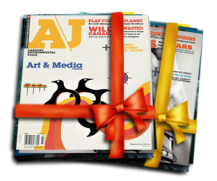 Bonus tip: buy A\J!
Our readers have told us that reading A\J influences their opinions, their habits and their support for environmental causes. So not only is an A\J subscription a pretty environmentally friendly gift in and of itself, it helps build the environmental movement!
We also have themed back issue bundles available – and a tote bag to put them in.
Read the rest of A\J's Winter Holiday Survival Guide:

Laura is a past A\J managing editor. She has an MA in Communication Studies from Wilfrid Laurier University, is an organizing aficionado, lackadaisical gardener, and former musical theatre producer. @inhabitings