Happy Earth Day!
We celebrated Earth Day – and editorial intern Semini Pathberiya's birthday – with an earth cake at lunch today in the A\J office (and the Captain Planet theme song as a soundtrack to our delicious dessert).
Happy Earth Day!
We celebrated Earth Day – and editorial intern Semini Pathberiya's birthday – with an earth cake at lunch today in the A\J office (and the Captain Planet theme song as a soundtrack to our delicious dessert).
The A\J team has been taking up Earth Day Canada's challenge to Act for the Planet by trying out new habits during Earth Month. We'll be following (roughly) along with the EDC's list of 30 challenges, and you can follow our progress – and let us know how you're doing – here on the Sustainable A\J blog! We'll hear from everyone at A\J on the challenges they've tried out (and some things we're already doing) in weekly blog posts hosted by web editor Emily Slofstra.
Week Three: On the move
Emily: I did the challenges a little out of order last week. Monday, we were supposed to tune up our bikes, but I did that on Tuesday at the local women and transfolk bike night at Recycle Cycles, Kitchener's community bicycle repair shop. On Tuesday I had hoped to do some yoga outside, but a friend was heading to an indoor class so I joined her there instead. And in terms of green commuting, I either walk to work when I have my baby, or cycle to A\J when I'm rolling solo. I was also supposed to attend a Wild Edibles of Spring workshop on Saturday, which probably would have qualified for Sunday's challenge, but we got snowed out and it was rescheduled.
These details are all reminders that every day is Earth Day. If you weren't able to follow along with Earth Day Canada's challenges this month, pull the list out again in May or June or October and find a way you can make a positive change to your lifestyle. But don't stop there. I'm a huge advocate for reducing individual "carbon footprints," for two reasons: 1) It can help with the overwhelming feeling of helplessness when reading about environmental problems, and often taking action that helps the environment also helps our health. 2) If everyone felt like they personally did not want to harm the environment, including politicians, we might actually have stronger environmental protection regulations, or perhaps every city would ban plastic bags and water bottles, at the very least.
That said, I agree with Bill McKibben in his recent piece on The Fossil Fuel Resistance. He says, "You're not a member of the Resistance just because you drive a Prius. You don't need to go to jail, but you do need to do more than change your light bulbs. You need to try to change the system that is raising the temperature, the sea level, the extinction rate – even raising the question of how well civilization will survive this century."
I'll be the first to admit that taking care of a baby and a 13-year-old means that a lot of my actions have been focused on my home over the last year, rather than making my voice heard. But on Earth Day 2013, I pledge to stand up for the environment and take action. Want to join me? Here's what I plan to do: Browse the A\J website and find topics that really rankle me. Then I'll consult our list on How to Take Action, and determine the appropriate next step for each issue. Finally, I'll blog about it, and hopefully inspire others to take action as well.
Tuesday, April 16 – "Exercise outdoors"
Finance Manager Michael: I truly love running. As my cardiovascular exercise of choice, it has an added meditative quality that helps me manage stress. Running outside also has the potential for a real connection to nature. During longer runs, I often get lost in my own thoughts but then get awoken to my surroundings by a budding crocus or a curious rabbit. Not many weeks ago I was going for my morning run on a brisk and sunny day, one of the last gasps of winter. I was running along my usual path and suddenly looked up to catch a flurry of melting snow cascading towards me from the tree branches above. I reached my arms upward, but kept running as the snow gently fell, feeling that environmental connection in a very tangible way. On a fundamental level I believe these experiences are important for our own mental health but they also help us get to know the environment which, in time, can nurture a responsibility to protect it.
Emily: While I mentioned above that I didn't get around to doing yoga outdoors last week, outdoor yoga is in my plans for the summer! My favourite yoga studio holds outdoor classes throughout the summer, so I definitely intend to attend those whenever I can. Check out studios near your workplace and see if they offer any classes outside – if they don't, suggest that they try it out and promise to bring your whole office along to the first class.
Wednesday, April 17 – "Let it Grow: Opt for a natural garden"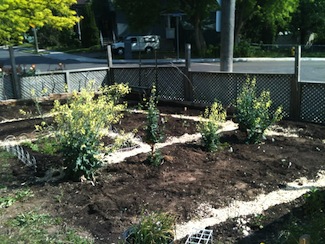 Emily: Last week's weather meant that we still haven't gotten outside to do any garden preparations. We are just continuing to plant and re-pot seedlings, and work on our garden planning. The first thing we did when we moved into our house two years ago was rip up the front lawn and turn it into a garden. Our neighbours told us that when they naturalized their front yard about eight years ago, the neighbourhood was not happy about it. But now non-lawn yards are cropping up everywhere, so why not start with a small patch of ornamental cabbage this year, and see where that takes you?
Thursday, April 18 – "Green Commute"
Academic Coordinator Julie: I've never been bicycle-shy, but I was hesitant to commit to a week of cycling to work given all the shades of weather the season brings. On Monday morning, I was reminded it's also one of the best times for biking. I really enjoyed taking in the first signs of spring – the budding crocuses and rowdy cardinals. Even though I sometimes arrived a little damp, the scent of spring showers made up for it. If you're considering switching to two wheels, consider consulting this guide on planning a bicycle commute. I also found Simply Bike's post on Bike to Work Wear for tips on biking to work in professional clothes to be helpful.
Emily: Stay tuned to Sustainable A\J next month as we have several more posts about bicycle commuting in the works!
Friday, April 19 – "Bird is the Word"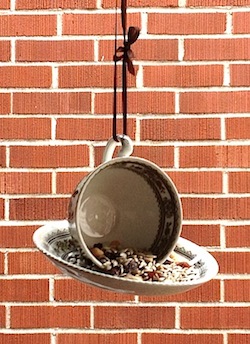 Julie: Teeming with spring spirit, I had my garden on the brain and wanted to attract birds to the yard for pest control (and for their pretty songs). My first attempt was a pinecone bird feeder. This did not work out so well; the bird food I made from sunflower seeds, peanuts and raisins was too bulky to stick to the pinecone. Resolved to use my bird food, I trolled the Internet for crafty bird feeders. I then stumbled upon bird feeders made from teacups and saucers. These feeders can be made in a standing or hanging style and are easy to make – not to mention darling.
Sunday, April 21 – "Nature Hunt"
Graphics and Production Coordinator Anežka: Saturday afternoon I managed to convince my little brother to go on a "nature hunt" with me. I borrowed two field guides from the library and readied myself for some tree IDing fun. Unfortunately, our bi-polar weather decided it wanted to be winter again. We managed to take pictures and collect samples (off the ground) from 8 different trees before my hands turned a shade of purple and my pockets (now filled with pine cones) could no longer bring them back to body temperature. We stuck to evergreen conifers because at this time of the year they were the easiest to identify for novices like us. You can follow along as I learn more about identifying trees in a future post!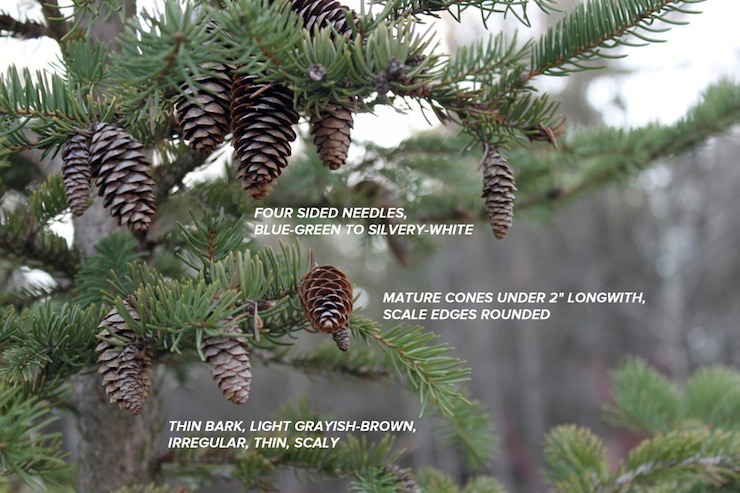 Take up the challenge yourself and download the Act for the Planet 30-day checklist and EcoKids ideas.
Emily is former A\J web editor and a graduate of Environmental Studies at Wilfrid Laurier University. Emily is an urban homesteader who tries to live as plastic-free, local and organic as possible, and can be intense about it.