Inspired by Isa Chandra Moskowitz of the Post Punk Kitchen
Inspired by Isa Chandra Moskowitz of the Post Punk Kitchen
Kitchener, Ontario, has a 140-year tradition of excellence in a farmers' market. All of my vegetables for this recipe come from various Kitchener Market growers, with the exception of the corn. No one can deny how consistently sweet and delicious Herrle's corn is. Cheaper by the dozen, I had leftover corn after this week's Sunday dinner. So I searched for a chowder recipe that used almond milk and Isa Chandra Moskowitz's recipe came up. However, there was no mention of almond milk in her recipe. The modifying started early due to my severe anti-coconut attitude and corresponding allergy. The original recipe also called for lime to give it tang. Lime's another allergy, and so I substituted with goat yogurt. I invite you to modify my version to your taste (and use up what happens to be in your fridge). Check out Isa's recipe – it's vegan – and her website is great.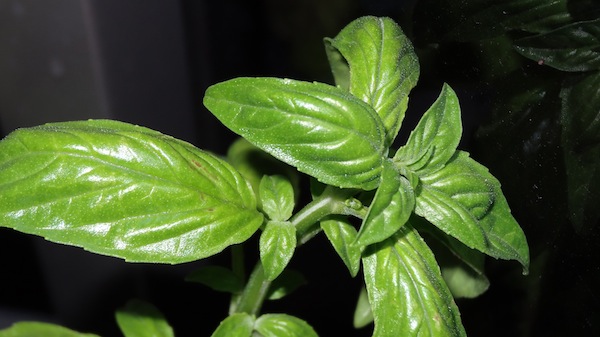 Here's a wee note about why this is "Condo" corn chowder. This is my first year living in a condo after moving from the big old family home in the same neighbourhood. At Herrle's you can husk the corn in their country store. This is so much easier than trying to husk in a small space.
We are on the 9th floor and our balcony faces more north than it does west. I'm happy to report that my herbs grew very well with very little direct sun. And it's at this time that I must say to Robert Everett-Green that yes, people do use their balconies. Everett-Green's suggestion that most people do not use their balconies might be a Toronto phenomenon, but I would encourage anyone to green-up their balcony. It's a pleasure sitting outside on the balcony, sipping on a beverage, watching your container garden grow. And after the sun goes down and paints the sky, you can let the stars steal your gaze.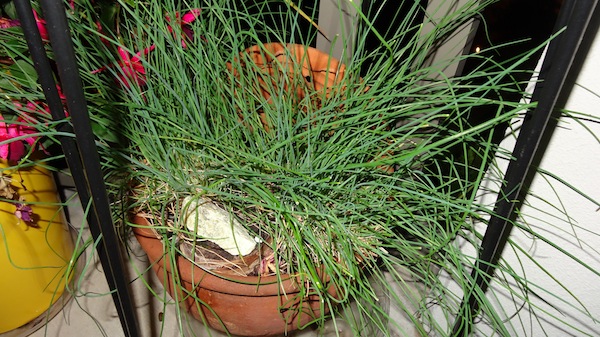 On a final note, my mother would urge you to chew your corn well – for better digestion. Bon appetit.
1 Tbsp grapeseed oil

1 medium onion, diced
2 stalks celery, chopped

3 cloves garlic, minced

1 red pepper, chopped
2-3 cups cooked corn (left over from from 3-4 ears)

3 carrots, peeled and cut into ¼-inch rounds

4 red-skinned potatoes, cut into 1/2 inch chunks

2 cups broth

1 tablespoon tapioca or arrowroot

1 cup almond milk 

½ cup yogurt
 (vegan option: 1-2 tablespoons of lime juice)
Salt to taste, fresh black pepper to taste
To garnish:
 Chopped fresh chives (1/4 cup should do it)
, Thinly sliced fresh basil (1/8 cup or so)
, 1 Tbsp French tarragon all chopped together.
Have all of your vegetables washed and ready to chop.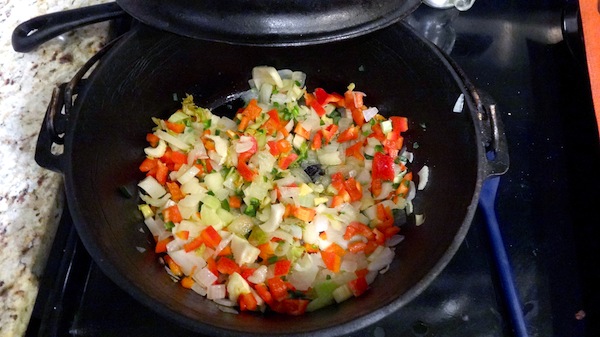 Preheat a 4-litre soup pot over medium heat. Sauté onion and celery in oil with a pinch of salt until onion is translucent (and you have finished chopping the red pepper) – about 3 minutes. Add garlic and red pepper and sauté for another couple of minutes (until you have chopped the carrots). Add carrots and cook until you have chopped the potatoes. Add potatoes and cook until soft (about 4-5 minutes). Add the corn and the broth.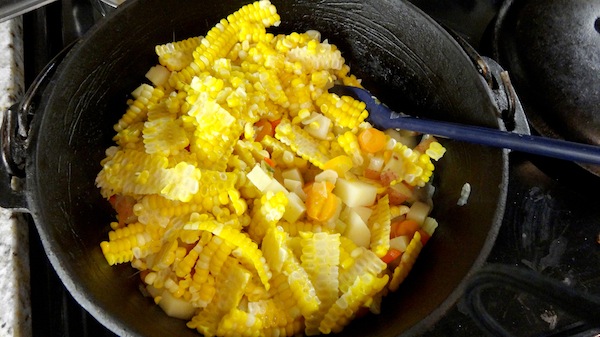 Cover and bring to a boil. Mix the tapioca starch into about 75 ml of the almond milk in a measuring cup. Then stir in the rest of the almond milk, pour it into the soup and cook to thicken, about 3 minutes. Whisk in the yogurt (or lime). Add black or cayenne pepper and salt to taste.
I didn't do this, but I'd try it next time: Use an immersion blender to blend about half of the soup – or go low tech with a vegetable masher. Isa has other instructions in her original recipe.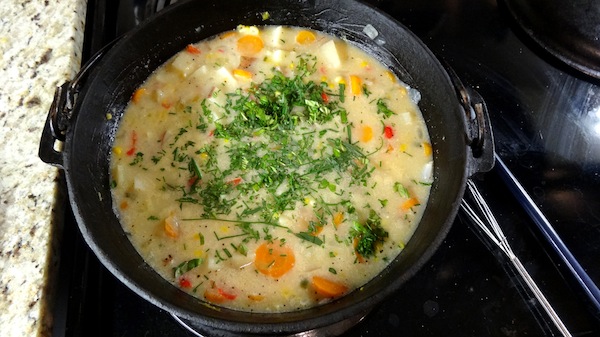 Taste for salt and seasoning. Serve garnished with fresh chopped herbs. Try a finishing salt – like Celtic sea salt. Delicious.
Marcia Ruby is the publisher emerita and creative director of Alternatives Journal.