Originally posted at The Duke St. Diggers
Originally posted at The Duke St. Diggers
The workshop I gave at Hillside this summer was called "DIY in the WC." Some great conversations were had about going plastic-free and homemade in the bathroom, but people were particularly excited to make toothpaste at the end of the workshop! It's one of the simplest things you make at home if you're interested in getting into urban homesteading type stuff. I usually just guesstimate the ingredients quantities, but here's an approximation of what you need for a month or two of toothpaste: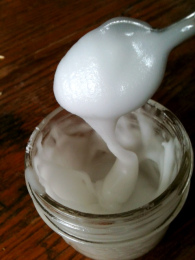 3 tbsp baking soda
3 tbsp vegetable glycerin
1/4 tsp peppermint oil/flavouring (foodgrade)
a few shakes/drops of stevia (optional)
Mix it all together in a reusable container (I like small glass jars) and keep it either with a spoon or just dip your toothbrush into it.
The Sustainable A\J blog features posts by A\J staffers focusing on sustainable lifestyle choices, as well as profiles of our readers.
Emily is former A\J web editor and a graduate of Environmental Studies at Wilfrid Laurier University. Emily is an urban homesteader who tries to live as plastic-free, local and organic as possible, and can be intense about it.