This is part four of our Skills for the New Economy series. Read part one: "Creating an Artisanal Life as an Eco-Polymath."
This is part four of our Skills for the New Economy series. Read part one: "Creating an Artisanal Life as an Eco-Polymath."
The systems of apprenticeship that we know today were first developed in the Middle Ages as a method of training a new generation of practitioners on the job. Guilds formed around individual disciplines of tradespeople who practiced specific crafts. They were essentially unions of self-employed, collectives of people working in the same field.
In the early 13th century, guilds helped lead to the creation of some of the first European universities. During the Renaissance, a universal, polymath education often concluded in an apprenticeship where the individual worked toward mastering a specific discipline. Some apprentices would spend their post-apprenticeship careers as skilled tradespeople, while others became masters of their craft and opened their own workshop.
Guilds do not exist today as institutions and cultural structures that influence the practice of a particular craft. But the spirit of guilds can be still be found in the twenty-first century.
Ben Polley is owner of Evolve Builders Group in Guelph, Ontario, makers of a wide variety of environmentally friendly homes. Starting out as an art history major at Carleton University, he shifted his interest to planning and earned his Bachelor of Arts in Geography in 1995.
Graduating into a weak labour economy, Polley took what work he could get in his area: student jobs with the Regional Municipality of Ottawa-Carlton and Rideau Valley Conservation Authority, and volunteer placements with engineering and urban planning firms. After a move to Guelph in 1999 to find work, Polley stumbled upon his future.
"I was at [the] Hillside [music festival] and saw a workshop on straw bale building, led by a local teacher. He reminded me of the environmental and fire safety benefits of straw bale homes that I had read about as a child. I had a flashback to when I was five years old, when my family home burned down. I became preoccupied with straw bale buildings."
Straw homes have been used for shelter around the world for millennia. Bales of straw are used as structural elements or as building insulation, offering a sustainable method for heating and cooling. Straw-bale construction is naturally fire-retardant, is a great insulator, and uses a highly renewable low-cost resource, straw.
Polley read obsessively about straw bale building, visited straw bale homes, and found the only other people in Ontario who were building them. "I moved to Peterborough, where the three owners of Camel's Back Construction took me under their wing and taught me how to become their competition," he says, without a hint of humour in his voice. "They loved their clients, and saw the market was growing in a way that they couldn't serve."
In 2000, Polley became an apprentice for the first time.
"I started out as a volunteer with Camel's Back for a month, and then they hired me on contract," Polley continues. "I learned the specialized trade from the owners, who gradually provided me with prospective jobs they couldn't take because of geography."
A quick study, Polley launched Harvest Homes in 2001. "I hired people who were much more knowledgeable about conventional construction than I was. And for the next few years, I was the 'gaffer,' learning from the people I hired," he admits in a self-deprecating tone. Polley continued to work in a collaborative model, a guild, of sorts, with his former 'masters' at Camel's Back, with whom he shared resources and work leads.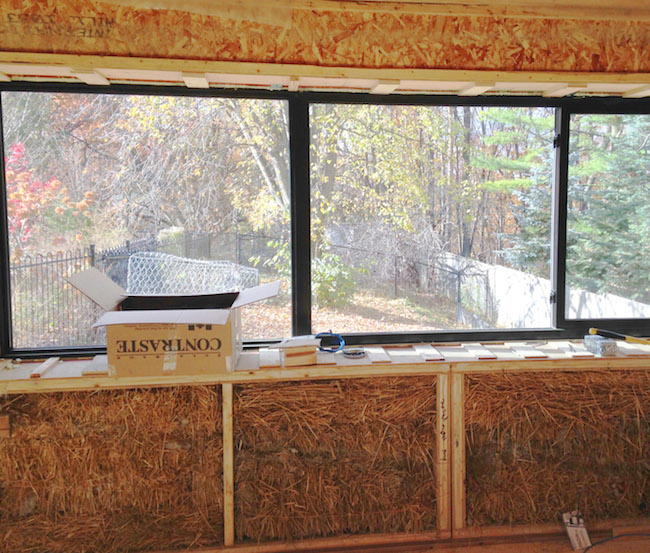 A straw bale house in construction on one of Polley's sites in Ancaster.
He soon found himself engaged by his clients in sourcing environmental materials beyond the straw bale portions of the homes he was building for them.
"I became an importer and distributor of products that weren't locally available: natural paints, natural wood finishes, mineral pigments, sustainably harvested wood flooring."
Polley was about to expand his horizons.
Strategically deciding to expand his business into other facets of construction in order to meet client demand and address the staffing seasonality of straw bale construction, he created a new entity, Evolve, in 2006 to grow his general environmental homes business. This move allowed Harvest Homes to focus on the straw bale market.
In subsequent years, Polley opened three new divisions: Fermata, Torus, and mobEE. Fermata handles client requests for earthen-based building methods like adobe, cob and rammed earth, while Torus Ecosystems covers biological building systems like green roofs, artificial wetlands for septic waste, and grey-water recycling. This year, Polley expanded into manufacturing with the launch of his newest company mobEE, an acronym for mobile eco-enclosures, currently used by several First Nations for housing, and by school boards for use as eco-friendly school portables.
"Our people are comfortable with role shifting: sometimes they are giving instruction, and sometimes they are receiving it."
"A part of why we are successful is because we have a lot more expertise than what is typical for a small company like ours." At Evolve and its divisions, individuals are hired as skilled tradespeople, and have the option to take apprentice-style roles when their expert area is not in demand. This approach permits the opportunity to remain employed through the boom-bust construction year, while learning new disciplines.
Evolve takes pride in pioneering a high integrity team approach to green construction that almost exclusively uses in-house staff. The company's mission states: "We are managers, planners, educators, researchers, artisans, activists. But above-all, we are craftspeople." Evolve's four divisions enable staff to tackle artistic and highly specialized projects.
"In construction, there is a lot of hierarchy, which we wanted to avoid," explains Polley. "We have so many specialties on offer that we have developed a system to keep our expert staff employed throughout the year. Our people are comfortable with role shifting: sometimes they are giving instruction, and sometimes they are receiving it."
"I wanted to work with good people and work with my hands. But I've worked myself right back into the office," Polley admits. While he is the perpetual eager apprentice on his construction sites, he is a reluctant 'master' of management.
Polley's clients and employees love his approach to business. Evolve and its divisions are growing, while maintaining almost zero employee turnover. Everyone I met at the Evolve construction site I visited refers to "our company" and uses the pronoun "we" when describing their workplace.
"It comes down to people making a conscious decision to be in this field, building eco-friendly homes, for a living. It's a values based decision, not just a job." Polly has become an unintentional master of an eco-guild that has reinvented a long-time practice into aspirational one.
His eco-polymath character has instilled a resilient practice in his company. Evolve is a prototype for the workplace of the future.
Natasha Milijasevic is a Toronto-based management consultant whose practice focuses on projects, processes, data, and how organizations can measure these to improve their social impact. Her past research and publications span group psychology to business strategy.
Wife, mother of two and occasionally exhibiting artist, Milijasevic also loves school: she has a BSc, MBA, PhD, and is going back for another one in health care analytics. Her degrees and consulting experience have taught her how to think about complex organizational and technology problems, but the perennials and butterflies in her garden help her to stop thinking about them.